A healthy diet plan for weight loss is essential for anyone who wants to effectively yet efficiently lose weight. Keto Tuna recipes are specifically designed with ingredients which carry out the smooth process of ketosis. A Keto diet is low in carbohydrates, rich in fats and has a moderate amount of proteins in it. The carbohydrates are literally only 5 percent of the entire diet so you can imagine how much carbohydrates you will be looking forward to cutting down in each keto recipe you try at home.
To be specific, the process of the keto diet is simply limiting the number of carbohydrates so the body starts breaking down fats, converting them to ketones which are fuel for the body. These ketones are what your body will be processing when you need energy for a strenuous workout or a hectic day. Normally we are of the idea that maybe diets for weight loss are tasteless, and they are really dry and raw.
In fact, that's not even true especially when you plan to incorporate these scrumptious keto tuna recipes in your keto diet plans for weight loss. Have a look at these Keto Tuna recipes you will love making at home for any time of the day.
Lemon Dill Tuna Patties
Super scrumptious, one fun way to get tuna i.e. the fatty fish into your diet and you don't have to struggle to make it! This dish has healthy protein which means you can also give them to children as this builds on the muscle mass. It is easy to serve, you can pair it with crackers and lettuce wraps. These patties are very delicious, low carb and the moist, tangy flavor of lemon and mayo is sure to be one good treat for those taste buds of yours! The best part is, this recipe contains only one percent fat! So much away all you want!
Ingredients
Tuna Cans ( 140 grams, drained)
Almond flour( Quarter of a three portion cup)
Onions ( two, green and white parts chopped )
Dill ( Two tablespoons, freshly chopped)
Lemon Zest ( One tablespoon)
Salt to taste
Pepper (Half teaspoon)
Mayonnaise ( Quarter cup)
Egg(one)
Lemon Juice (One tablespoon)
Avocado Oil (Two tablespoons)
Instructions
Firstly, take a big bowl and put in all the ingredients, mix well. Leave out the avocado oil right now. Make patties with the thickness of a little less than an inch. You should be able to make eight patties with these ingredients.
Now, take a large pan and add the avocado oil, only about one tablespoon and let it heat over medium flame. When the oil becomes shimmering hot, start adding the patties to it, cook each patty for four minutes or till each side turn golden brown on its crust.
Cook each side of the patties for three to five minutes, take a paper towel-lined dish and place the cooked patties on it.
Serve as you like with capers or mayo, lemons will look the best though!
Check the full recipe here.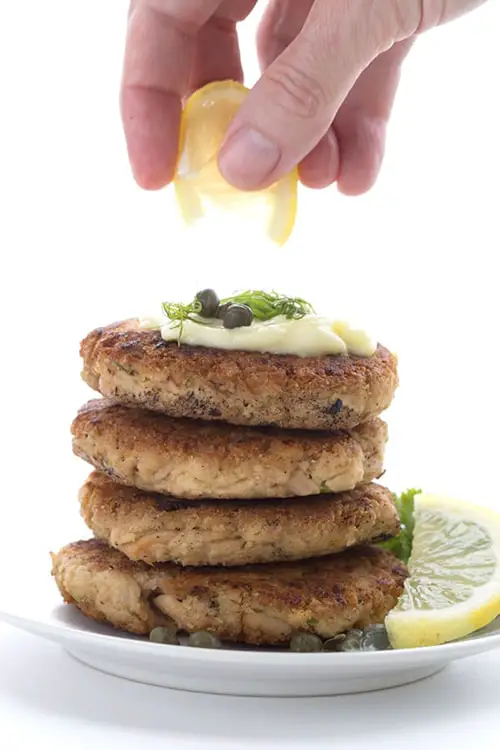 Keto Japanese Inspired Tuna Sandwich
Keto diet at home is easier than at the office where you are attracted by processed cab diets all day. But this is one of the amazing keto tuna recipes bound to make eating at the office easier, low in carbs, suitable for keto diet and full of flavor is what these sandwiches are all about! You can make these super quick tuna sandwiches, take them for lunch at the office, and take them as a midnight snack. They are loaded with flavor, crispy and creamy so you are going to be having a good fill with one of these keto tuna recipes at home and office!
Ingredients
For the tuna mix
140 grams of tuna ( Canned)
Onion (Green, one stalk)
Soy Sauce (Half a teaspoon)
Kewpie Mayonnaise (Three tablespoons)
Black pepper and salt to taste
Jalapeno (Two slices if you like it)
For the baked Tortilla Chips
Low carb Flour (only one piece tortillas)
Cooking oil
Instructions
Start off by gathering ingredients.
Secondly, you have to preheat your oven to a temperature of 400 F.
Take the tortillas and start cutting them into wedges (eight in number).
Now take a baking dish which is lined with baking paper and lay these eight tortilla wedges onto it, spray the cooking oil onto them covering them fully.
Now, put them in the oven for ten minutes, bake till they seem golden and wait till they crisp up. Take them out.
Now take a bowl and put the drained tuna into the bow.
Then, take the jalapenos and chopped onions and add them to the tuna bowl as well.
Add the soy sauce, salt, pepper, and Kewpie mayo as well, mixing them together.
Check if the tortillas are ready if they are then placed about two tablespoons of the tuna mix on each of the tortillas wedge, add another one on its top and enjoy! Make a dip to enjoy the tuna sandwich with it!
Check the full recipe here.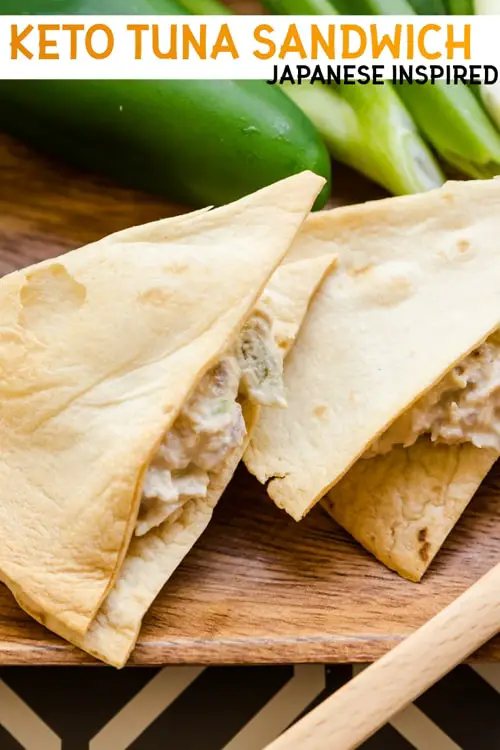 Tuna Stuffed Avocados
Okay, I know you are already having a hard time keto dieting but let this keto tuna recipes make it easier for you! Avocados are good for your skin and this one is stuffed with flavorful vegetables and mayo. The tuna stuffed avocados are about to become one of your favorite keto tuna recipes because it is dairy-free, low carb, gluten-free, paleo and of course keto! It is very healthy and delicious at the same time so it's a must-try at home!
Ingredients
Avocados (Four)
Tuna ( 2 5 Ounces and canned)
Mayonnaise (Quarter cup)
Celery(One stalk and diced)
Onion (red diced, two tablespoons)
Parsley ( chopped, two tablespoons)
Mustard (Half a tablespoon)
Pepper and salt to taste
Instructions
Take a mixing bowl and add the onions, mustard, celery herbs, mayonnaise, and tuna. Mix well-adding salt and pepper till it becomes well combined.
Now, take the avocados and slice them into halves, take the seed out and fill the space with the ingredients you mixed to make the tuna salad in the bowl using a spoon. Enjoy!
Check the full recipe here.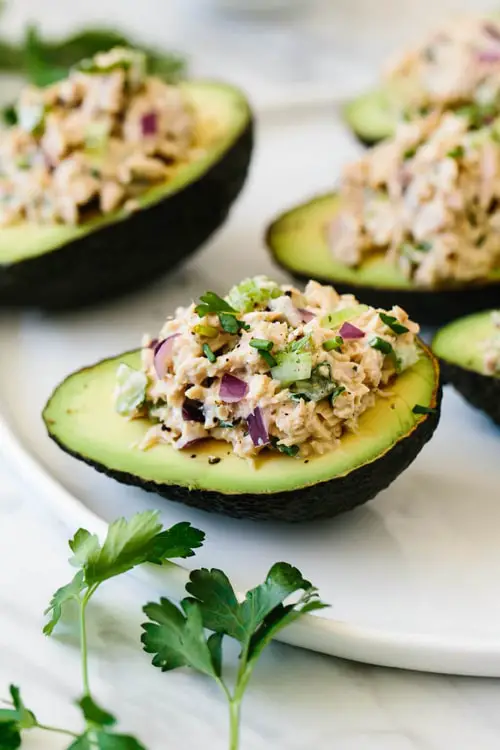 Avocado Tuna Salad
This is one keto tuna recipes which are all about healthy fats, taste and chunky bites! This salad is not that regular salad you are probably bored of by now, in fact, it has juicy vegetables, it is refreshing, has healthy proteins and effective for weight loss. Avocado tuna salad is easy to make and doesn't take much time to prepare at home. You can even take it along with you to the office for lunch, it is really filling and you will love it!
Ingredients
Tuna, (White and canned in water, 560 grams)
Avocados ( two, chopped and pitted)
Onion (a quarter of a red onion, sliced)
Cilantro ( quarter cup, chopped)
For the dressing
Olive oil (quarter cup)
Lime juice (Three tablespoons)
Honey (half a teaspoon)
Apple cider vinegar ( one teaspoon)
Salt and pepper to taste
Instructions
Firstly, take a bowl and add the tuna salad ingredients in it, mix all of them well.
Now, take a mason jar, put all the tuna salad dressing ingredients in it. Close the lid and shake the jar well. Make sure all the ingredients inside get well combined.
Now, you have to put this tuna dressing onto the tuna mixture you made, Mix these well. Also, make sure all the ingredients are coated well with the dressing.
You can refrigerate it or eat when ready.
Check the full recipe here.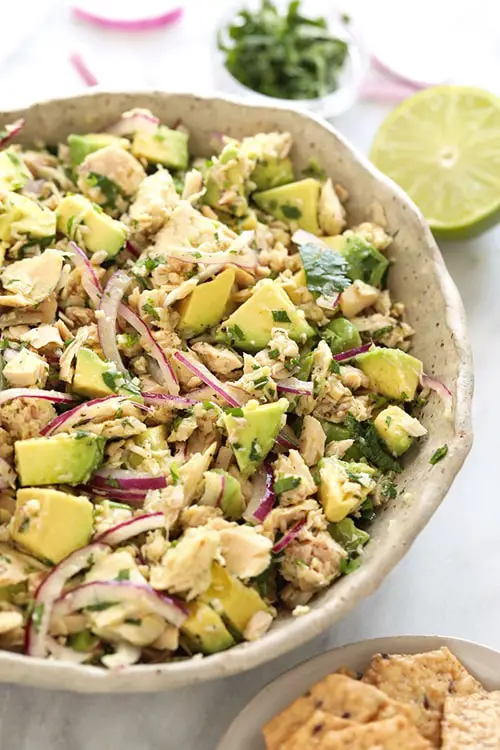 Buffalo Tuna Salad
Something different from the traditional tuna salad, is that what you are looking for? If yes then be prepared to treat your taste buds to a mix of tangy and spicy flavors which you can bring out in a regular tuna salad. This salad is keto-friendly, paleo, and low carb so you can easily include this in your to-make keto tuna recipes. The buffalo tuna salad tastes grand with sandwiches, lettuce wraps, and crisps. This is one recipe you ought to try at home!
Ingredients
Tuna (Canned 2 5 oz)
Carrot ( One, nicely peeled and chopped into squares)
Celery stalks (Two chopped)
Mayonnaise (Quarter cup)
Hot sauce ( Two tablespoons)
Dill ( One tablespoon freshly chopped)
Paprika (half a teaspoon)
Sea salt to taste
Instructions
Mix all the ingredients well together in a bowl, pair it with chips or your favorite crackers and serve. Enjoy!
Check the full recipe here.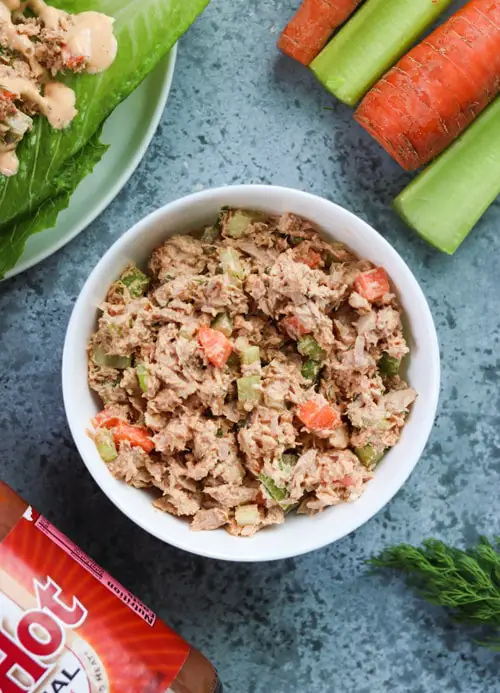 Tuna Stuffed Endive with Avocado Oil Vinaigrette
A lot of people don't like tuna and for a fact, you might be one of them too. But hey! This fatty fish is very healthy for your keto diet plan so I thought you should know about one of these amazing keto tuna recipes which can be easily made at home. It is one crowd-pleaser recipe, why? Because it is low carb, dense on the nutrition and its scrumptious! Very easy to make and yes it is super quick to make as well. You can try this one out for lunch, brunch, as an appetizer or salad.
Ingredients
Endive (110grams )
Canned Tuna ( 226 grams)
Red Onion (40 grams, cut into small cubes)
Avocado Oil (Three tablespoons)
Apple Cider Vinegar (One tablespoon)
A pinch of salt
Instructions
Firstly, the endive's leaves have to be separated, then the base has to be cut.
Take a small bowl and put the tuna and red onion in it, combining the two well.
Take another bowl, in this, you have to mix the avocado oil, salt pepper, and vinegar.
Now, pour this mixture you made of avocado oil over the tuna so it covers it well.
Using a spoon put this salad mixture into each of the endive leaves.
You can chill these and then serve to eat.
Check the full recipe here.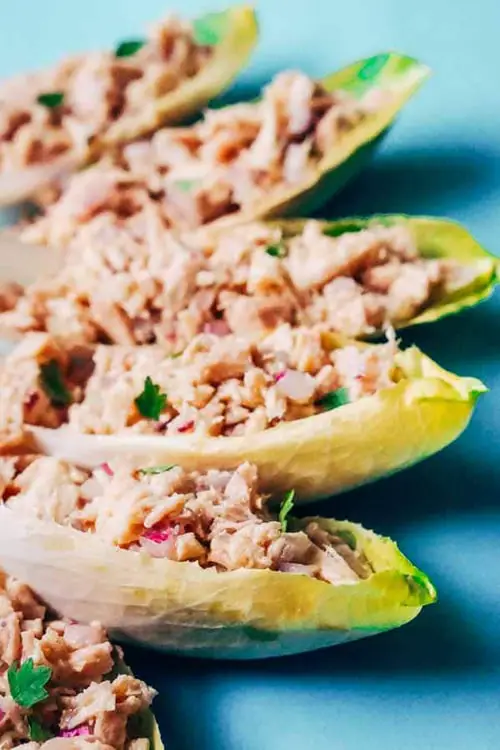 Lettuce Wraps with Spanish Tuna and Avocado
If you are looking for the main course to incorporate in your keto diet plan, try this amazing keto tuna recipe! Low carb, delicious and it is not going to take much time preparing it. It's the perfect keto-friendly and gluten-free duo you can make at home easily. It's got a great texture and the flavors are enticing with a mix of olives and avocados. The lettuce is light and refreshing so this recipe will make great keto lunch and dinner!
Ingredients
Lettuce (One head, Romanian)
Tuna ( About two cans)
Mayonnaise ( Two tablespoons)
Shallot ( One)
1 tomato (One)
Olives (Black, About 8)
Garlic powder (Half tablespoon)
Parsley (One teaspoon, flaked)
Avocado (One)
Sea salt and black pepper to taste
Instructions
Take the lettuce head and remove about three left out of it, now you have to cut the lettuce head about six inches from its top. Separate the leaves to make wraps. Wash and rinse under cold running water and then leave them in a sieve to dry.
Now, take the tuna cans and place them into a sieve, also put a bowl under the sieve s that when you drain the tuna in the sieve, all the oil gets collected in that bowl. Then take the tuna from the tuna out of the sieve and place it into a bow. The next step is to add the mayo about two tablespoons, the shallots, tomatoes, and olives, all cut and diced. Add the garlic powder, salt, pepper and parsley, and mix so that all combine well.
Now take the lettuce leaves, take eight, spread the tuna mixture over each leave, and now add two slices of thinly sliced avocado onto an individual lettuce wrap. You can sprinkle some sea salt and black pepper to this as well. Enjoy!
Check the full recipe here.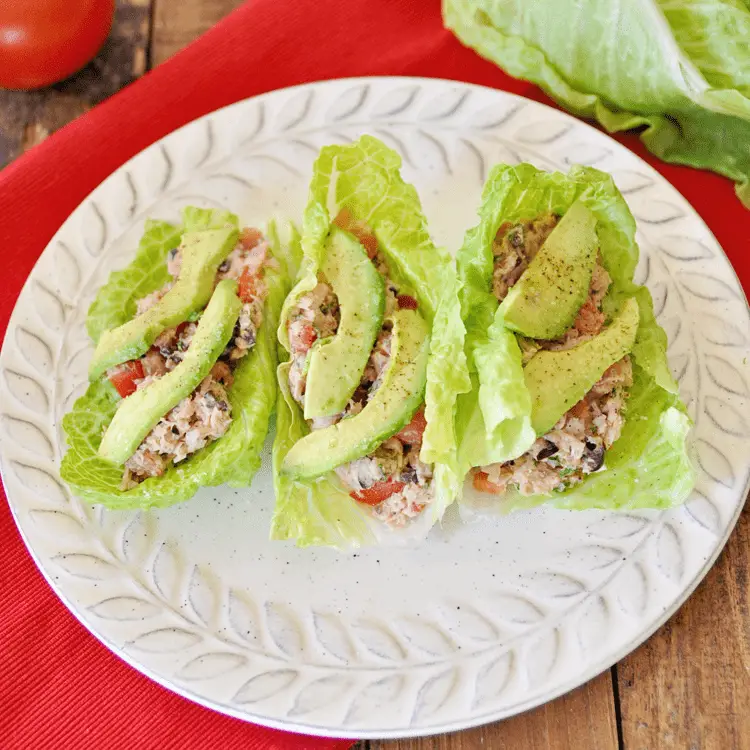 Tuna Melt Stuffed Peppers
So this is one of the many mouthwatering keto tuna recipes you can plan for a family meal! It has so many benefits to it that you won't think twice before making it. Low carb, tasty to bits, peppers stuffed with keto, baked tuna melt is sure to make you fall in love with this one. If you have been craving some melting baked cheese, tuna melt stuffed peppers are here to curb your cravings with the fullness you need to satisfy your hunger with! You can make it within minutes and that too hassle-free as it is easy to prepare.
Ingredients
Tuna (Canned about two cups)
Mayonnaise (Six tbsp)
Celery ( Half a cup, one diced stalk)
Avocado (one)
Bell peppers (Three)
Cheese ( Twelve slices)
Instructions
Take a medium-size bowl, put in the tuna, and add the mayo and celery, mix.
Next, put the diced avocados into this tuna mix.
Take the bell peppers, start by cutting them into halves but make sure you have removed the seeds and stems.
Now take a sheet and put it onto a pan, the cut side should be upwards, spread the bell peppers on it.
Now, you have to stuff all the cut bell peppers with the tuna mix you prepared.
Add a slice on each half of the bell peppers after you have stuffed them, with the tuna mix.
Now, you have to put this pan under your broiler, let it broil it the cheese starts turning golden. Serve.
Check the full recipe here.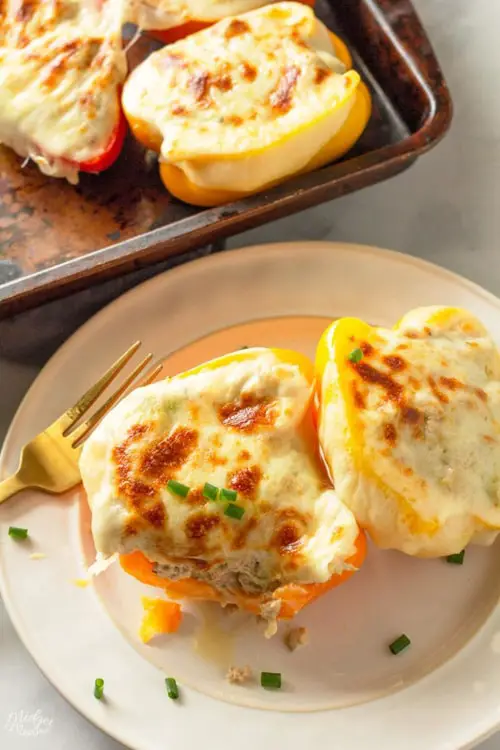 Conclusion
Whether you are craving avocados, peppers, salad or cheese, we got it all covered for you in these 8 amazing keto tuna recipes! These are just perfectly balanced in nutrition, making them suitable for you and your family. The keto tuna recipes are especially helpful for weight loss, low in carbs and keto-friendly. They don't take time, they are chunky, delicious and you can pack these to take to your office as a healthy lunch as well! Try these out; we are sure you will love each one of these keto tuna recipes!
More Ideas For Your Weight Loss