Finding the right keto snacks recipes can help you stick to your keto diet.
If you're struggling to find keto-friendly snacks to eat between meal times, it's time to see what you can do. Be honest with yourself: cheating with your snacks means you're throwing your whole keto diet off balance.
For this reason, I've prepared ten of the best keto snacks recipes that you can enjoy in between those delicious keto meals. You'll absolutely love these delicious recipes!
Knowing this, let's take a look and see which ones are right for you.
Gluten-Free Keto Oat Bar
When it comes to dieting, you don't just want your snacks to be sugar and carb free. Instead, you want to find snacks that are just as nutrient dense as your meals. Luckily, with this gluten-free keto oat bar, you've got the perfect snack that provides valuable nutrients!
You'll Need:
1 tsp cinnamon
¼ tsp salt
1 tsp baking powder
1 cup flour
1 cup rolled oats
1-2 tbsp maple syrup
2 bananas, ripe
½ cup soy milk
Start by preheating your oven to 350 degrees Fahrenheit and preparing a baking sheet for your bars. Once this is done, mix your 1 cup rolled oats in a blender.
After this, place your blended oats, baking powder, salt, flour, and cinnamon into a mixing bowl and mix thoroughly. Once done, mix your chopped banana with your maple syrup and soy milk in a different bowl. Stir until well mixed.
When you have completed these steps, it's time to combine your ingredients. Simply put the ingredients of the second bowl into the first and mix until well-combined. Here, you should have a mixture suitable for the oven.
Spread your mixture onto your baking sheet and feel free to add any keto toppings that you like. Once complete, stick your mixture into the oven and bake for about 18 minutes or until your bars are light gold.
Once the bars have been removed, simply cool and cut them into squares.
Check the full recipe here.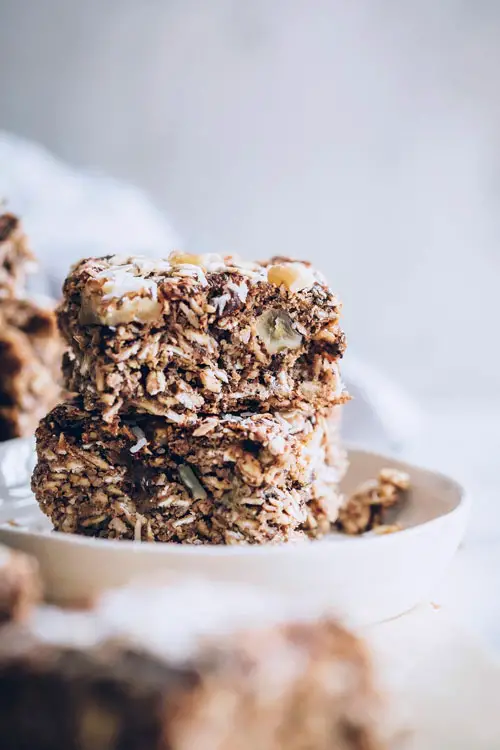 Baked Zucchini Keto Chips
If you're just getting accustomed to your keto diet, you probably still haven't gotten over your favorite snacks. In fact, you may find yourself sneaking them from time to time.
That's why I've included these delicious baked zucchini keto chips. These keto alternatives actually taste better than regular potato chips and have the added advantage of boosting your health!
You'll Need:
• 2 zucchini
½ tsp salt
1 tbsp oil
To make, simply cut your two zucchini into round chip shapes. Once this is done, you'll want to dry them with paper towels and put them in the fridge. Aim at storing them for two-to-three hours so that excess moisture dries up.
Once done, remove your zucchini slices and throw them into a mixing bowl with some oil and salt. Make sure you mix thoroughly so that all slices are covered.
After this, put your slices neatly onto a baking sheet and bake them for 2-3 hours at 225 degrees Fahrenheit. You may decide to cook them longer or shorter depending on texture.
And there you have it! Delicious keto chips for you and the family. This is one of the best keto snacks recipes around, so make sure you try it immediately!
Check the full recipe here.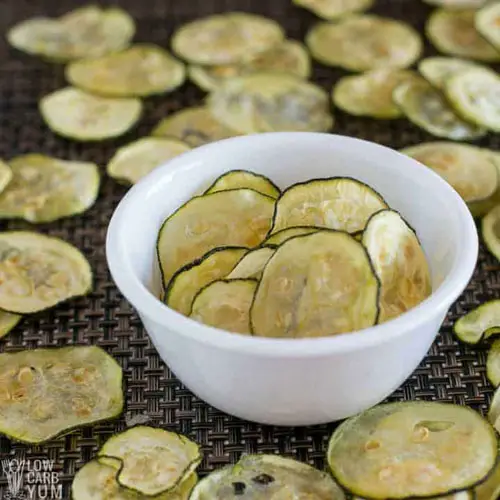 Coconut-Banana Keto Pikelets
Looking for the best keto snacks recipes? You'll love these coconut-banana keto pikelets. These are just the treat to get you energized and excited about your day!
You'll Need:
1 cup gluten-free oats
1 cup coconut milk
1 ¼ cup gluten-free flour
1/3 cup desiccated coconut
1 tbsp gluten-free baking powder
2 tbsp maple syrup
1 tbsp coconut oil
1 tsp ground psyllium husk
2 ripe bananas
Sea salt
To make, blend your oats, flour, psyllium husk, baking powder, bananas, coconut, maple syrup, coconut milk, and sea salt in a blender. Don't stop until the mixture is thoroughly combined. Once done, allow your batter to sit up to seven minutes.
When your batter is ready, turn your stove to medium heat and pour in your coconut oil. Once the oil is hot, add in three tablespoons of batter and cook for two to three minutes on low. Flip your pikelets when you notice the edges turning crispy. After cooking for another two minutes, remove from heat.
When you've fried your whole batter, you should have a steaming plate of delicious pikelets! Serve with any keto-friendly side for the perfect snack!
Check the full recipe here.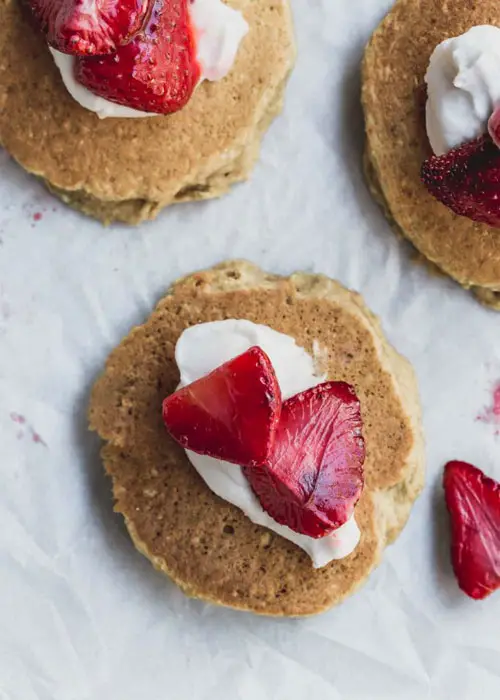 Keto Tempeh
This keto tempeh makes one of the best keto snacks recipes you will ever try! If you're looking for a keto-friendly and vegetarian option, try this recipe today!
You'll Need:
2 cups veggie broth
16-oz tempeh, chopped
¼ cup tamari
¼ cup toasted sesame oil
½ head ginger
3 cloves garlic
2 tbsp coconut nectar
2 tbsp harissa paste
1 tsp sesame oil
¼ cup mayonnaise
To make, boil the top seven ingredients together for a minimum of 20 minutes.
This will bring out the dish's natural flavors. While boiling, mix your final three ingredients in a mixing bowl. After this, drain the tempeh from your marine and dry it with towels.
Place your tempeh diagonally on a grill pan or skewer and cook for around five minutes. Once done, flip the tempeh and cook for five more minutes.
And that's it! Remove from the grill and enjoy your tasty keto snack!
Check the full recipe here.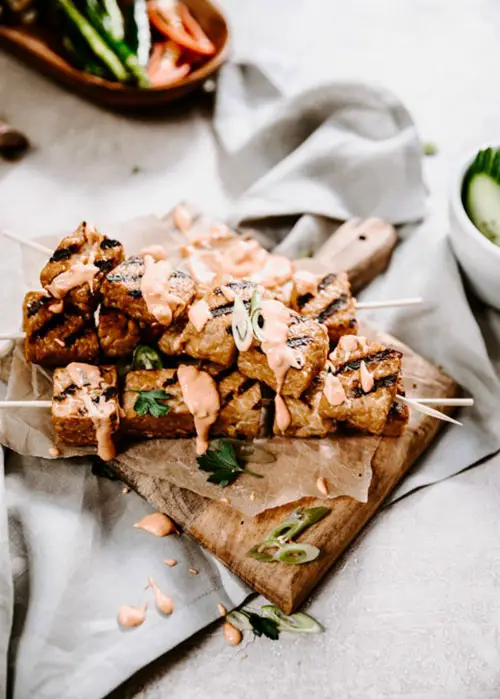 Keto Pesto Crostini with Cream Cheese
Want the best keto snacks recipes to get your mouth popping? This keto pesto crostini with cream cheese is the ultimate keto snack! Fresh and light, it's sure to take your keto diet up a notch.
You'll Need:
12 oz cherry tomatoes, sliced
1 tbsp olive oil
2 cloves garlic, diced
4 oz cream cheese
4 oz pesto
1 loaf French bread, sliced
Balsamic glaze
Salt and pepper
Parsley
To make, cut your French bread into 12 one-half-inch slices. Once cut, place them onto a baking sheet and brown them in the oven.
When you complete this step, heat olive oil in a pan, adding in your tomatoes and your garlic. Saute with salt and pepper until your tomatoes begin to burst open.
Once done, apply cream cheese to each French bread slice. Put pesto and tomato on top and cover with your balsamic glaze, parsley, and crostini.
That's it! This keto recipe is easy to make and to enjoy!
Check the full recipe here.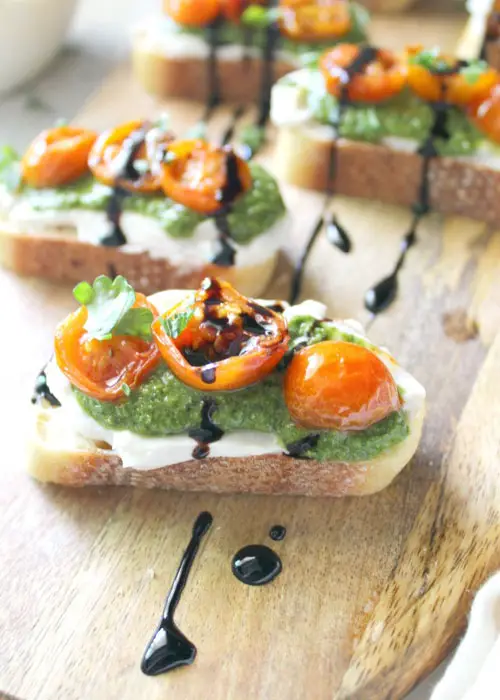 Keto Dessert Churro Snack
Looking to blend dessert with one of the tastiest keto snacks recipes around? This keto dessert churro snack recipe is for you! Filled with fresh ingredients and a delicious chocolate sauce, it's sure to get your stomach growling!
You'll Need:
3 tbsp butter
2 tbsp cinnamon
1 fathead dough
¼ cup erythritol
2 tbsp heavy cream
½ cup sugar-free chocolate chips
To make, preheat your oven to 350 degrees and roll your dough into a rectangle. Once done, mix your butter, erythritol, and cinnamon in a mixing bowl before applying it to the dough. When evenly applied, cut your dough into one-to-two-inch sections and twist. When all are twisted, place onto a baking sheet and bake for around 15-20 minutes.
While baking, place your chocolate chips and heavy cream into a microwavable dish and microwave until melted. Remove from heat. Then, take your bread out of the oven and, after letting it cool, dip it into your chocolate sauce and enjoy!
Check the full recipe here.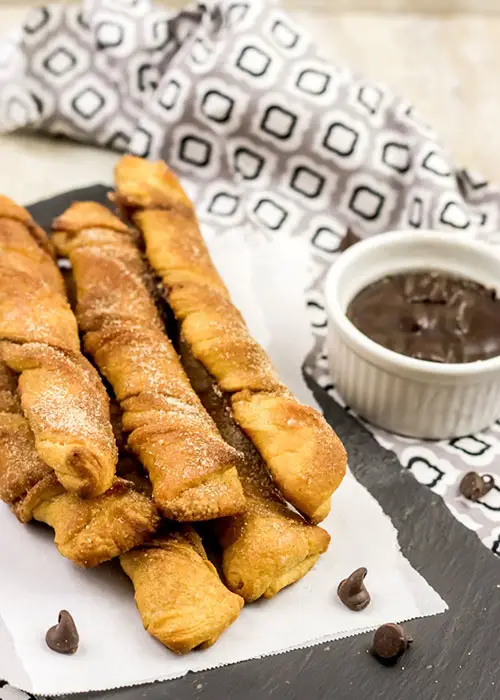 Keto Cheesy Artichoke Dip
Searching for the best keto dip recipe? This keto cheesy artichoke is one of the most delicious keto snacks recipes for any occasion. Whether you're making a light snack for home or prepping for a special event, you'll absolutely love this keto cheesy artichoke dip!
You'll Need:
1 pound goat cheese
One can artichoke hearts
2 tsp lemon juice
1 tbsp parsley
2 tbsp olive oil
1 tbsp chives
½ tsp sea salt
½ tbsp basil
½ tsp pepper
½ cup pecorino romano
1 clove garlic
This keto snack recipe is one of the easiest to make. In fact, all you need to follow are two simple steps. Using your blender, blend all ingredients (excluding the pecorino romano) thoroughly.
Then, top your mixture with the pecorino romano.
It really is that easy! With this ultimate keto recipe, you can start making fantastic keto dips in just a few minutes. Without a doubt, this is one recipe your whole family will enjoy!
Check the full recipe here.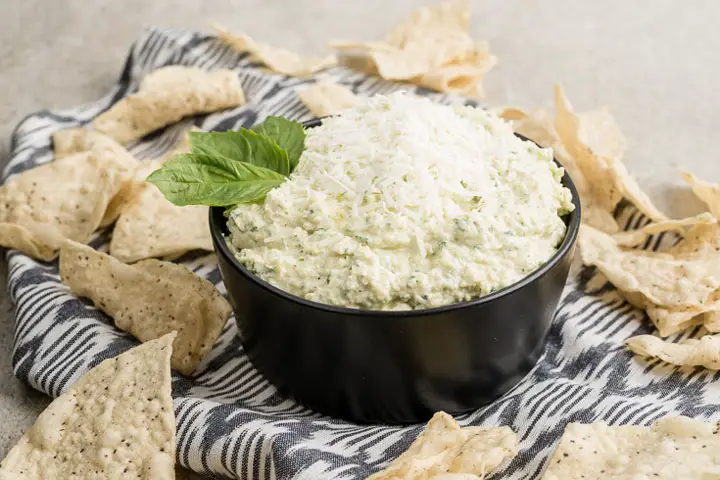 Spicy Keto Bacon Poppers
If you're looking for the best spicy keto snacks recipes, you'll absolutely love these spicy keto bacon poppers. Made with hot jalapenos and juicy bacon, this treat will have your mouth dancing with flavor.
You'll Need:
16 strips bacon
16 fresh jalapenos
¼ cup cheddar cheese, shredded
4 oz cream cheese
1 tsp paprika
1 tsp salt
To make, start by preheating your oven to 350 degrees Fahrenheit. Then, taking a pack of bacon, divide the strips into half. This will give you 16 strips of bacon. Once this is done, cut the ends off your jalapenos and then open the peppers up length-wise. Remove any seeds found inside the jalapenos.
When you're done with this step, take a large mixing bowl and thoroughly mix your cheddar and cream cheeses. After mixing them well, carefully fill the insides of each sliced pepper with your mixture, making sure not to overflow.
Once done, wrap your filled jalapenos in bacon and place the "poppers" onto a baking sheet. Cook for 15-20 minutes and then remove from heat. If you like, you can place a bit of salt and paprika on the outside of your poppers for extra flavor.
Check the full recipe here.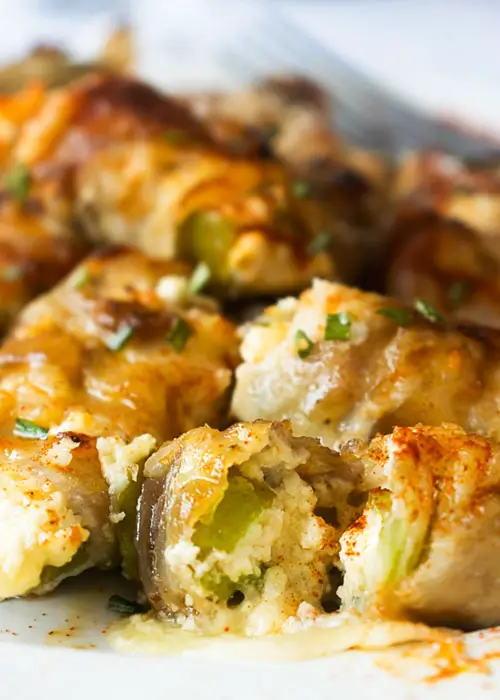 Samoa Keto Bars
I absolutely love these Samoa keto bars. This is one of the more involved keto snacks recipes on this list, but it's well worth it if you are looking for a tasty treat.
You'll Need:
¼ cup Swerve (for crust)
¼ cup butter (for crust)
1 ¼ cups almond flour (for crust)
¼ tsp salt (for crust)
2 tbsp coconut oil (for drizzle and filling)
4 ounces sugar-free chocolate (for drizzle and filling)
3 tbsp butter (for filling)
¼ cup Bocha Sweet (for filling)
1 ½ cups coconut, shredded (for filling)
¼ cup Serve (for filling)
¾ cup heavy whipped cream (for filling)
¼ tsp salt (for filling)
½ tsp vanilla extract (for filling)
To make, preheat your oven to 325 degrees Fahrenheit. Whisk your Swerve sweetener, almond flour, and salt it thoroughly in a mixing bowl. As you do, pour in your melted butter. Once done, put your mixture into a baking pan and bake for around fifteen minutes and remove from heat.
Once done, melt your chocolate and coconut oil in a microwavable bowl. Stir thoroughly and, once done, spread about 2/3 of the mixture onto your baked crust.
To make your filling, toast your shredded coconut in a pan over medium heat. Then, in another pan, mix your sweeteners and butter and melt them. Allow the mixture to boil for three to five minutes before removing from heat.
Once removed, add in your salt, vanilla extract, and cream. After it stops bubbling, stir in toasted coconut and spread the concoction over your crust. After it cools for about an hour, you can cut the crust into squares and drizzle with any remaining chocolate.
And that's it! This is one keto recipe you will adore!
Check the full recipe here.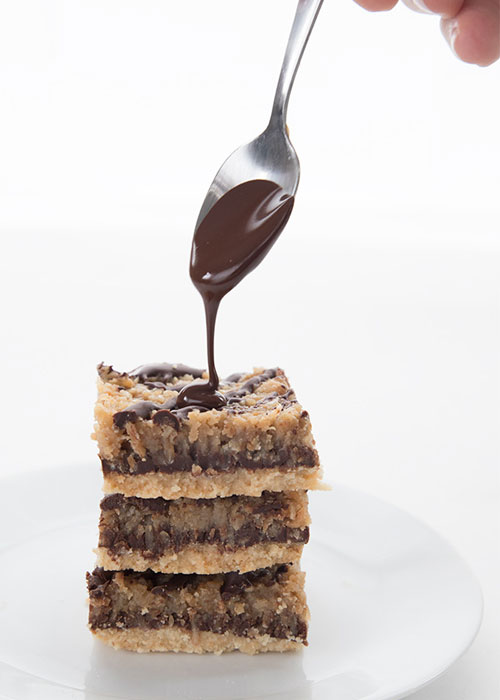 Keto Mocha Mousse
Want to keep it simple? This keto mocha mousse recipe is one of the easiest keto snacks recipes to make! You'll love the simplicity and freshness of this delectable treat!
You'll Need:
2 tbsp cold water
2 tbsp instant coffee
½ cup hot water
2 tsp gelatin
1/3 cup erythritol
1 tsp vanilla extract
2 tsp cacao powder
½ cup heavy whipped cream
1 ½ cup heavy cream
To make, pour your cold water into a heatproof jug and use it to lightly coat your gelatin. Once done, let your gelatin sit for a couple of minutes.
Then, add your hot water and stir until the gelatin is completely dissolved. Let the mixture cool, and then dissolve your instant coffee into more hot water.
Once done, blend your cacao powder, erythritol, and vanilla extract with a whisk. As you do, pour in your cream and keep whisking. At this time, you'll also want to pour in your gelatin and instant coffee mixtures.
Once thoroughly mixed, place the resulting mousse into glasses and chill them in the fridge for the next two hours. After the mousse has sufficiently cooled, remove from the cold and top with your heavy whipped cream.
That's it! This perfect treat is ideal for any occasion or as a classy snack. What's more, it's so easy to make that you can try it today!
Check the full recipe here.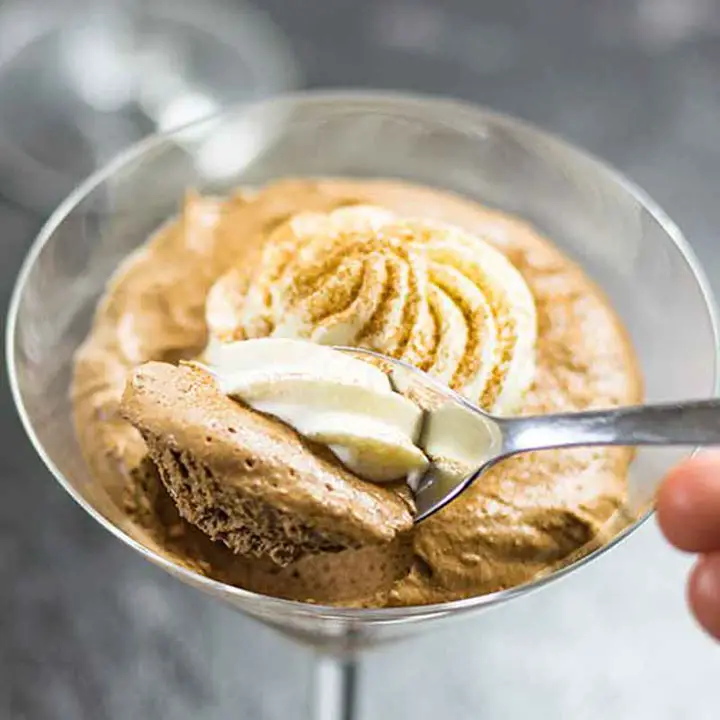 Conclusion
These keto snacks recipes make it easier than ever to stick to your keto diet! Easy-to-make and absolutely delicious to taste, you'll never go wrong with these healthy keto snacks. Try them today and let the whole family enjoy!
The best part? These snacks are so addictive that you will never turn to unhealthy junk food again. If you're looking to revolutionize your health and start your fitness journey, these recipes could be the help you need to stay on track.
For this reason, make sure you try out your favorites! I think you'll love every bite!
More Ideas For Your Keto Recipes
Jeremy Park, the founder of jeremylife.com, is a love and relationships expert. With a journalism degree and years of exploration, he offers valuable insights to help you live your best love life. His mission is to make the journey enjoyable and effortless.