People in the modern world are more health enthusiastic than ever before. From enjoying healthy food to regularly working out, people like to do a lot of things to stay in shape. Adopting a ketogenic diet is one of them. These days you can find thousands of recipes to make keto dishes at home. In addition to that restaurants have also started to offer keto side dishes and keto main courses so that you don't have to eat non-keto food while you are dining out. People who focus on a healthy diet tend to focus on the main dishes.
However, the side dishes are also equally important. If you are someone who is following a keto diet then you need to incorporate that into side dishes as well. They don't have to be dry or tasteless. Keto side dishes can be very tasty and can make your taste buds tingle. Let's take a look at some of the delicious keto sides dishes;
Keto Creamy Broccoli
You will find a lot of keto side dishes with Broccoli in them. This is one of the tastiest keto side dishes in the world. A nice blend of creamy garlic and butter sauce along with bacon and cheese, this dish is one of a kind. Even reading the ingredient makes you want to taste it.
The creamy garlic and butter sauce adds to the creaminess and the deliciousness of the dish. This is a perfect keto side dish for a keto dinner. So if you are thinking about having your health enthusiast friends over, this can be an ideal dish to go with the main course.
Check the full recipe here.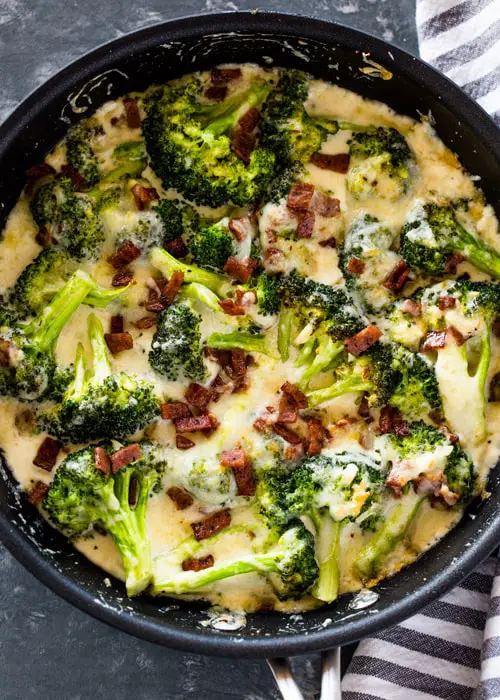 Loaded Cauliflower Casserole
Loaded cauliflower casserole can be an amazing keto side dish for your next family gathering. It is a delicious dish that is very easy to make. The garlic and onion powder add a lot of taste to the dish. Add in the bacon bit, cheese and sour cream and you have a perfect recipe for one of the tastiest keto side dish. This is one dish that can even make the vegetables seem tasty for the kids. Your kids might not want to try it but once they do, they are bound to ask you for more.
Check the full recipe here.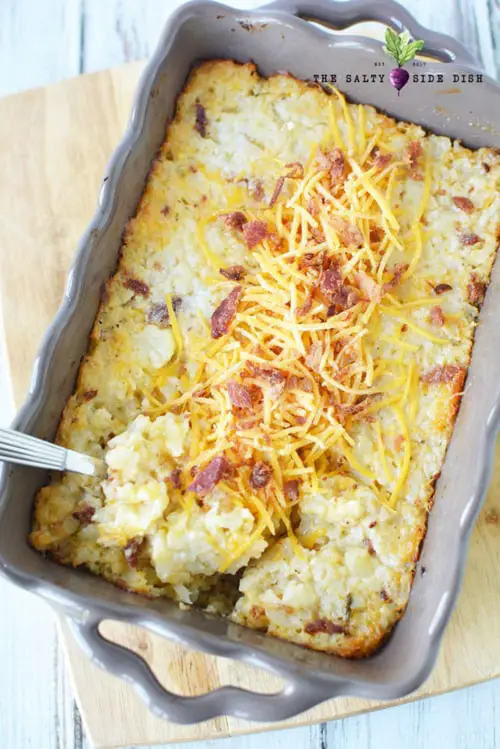 Mushroom Side Dish With Bacon
Is there anything that a little bacon and mushrooms can't make delicious? This keto side dish is one of a kind. If you have a guest waiting at the table and your last side dish didn't turn out good. Then there is nothing to worry about. As Mushroom side dish with bacon only requires 10 minutes to cook.
It is extremely easy to make. All you need is three ingredients i.e. mushrooms, garlic, and bacon. You don't even have to add salt, pepper or any other seasoning. Even without the seasoning, the three ingredients make for an amazingly delicious keto side dish.
Check the full recipe here.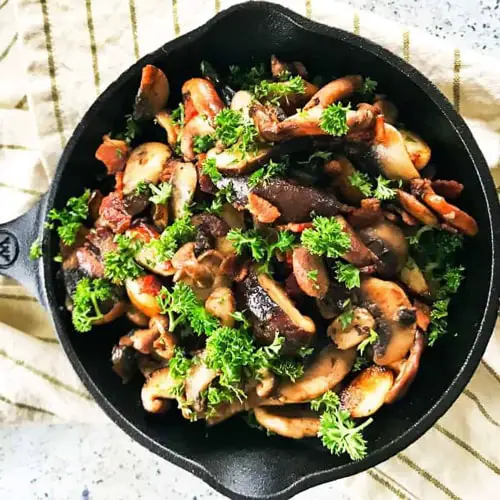 Broccoli Cheese Casserole
Even if you didn't like Broccoli when you were little, this keto side dish will make you fall in love with Broccoli. The creamy cheese adds to the juiciness of the dish. It only takes around twenty minutes to cook. It is an 'easy to make' dish that is full of flavor. Use salt, pepper and garlic powder to season the dish. You can serve this dish at a family gathering as a keto side dish and even as a main course dish. If you want to serve it as a keto side dish you can serve it with steak or grilled chicken.
Check the full recipe here.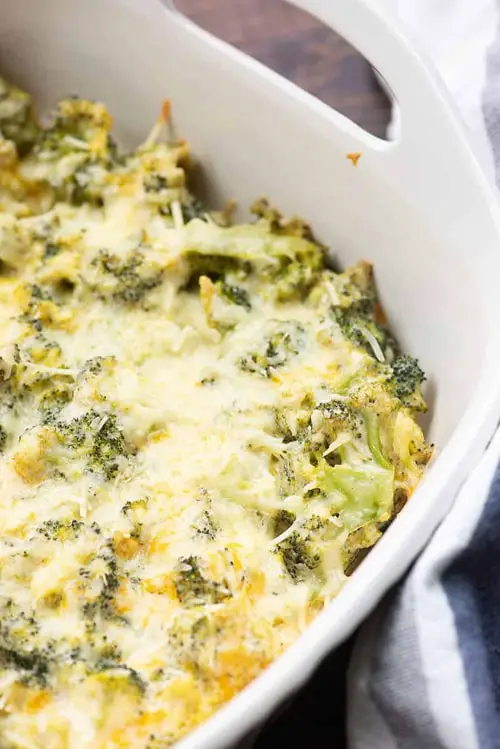 Everything Bagel Seasoned Brussels Sprouts
From Broccoli to sprouts, this list is full of healthy keto side dishes. As clear from the name of the dish, this dish comprises of Brussels sprouts that are deliciously seasoned with bagels. You don't even have to spend that much time in the kitchen to make this dish. If you want to enjoy a delicious and crispy keto side dish that is full of flavor and nutrients, then this is the dish to go for.
You can season the Brussels sprout with bagel, parmesan, and almonds. This will add a lot of taste to the dish. For this keto side dish, it is ideal to use an air fryer for Brussels sprouts.
Check the full recipe here.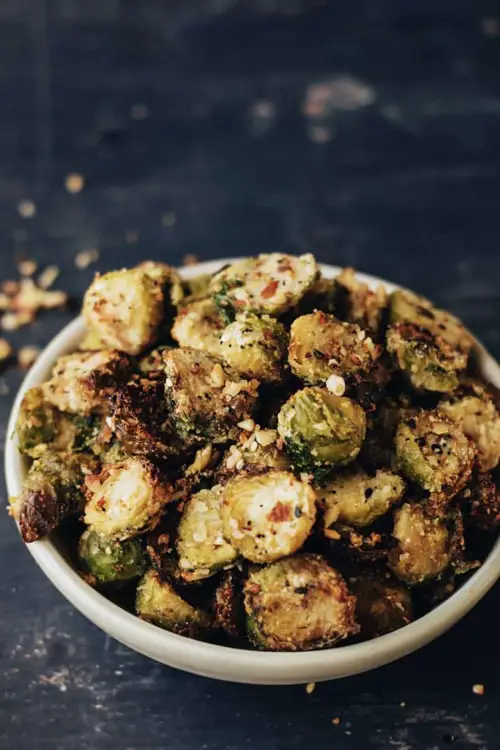 Keto Asparagus
You might have realized by now that most of these keto side dishes take very little time to cook. However, when it comes to the cooking time, Keto Asparagus takes the cake (not literally!). You can prepare this keto side dish in under five minutes. If you are having a busy night but you need a perfect side dish to add to your menu.
Well, Keto Asparagus is here to save the day. You can serve it with almost any other dish. Top this dish with bacon bit and cheese and serve it with lime. It is a simple yet very delicious and presentable dish.
Check the full recipe here.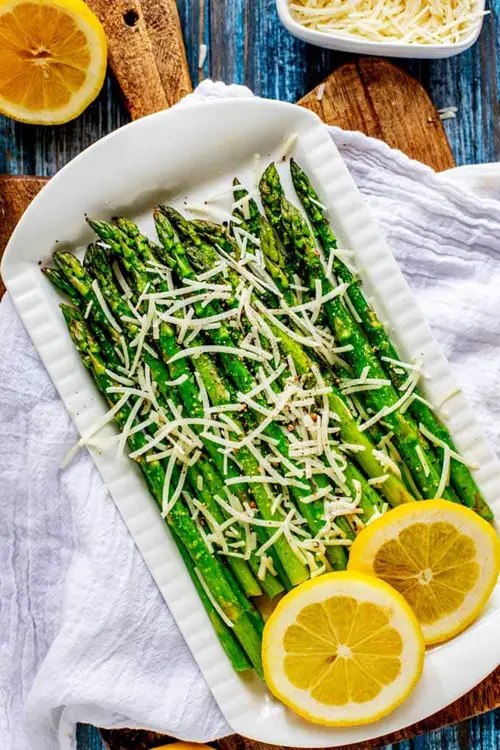 Sheet Pan Roasted Low Carb Veggies
Low Carb, Keto, and Veggies. If you hear these three words in the recipe of a single dish then you can be sure that it is going to be one healthy dish. The sheet pan roasted low carb veggies are a perfect keto side dish. Even though you can find many types of keto foods in the market now, you can't deny the importance of vegetables in a keto diet. A keto side dish made entirely of vegetable is bound to make any health enthusiast's mouth water.
You can use radishes, Brussels sprouts, zucchini, red pepper, squash, yellow pepper, and other ingredients to make this dish. Top it with salt, pepper, and parsley to add even more taste to the dish.
Check the full recipe here.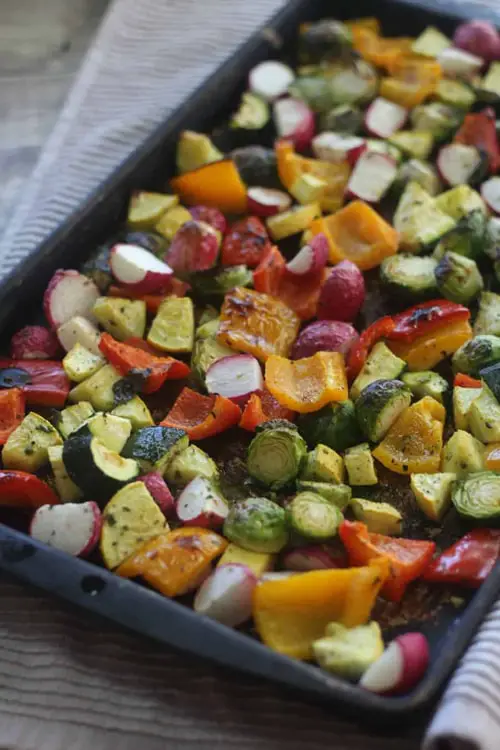 Cheesy Cheddar Cauliflower Rice
The Cheesy Cheddar Cauliflower rice can be cooked in less than 10 minutes. The best thing about this dish is that it can be served both as a side dish and as a full meal. However, serving it as a side dish with your main course will make this dish more valuable.
If you are using riced cauliflower from the market, make sure to buy fresh riced cauliflower instead of a frozen one. Add in cheese to make the dish more creamy. You don't have to worry about not having a baking oven or a rice cooker and you can cook this keto side dish in a traditional pressure cooker.
Check the full recipe here.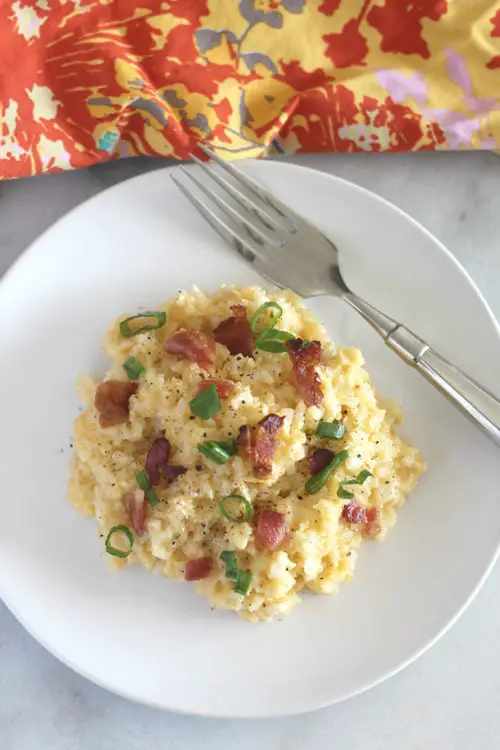 Cauliflower Potato Salad
Another keto side dish salad on the list. If you are looking for a creamy potato salad that has all the healthy nutrients in it. Well then, look no further than cauliflower potato salad. This is one of a kind dish that is tasty, presentable and low carb.
Potato salads, in general, are loved by people. So they are sure to love potato salad dish that has a touch of keto in it. One tricky thing about this potato salad is that there are no potatoes in it. The potatoes are substituted by cauliflower which gives the dish a potato like texture but makes it taste more delicious.
Check the full recipe here.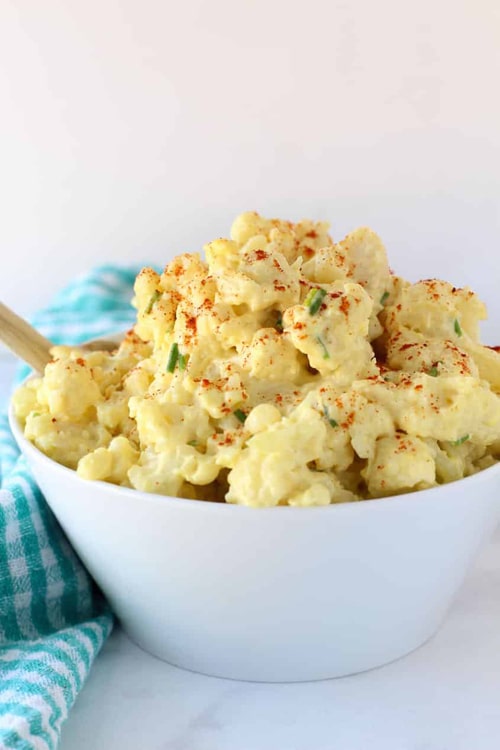 Mediterranean Low Carb Broccoli Salad
Salads are synonymous with a healthy diet so keto salads can be considered as the holy grail for health enthusiasts. Who thought broccoli salad could ever taste so delicious and creamy. Mediterranean low carb broccoli salad is a delicious keto side dish that can improve your entire meal experience.
It is an 'easy to make' dish that is full of nutrients and proteins. The Greek yogurt adds to the creaminess of the dish and makes it feel better in your mouth. It is a very presentable dish that can make your dinner table look amazing at formal gatherings.
Check the full recipe here.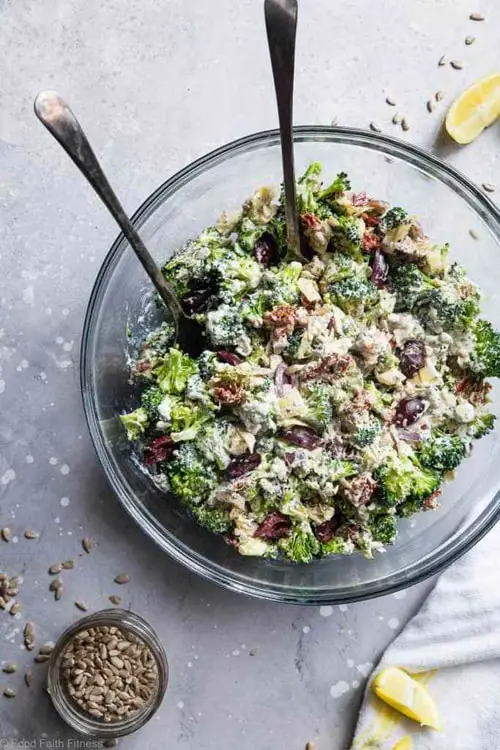 Keto Coleslaw
One of the easiest dishes to make. You only need 4 ingredients to make this dish. Use shredded cabbage, pickle juice, and mayonnaise to make the keto coleslaw and add low carb sweetener to add a bit of taste to the coleslaw. Making a keto side dish can't get any easier than this.
This is quite honestly one of the healthiest and easiest keto side dishes. It can go as a keto side dish with any type of main course meal. People all over the world enjoy coleslaw so if no matter whom you are hosting, whether your friends, family or foreign visitors you can always add keto coleslaw to the menu to spice up your dining table.
Check the full recipe here.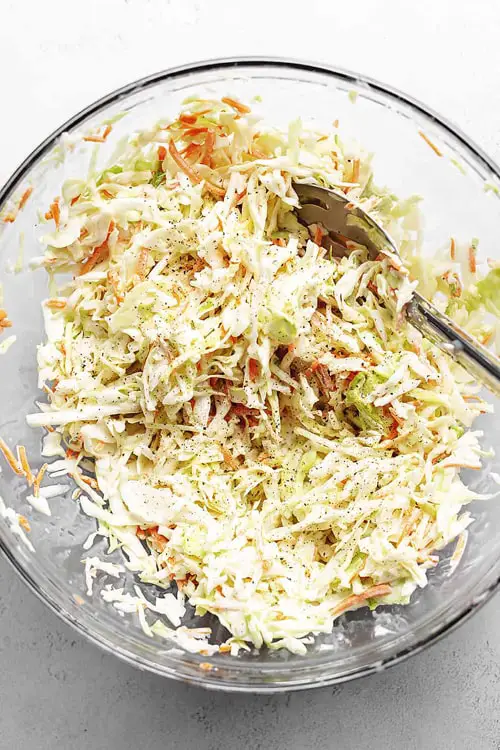 Keto Bacon Wrapped Cabbage
Who doesn't enjoy eating bacon? A very delicious dish that can be cooked on a BBQ grill. So you can even add it to the menu if you are having a BBQ at your place. Grill both cabbage and bacon until the cabbage becomes more tender and the bacon starts to crisp up. You can also bake this dish. No matter how you cook this dish make sure the bacon is properly wrapped around the cabbage before you start cooking it.
You can even use toothpicks to keep the bacon in line. Add the seasoning and let it bake for 25 to 35 minutes. Once done serve it immediately to your guests as this keto side dish wouldn't taste as good when it is cold as compared to when it is fresh.
Check the full recipe here.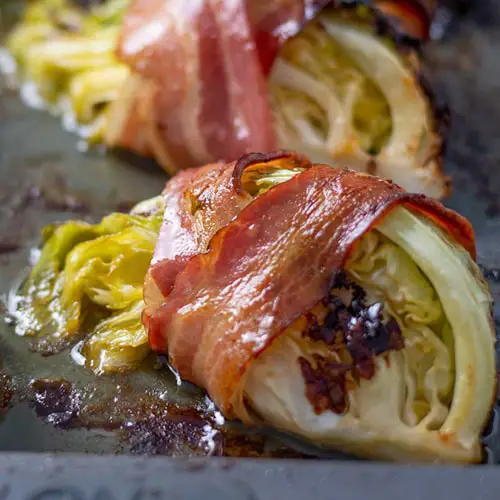 Summer Confetti Salad
If you are looking for gluten-free and low card keto side dish then this should be your best choice. A mixture of low carb keto veggies that will not only look presentable but will also be very healthy for the eater. It is an 'easy to make' recipe and doesn't take much time to prepare. You, however, have to be sure about what vegetable you need to add into the salad.
Many people believe that all vegetables are keto which is just wrong. You can add Broccoli, cauliflower, bell peppers (both red and yellow), basil, celery, red cabbage and other keto vegetables you like. Adding salt, lime juice, olive or avocado oil and a small quantity of sweetener is going to make the summer confetti salad as tasty as it can get.
Check the full recipe here.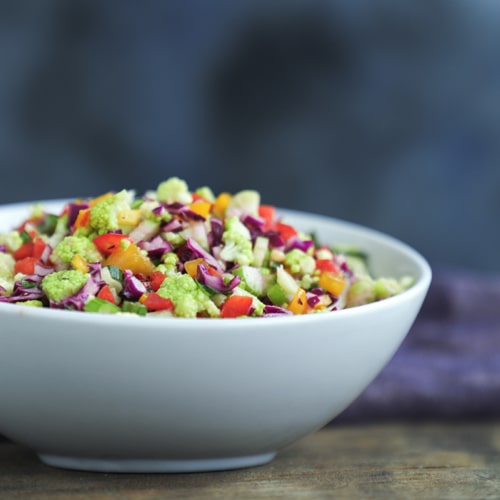 Keto Onion Rings Recipe
Onion rings are my personal favorite. There are many different keto onion ring recipes online. Onion rings are tasty, thanks to the keto ingredients and spicy seasonings. Don't forget to use olive oil while you cook your onion rings. Onion rings are something that you can serve at almost all types of gatherings.
Whether you are having your friends over, or your family is coming for dinner, or you are enjoying some alone time at your house watching a movie. In all scenarios, you can serve and enjoy onion rings. Keto onion rings aren't just tasty; they are full of healthy nutrients that can be very beneficial for your body.
Check the full recipe here.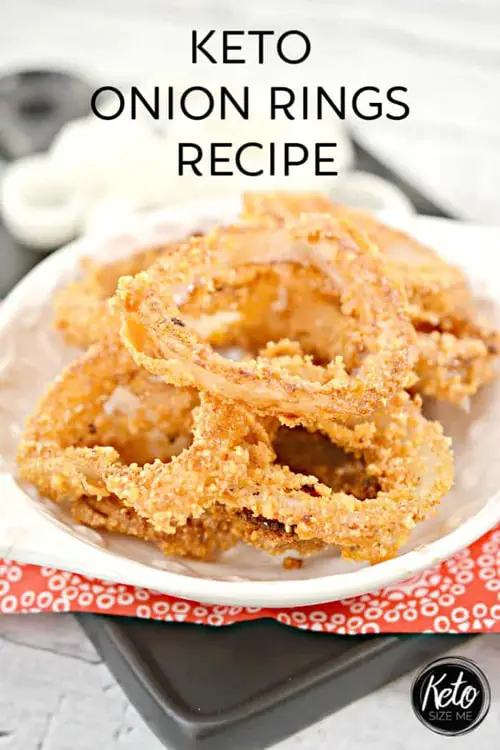 Keto Coconut Rice
If you love coconut oil and rice, then this is the perfect dish for you. It is healthy and low carb keto side dish that is bound to make you feel happy. It takes around 15 to 20 minutes to cook. The cauliflower rice and the seasoning are all very good for your health however an additional ingredient that makes this dish more healthy is the addition of coconut oil. Coconut oil in its individuality has been praised for its health benefit. Adding it to a keto recipe will definitely add a lot of value to the dish.
Check the full recipe here.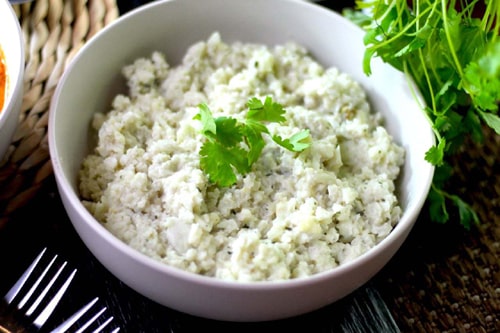 Garlic & Rosemary Mushrooms
Mushrooms sautéed with garlic and mushroom. This is one of the tastiest dishes you will ever taste. It is an 'easy to cook' dish that can be made in only 15 minutes. One of the best things about this keto side dish is that it can be served with almost any dish from the main course. This dish can be great only with garlic as well however adding rosemary adds to the deliciousness of the entire dish. Just make sure to use fresh mushrooms that are clean and cut into smaller bits. Salt and pepper can be used to season the dish.
Check the full recipe here.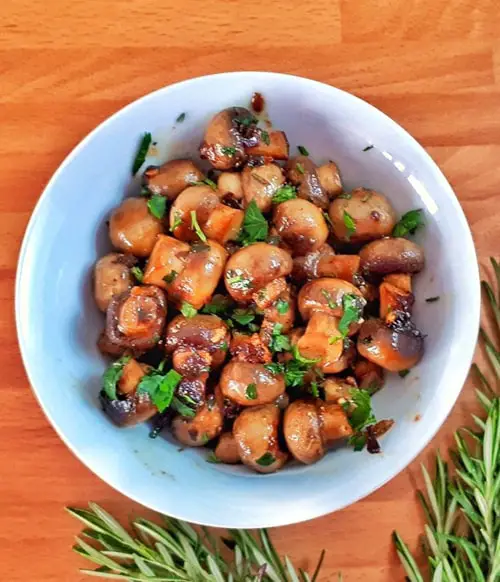 Conclusion
These are some of the best keto side dishes that you can enjoy with your main course meal. There are thousands of other keto side dish recipes online that you can enjoy preparing at your home. A keto main course meal should always be complemented by keto side dishes. These recipes work best as side dishes but that does not mean that you can't enjoy them individually. Some of these keto side dishes may even be served as full meals.
More Ideas For Your Weight Loss
Jeremy Park, the founder of jeremylife.com, is a love and relationships expert. With a journalism degree and years of exploration, he offers valuable insights to help you live your best love life. His mission is to make the journey enjoyable and effortless.