Today, I'm here with keto lunch recipes, and we all know how lunch is important in people life. Remember, lunch is a very-very important meal for everybody as it helps us to work more in the afternoon and you will feel energetic.
I know there are a lot of people who don't eat their lunch or they forget to eat sometimes. It is really not good for health. If you don't eat your lunch, you will eat more at dinner and will put on your wait, In the result.
Another reason for being unhealthy is eating lunch outside. A number of people are eating junk food out because of good taste.
Now, you neither need to stay hungry nor depends on junk food at lunchtime.
Cook your lunch at home following our simple steps of keto lunch recipes. You will save your time, money and health.
Cauliflower Rice Casserole Pan Pie with Eggs
In today's keto lunch recipes, I am here with "Cauliflower Rice Casserole Pan Pie with Eggs" which is a low carb meal, that can make you mid-day even more energetic.
This food will take your small amount of time and it's easy to cook. We are using mushrooms in this meal so it will be tastier and healthier too.
So, cook it, pack it in your lunch box, and get ready to go to your office.
Ingredients you will need
300 grams of Cauliflower Rice
2 tablespoons of Butter
1/4 kilograms of Mushrooms
4 large Eggs
1 clove of Garlic
200 grams of Bacon, diced
1 medium zucchini, shredded and liquid squeezed out
a cup of Parsley, roughly chopped
1 ½ cup of Cheddar Cheese, shredded
½ teaspoon of White Pepper, ground
Salt, according to taste
To cook this meal, set your oven to 350F, take a pan put butter, mushroom, and garlic on high heat. Cook it properly until you get a good smell and turned brown.
Now, take a large mixing bowl and place all other ingredients you have, except cheddar cheese and mix them properly.
Now give a round shape on top of a frying pan and apply cheddar cheese on.
Bake it for 40 to 45 minutes until vanish or have the slight bubble of the pie. Serve it or pack in your lunch box immediately.
Check the full recipe here.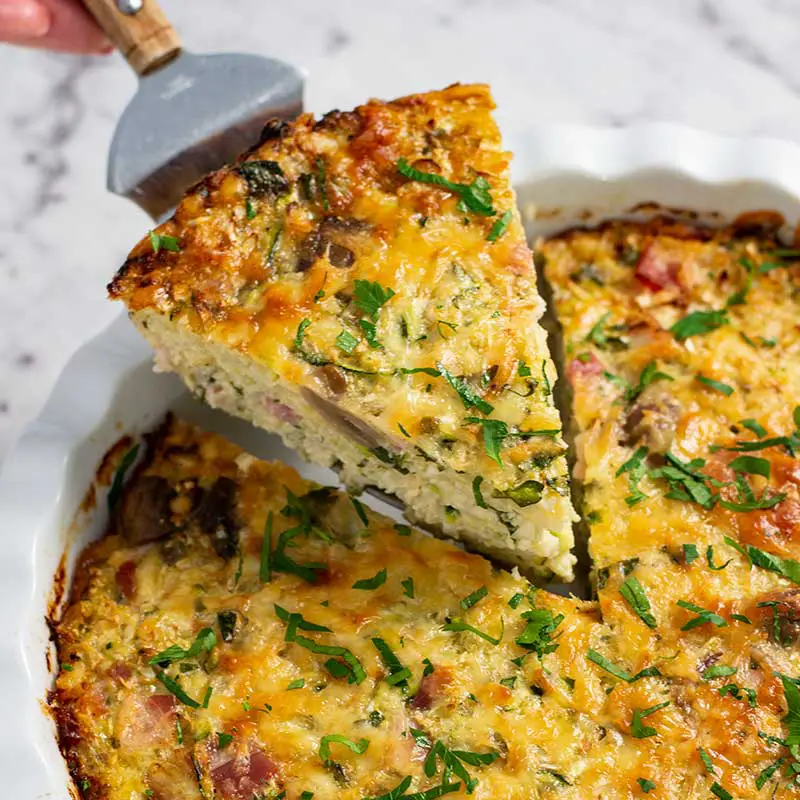 Arugula Chicken Salad
This is a perfect lunch which is able to satiate the hunger and help in losing weight.
The chicken will fill your belly and give you the satisfaction, on the other hand, the salad will help to digest your food.
So, this is a complete lunch package of keto lunch recipe, today. It is a summer special lunch food but you can eat in other seasons too.
Ingredients for chicken
2 boneless chicken thigh fillets
2 tablespoons olive oil
Salt(according to taste
½ teaspoon ground black pepper
1 teaspoon sweet chili powder
1 teaspoon dried thyme
4 cloves garlic
Ingredients for Salad
2 cups arugula
1 cup purslane leaves
Basil leaves
1/2 cup fresh dill
A handful of cherry tomatoes halved
1 tablespoon olives
1 avocado, sliced
1 teaspoon sesame seeds
1 teaspoon nigella seeds
½ tablespoon olive oil
Avocado depending on your taste
Set your oven on medium heat, take a pan and place your chicken with water. Boil it and keep flipping it properly until it absorbs water completely.
Now, place uncovered drizzle oil and all the ingredients of chicken. Cook them until it turns into brown color. Flip it time to time to cook every side of chicken.
To prepare the salad, take a pan place all the ingredients are listed for salad and apply them on chicken and serve it.
Check the full recipe here.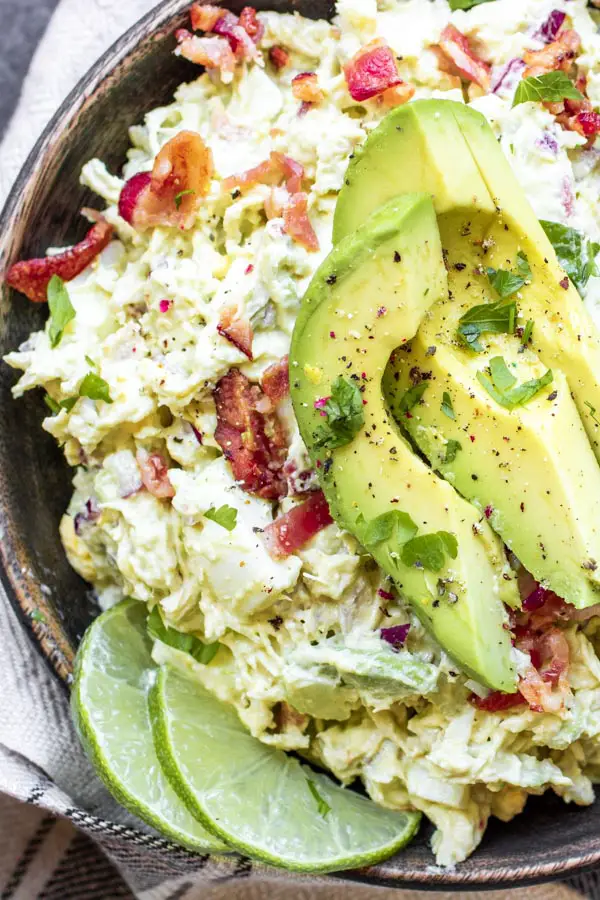 Chicken Salad with Avocado
In this Keto lunch recipe, we will cook a meal Chicken salad with avocado is really delicious low carb lunch which will help your body to keep energetic even after lunch.
We will be using chicken, bacon, celery, creamy onions and avocado. Really easy to cook and full of flavor.
So, try this meal once in your lunch and be familiar with food with real flavor.
Ingredients you need
1 pound Shredded Chicken
1 Avocado, sliced
1/4 cup Celery, fully chopped
¼ cup Mayonnaise
5 strips Bacon
3 Hard-boiled Eggs, chopped
1/4 cup Red Onion, diced
Juice of a lime
Salt according to taste
To prepare this salad, take a large bowl and place the shredded chicken, mayonnaise and avocado.
Mix it properly until all the ingredients combine together. Take bacon red onions, and celery and fold in egg.
Now squeeze a slice of lime to get all together and put a slice of lime just for garnish and put in the refrigerator till it is ready to be served.
Check the full recipe here.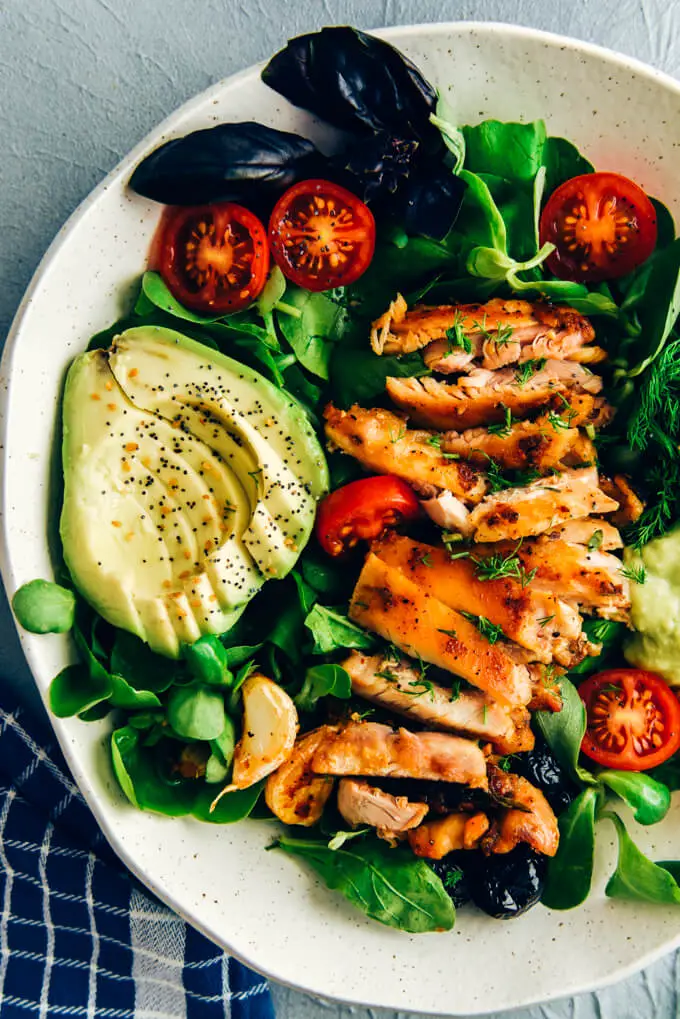 Chicken Mozzarella Burger with Pesto
Everybody loves chicken, and when you cook chicken with pesto, that's the amazing cooking experience as it smells dreamy and spicy aroma.
This meal is a low carb food, full of protein and the delicious flavor of the ingredients.
This burger is really easy in cooking and takes a small amount of time. We don't need so many ingredients to cook it.
So, go with this Keto lunch recipe, and enjoy the flavor of a homemade burger.
Ingredients you need
500 grams Ground Chicken
1/4 Cup Basil Pesto
2 Tbsp Shredded Parmesan
1 Medium Tomato
100g Fresh Mozzarella
1 Tbsp Olive Oil
Take a large bowl for mixing the ground chicken, parmesan, pesto give a splash of salt and pepper, to taste mix it properly and divide it into 4 sections and make the patties.
Set your oven over medium heat, apply the olive oil and put the patties to the pan one by one as it needs not too many at the same time is you need to cook properly and little crispy and not get burnet.
Now, set the oven on 175F again and cook the burgers for 8 to 10 minutes. Slightly reduce to heat to cook them in a good manner.
Wait for 5 to 10 minutes and place the slices of fresh mozzarella on each burger and the slices of tomatoes on top and Sprinkle some black pepper and some salt and serve it.
Check the full recipe here.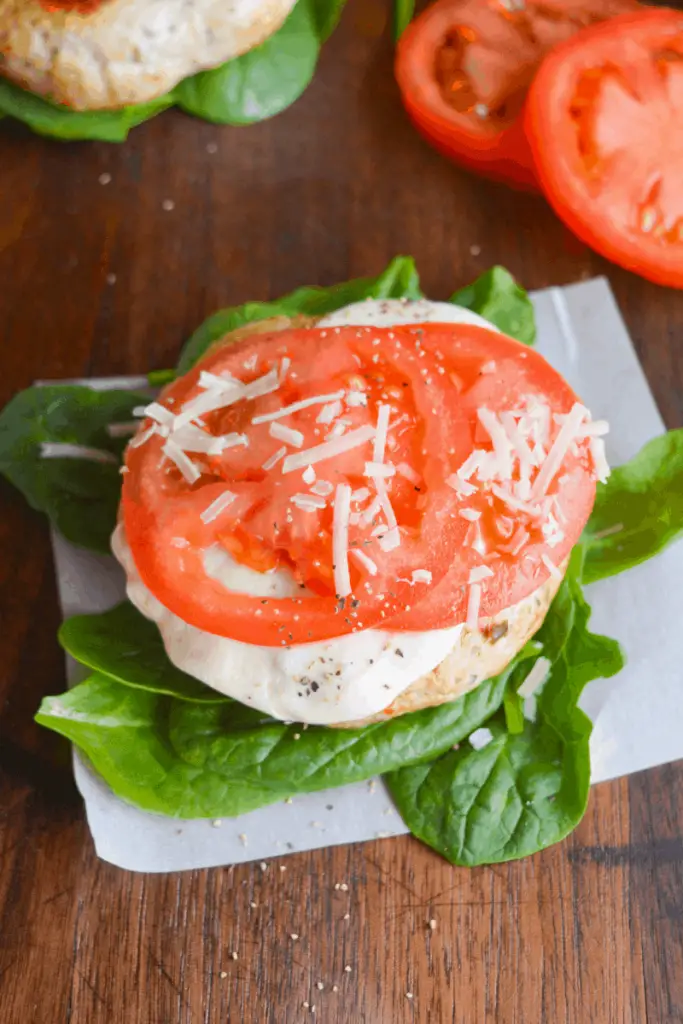 Pepperoni Meatza with Cheese
In this meal, you will cook meat with may grounded ingredients and these natural ingredients will bring a unique flavor in it.
This is a low carb meal in today's Keto lunch recipe. This lunch would be really testy If you cook this properly as it has given here. This is great for the heart. So, cook it and enjoy this delicious lunch with your friends and family.
There are two simple steps to prepare this Pepperoni Meatza, meat and top. Let's note the ingredients first.
Ingredients for meat
1/2 Kilogram ground Sausage any type
1/2 tsp all purpose seasoning
1/2 tsp ground ginger
1/2 tsp onion powder
1 tsp ground cayenne pepper
1 tsp dry oregano
Salt
Ingredients for toppings
1 1/2 Tbsp Low carb pizza sauce optional
1 1/4 cup shredded mozzarella cheese
13-15 slices of Pepperoni
Let's get started with the meat. Set your oven to 420F and mix the ground Sausage with other ingredients till it mixed well and transfer the ground sausage and cover with another parchment paper.
Use your hand to gently spread the ground sausage in the parchment papers and roll till it gets 15 in circle.
Remove rest of the paper and meat and bake it for 15 minutes as the meat cooked well the meat would shrink to about 11 in around and there will be a pool of meat juices.
Now, use a clean kitchen paper towel to make the meat dry and place the meatza to another fresh parchment paper sheet on Pizza pan.
Take the low carb pizza sauce and spread on meatza and shredded mozzarella cheese on low carb pizza sauce and place the pepperoni on cheese sauce and bake it for 5 minutes on 400 F temperature.
Reduce the temperature to 350F and let the Cheese melt. Take out from the oven, wait for two minutes and serve it.
Check the full recipe here.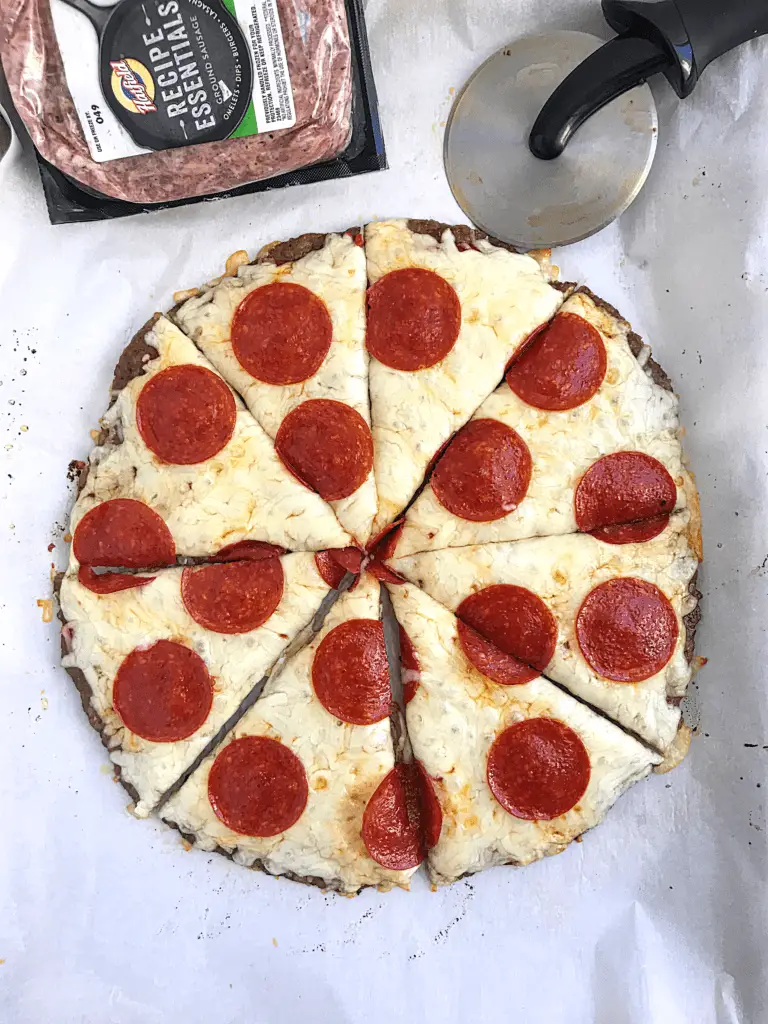 Butter Garlic Pork Tenderloin
Today, I am cooking a baked Garlic pork, with butter in our Keto lunch recipe. This is one of the best low carb baked lunch.
We will use Italian garlic and butter, and it takes a small amount of time. Easy to cook and tastes delicious.
I am using a Pork Tenderloin in this Keto lunch recipe, but a pork loin can replace it.
You can use any of these two. You must try this low carb healthy food once for your lunch.
Ingredients you need
1kg pork tenderloin
120g butter, sliced into 6 parts
2 tbsp extra virgin olive oil
1 tsp Celtic sea salt and fresh cracked pepper
2 tbsp diced garlic
1 tsp dried basil
1 tsp dried oregano
1 tsp dried thyme
1 tsp dried parsley
1/2 tsp dried sage
Take a mixing bowl and mix Basil, garlic, Oregano, thyme, parsley, and sage. mix the tenderloin with salt and pepper.
Take a large pan and let the oil heat until you are mixing. Now place the Tenderloin to the pan and bake all side as it gets brown and adds it on a baking sheet.
Place the part of butter on tenderloin and wrap in foil. cook in for 20 to 25 minutes on 150F.
Remove it as it's cooked properly and rest for 5 to 10 minutes. Serve it immaterially as it locke juices.
Check the full recipe here.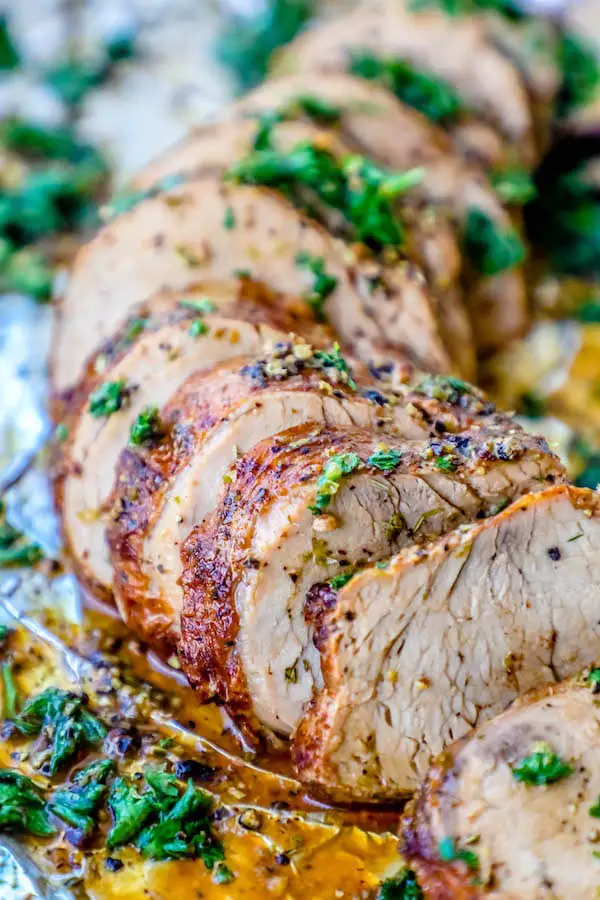 BBQ Pulled Chicken Burger with Sauce
This time I am here with a burger, but not just any common burger.
It's a pulled chicken burger. It will be cooked at low temperature and called slow-cooked pulled chicken burger.
It is really juicy and delicious. In this Keto lunch recipe, I am using the boneless chicken and many other ingredients which will bring great flavor and taste amazing.
If you like chicken or you are a burger lover, do cook it once and you will be cooking again and again.
Ingredients you need
2 pounds chicken breast or thigh(boneless skinless)
1/4 tbs ground black pepper
1/4 cup dark brown sugar
2 tbs chili powder
1/2 tbs dry mustard
1 tbs garlic powder
1 tbs onion powder
1 cups ketchup(or more)
2 tbs apple cider vinegar
2 teaspoons sauce(any you like)
Salt to taste
Firstly, you need to preheat the oven to 350F.
Give some cuts on chicken breasts so it will be able to absorb the sauce to give a mixture flavor. Add all the ingredients together, and mix it well till all combine together.
Put your chicken on pan sheet and cook it for 25 to 30 minutes until it gets brown. Take it out and wait for 5 minutes.
Now add the chicken on your burger and other ingredients on chicken. The chicken sauce will be on top. Your burger is ready to be served.
Check the full recipe here.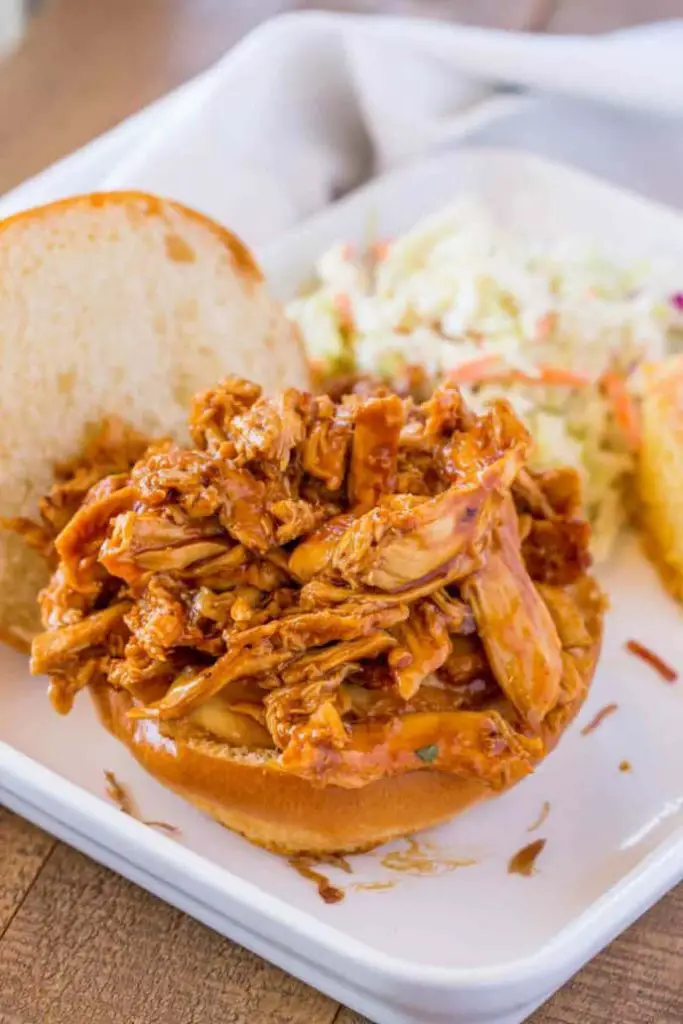 Mini Quiches for Your Lunch
Today I'm going to talk about Quiches. This Quiches will be in small in size and really easy to cook.
In ingredients, you will use bacon, eggs, heavy cream and pesto. It's amazing in flavor. You will also use some herbal vegetable to garnishing.
This meal is one of the healthier food in this Keto lunch recipe series. Easy to pack in your lunch box as it is dry.
You can pack it separately Quiches and top ingredients and prepare as you want to eat, and it will take no time.
For the Quiche
Tart crust
4 slices of bacon
5 eggs
¼ cup heavy cream
2 Tablespoons blonde miso paste
1 tbs ground cayenne
¼ tbs kosher salt
2 tbsp onion
¼ cup thinly sliced white onion
For the Topping
Radicchio
Mushrooms
Radishes
Sunflower sprouts
Fresh peas
Dill
Parsley
Asparagus tips
Purple Basil
Whipped ricotta and cream cheese
Fiddlehead ferns
Edible flowers
To cook, Prepare the rolls of the dough and give a shape apply pie and cook and let it be cool. take a blender and put eggs, heavy cream, miso, salt, and cayenne and blend it.
Now, bake the bacon and chop it. you need to cook onion and butter for 5 to 7 minutes and add the bacon.
Now, pour the eggs and other ingredients on top and bake on pan sheet for 15 minutes at 325F. put in the fridge before serving it.
Check the full recipe here.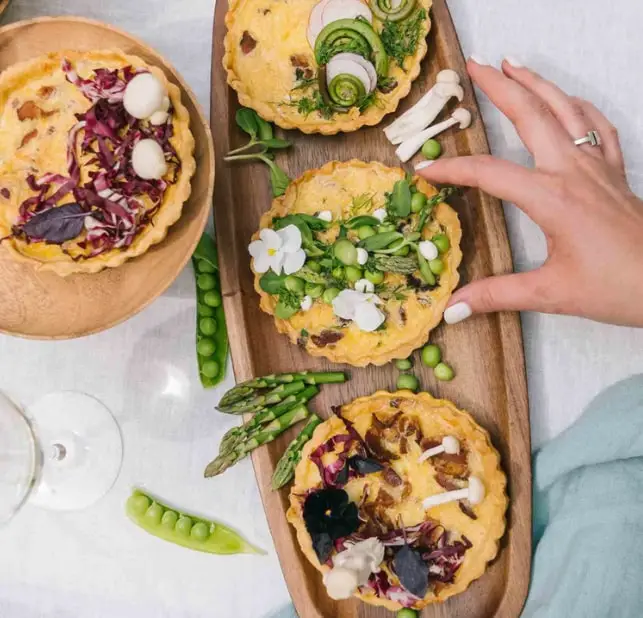 Air Fryer Avocado Fries
Do you want to cook something super easy and super delicious? Alright! today in our Keto lunch recipe, I'm here with Air fryer Avocado.
This is a low carb and good high fat. Again, you will use some good ingredients and spices to make it delicious and give a mix flavor. In this series, we are talking about lunch but you can eat it at any time.
It's dried and fried so, you can also pack it in a paper bag.
Ingredients you need
2 avocados, sliced
1 1/2 cups pork, crushed
1/3 cup almond flour
2 eggs, beaten
2 tbsp heavy cream
1/2 tsp garlic powder
1/2 tsp paprika
1/4 tsp cayenne
1/4 tsp cumin
Salt & pepper to taste
Take the peeled Avocado and slice, evenly. Whisk the eggs and cream together in a bowl. Thka another bowl and mix the almond flour and seasoning and add the crushed pork rinds in a bowl.
Place the avocado slice into the almond flour and mix them properly. Place them into air fryer in one layer.
Set your air fryer at 400F cook for 5 minutes and flip and again for 5 minutes. It's ready and you can serve it with a sauce you like.
Check the full recipe here.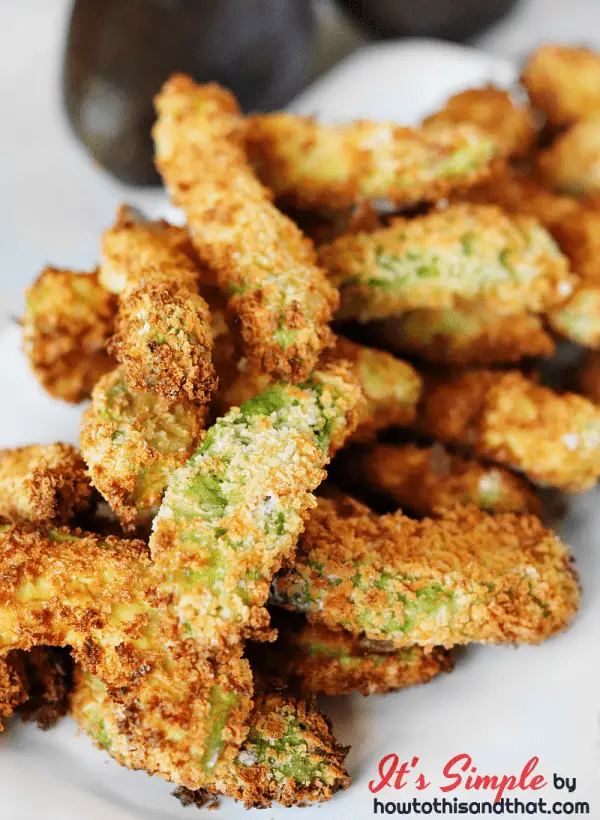 Conclusion
This Keto lunch recipe series will help you to cook your lunch at home.
How lunch is important in our busy schedule life, I have already mentioned. A number of friends of mine are not so serious about their lunch meal and I have seen the negative impact such as gaining weight, getting skinny, lack of energy or many other symptoms.
This keto lunch recipe will motivate you to cook something good at your home and enjoy as it is easy to cook and will not consume your big amount of time.
More Ideas For Your Keto Recipes
Jeremy Park, the founder of jeremylife.com, is a love and relationships expert. With a journalism degree and years of exploration, he offers valuable insights to help you live your best love life. His mission is to make the journey enjoyable and effortless.