Todays, Keto Dinner recipe When we talk about the meal, We always need to care about the Dinner.
If you are making mistake in choosing the food in its ingredients, you will surely put on your weight and get a sticking out paunch in the result. Many people think that dinner is not so important as we don't need to work at night.
Not eating your heavy dinner at night is a good idea but not eating dinner is really not good for our health. And yea, we do need energy at night to take oxygen and to release carbon dioxide.
This is the reason today I am here with a Keto dinner recipe, so you can cook some low-carb meal and get energy.
Devilled Egg Salad Recipe
Deviled egg recipe will give you great satisfaction as eggs have got protein and it's really really easy to cook.
Everybody wants to get together with friends and they do almost everything to impress their friends. But there is nothing better than a dinner plan. If you are planning a good dinner meal you will surely be able to bring your friends around the table. This time I will let you know how to cook Devilled egg salad recipe in this Keto dinner recipe series.
We have eggs and some green vegetables which will maintain your diet, and eggs protein will provide you energy to have a good sleep. It will talk very short time to prepare as you boiled eggs and it is almost done.
You will need
10 large eggs
5 tablespoons mayonnaise
2 tablespoons mustard
1 medium medium stalk celery (diced)
1/2 teaspoon paprika
1 tablespoon apple cider vinegar
1/2 teaspoon hot sauce
1/2 small red pepper (diced)
2 green onions (sliced thin)
Salt and pepper to taste
Put all the eggs in a pan and add water in it, water should be eggs down. Boil the eggs, remove it and let it rest for 10 minutes.
Wash the eggs properly with cold water, peel and chop it in four parts. Whisk together the mayonnaise, mustard, hot sauce, cider vinegar, and paprika in a medium-size bowl. Add celery, red pepper, and green onion with chopped eggs and toss them properly.
Season with salt and pepper to taste then wait until it is ready to be served.
Check the full recipe here.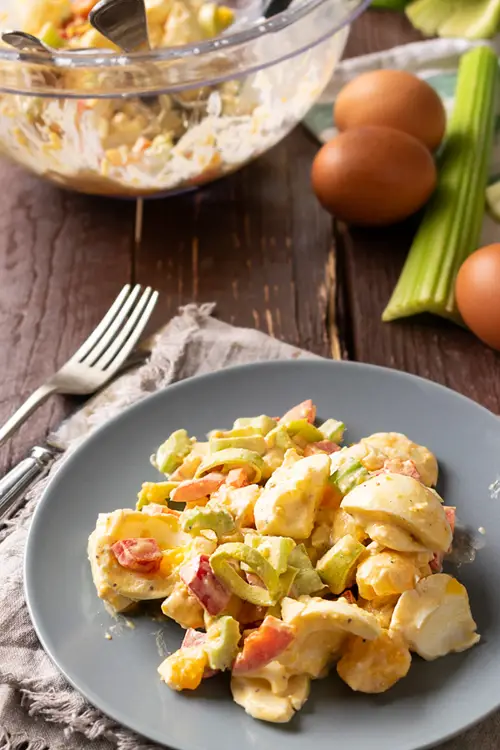 Lasagna Baked Noodles
When you talk about your skills with your friends, Cooking is meant to be a good skill. And when you talk about Lasagna, you will be able to impress people. Lasagna is really a delicious meal.
After seeing this dinner meal, you will really be surprised that why didn't you try it yet.
Whenever you plan to cook lasagna we always think of the creamy ricotta, the savory marinara, and mozzarella but this time we are not using it at all we are using Ground Beef, Italian sausage, marinara Sauce and many other ingredients and you would love it for sure.
The ingredient you would need
1/2 KG Ground Beef
1/4 KG Italian Sausage
1/4 cup chopped white onion
1 1/2 cup Marinara Sauce
3/4 tsp Garlic Powder, divided
1 tsp Oregano, divide
2/3 cup Parmesan Cheese, divided
1/2 cup Ricotta Cheese
1 cup Shredded Mozzarella, divided
To cook this Keto dinner recipe, you need to preheat your oven to 400F. Take a skillet, place the ground beef and ground sausage together and cook for 15 minutes until it turns into light brown.
Place the onion to the pan and saute with meat for 4-5 minutes.
Put the sauce, the half part of oregano and garlic powder into the pan and the meat sauce and simmer it for 5 minutes. take a medium bowl and mix the half cup of mozzarella, ricotta, and 1/3 cup of the parmesan. add some salt and pepper to taste and the rest half oregano and garlic powder and fold it properly.
Place spoonful of the cheese mixture after Turning off the heat and push them down a little bit with your spoon to the bottom of the pan.
Garnish it topping with the mozzarella and Parmesan. Bake it for 18-20 minutes until it turns brown and serves it worm.
Check the full recipe here.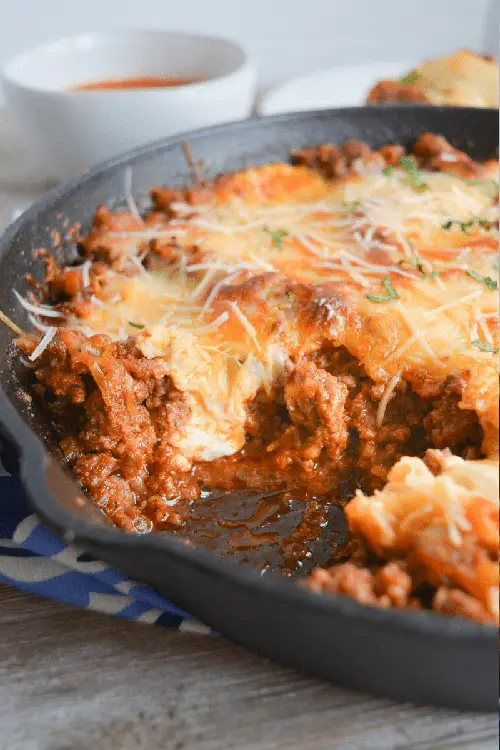 Butter Dutch Oven Chicken
One of the most favorites of chicken liver is to cook a whole chicken and in this keto dinner series, we are going to cook a whole chicken. I'm using some other ingredients like lemon, garlic onion along with butter which will help to bring the good flavor.
A Dutch oven is a perfect vessel for the roast chicken. You must try it once and enjoy with your friends and family. This will make your night perfect and it will be even better to eat with your friends and trust me it will look great on your dinner table.
The ingredient you would need
1.5 to 2 KG Whole Chicken
1/4 cup Melted Butter
2 tsp Garlic Powder
1 Tbsp dried Thyme
1 1/2 Onion, sliced
1/2 Lemon
Pre-heat your oven to 400F and remove the rinsed chicken.
Now, Pat the chicken dry with paper and add butter, garlic powder, thyme, and salt and rub all side of chicken put the lemon juice of quarters part and place into the cavity.
In a Dutch oven place some slices of onion. place it breast side down and cover with a lid. Roast it for an hour on 150F temperature.
Un-lid and flip it place it under the broiler for 5 minutes to be crisped on 165F. Remove it after 5 minutes and it is ready to be served.
Check the full recipe here.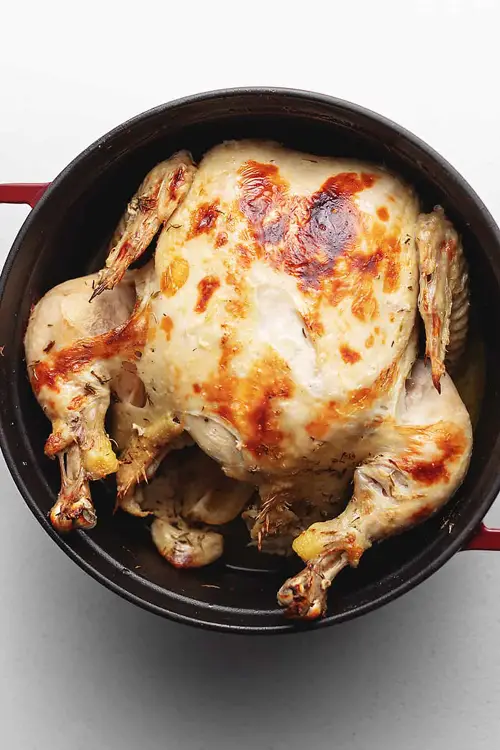 Mushrooms Pot Roast
Mushrooms pot roast is a low carb dinner as we are using low carb vegetables in a pot which you will love to have on your dining table.
In this keto dinner recipe series, we will go with a pot roast along with vegetables and many other ingredients.
Ingredients you will need
1 KG pound boneless beef
1/2 cup sliced mushrooms
1 medium size onion chopped
1/2 teaspoon ground black pepper
1 teaspoon garlic powder
1/2 teaspoon dried Italian seasoning
1 tablespoon tomato paste
1 tablespoon avocado oil or ghee
1 teaspoon keto sauce
2 teaspoons coconut amino
2 cups keto compliant beef broth or bone broth
5 small size potatoes 1/2 cups cauliflower florets
1/2 cup celery
1/3 cup zucchini rounds
1/4 cup chopped carrots
2 sprigs fresh rosemary
Parsley for garnish
Salt to taste
We can use a slow cooker method to prepare this meal Firstly, add oil to a pan on medium high heat place to roast and sear it for 5 minutes until it gets brown.
All side should be cooked equally. Now, add the mushrooms and the chopped onions and cook for 5 minutes.
Add all the vegetables and ingredients together and mix and cook them properly. Now, transfer the roast to a large platter sprinkle with chopped parsley using two forks and serve it with gravy.
Check the full recipe here.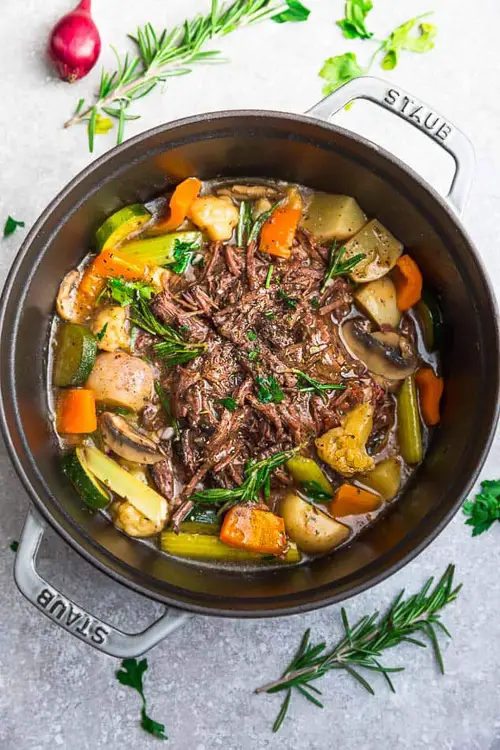 Roasted Cauliflower Steaks with Green Tahini Sauce
A number of people are fond of Roasted and baked food, and so am I.
This is one of the reasons I am coming with this Roasted Cauliflower Steaks today in our Keto lunch recipe which you would love to eat and even cook.
It's easier than easy to cook and you will enjoy cooking this. The smell of cauliflower while cooking will bewitch you.
So try it once and decide if you are ready to cook further. You can serve this with many other Sauces but I'm going to try it with Green Tahini Sauce which tastes amazing.
There are two parts of this Recipe
1. The Cauliflower Steaks
Ingredients you need for the Cauliflower Steaks.
2 large heads cauliflower
2 tsp. olive oil
1 tsp. cumin seeds
Black pepper
Salt to taste
To cook this, Preheat your oven to 375F.
Take a Baking sheet with parchment paper, Remove the stalk from the cauliflower and make cilice but down to head(don't chop).
Now, roast it both side properly until it gets brown.
2. The Green Tahini Sauce
Ingredients you need for The Green Tahini Sauce
½ c. lightly roasted tahini
1 lemon, juiced
A large handful fresh parsley
A large handful fresh cilantro
2 cloves garlic
½ tsp. cumin seeds
2 cups olive oil
Salt to taste
To prepare this sauce, use a blender, blend all tahini sauce ingredients together on high speed, pour the olive oil in as it blends properly.
It can take some time. once it is blended nicely, place it in a bowl.
Now, you can serve this with Serve steaks drizzling the sauce and do garnish with any fresh micro greens like mint, coriander leaves or fenugreek leaves.
Check the full recipe here.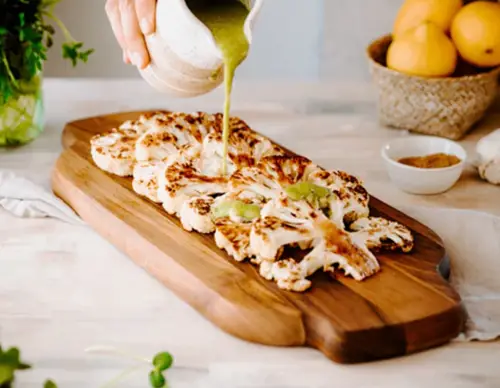 Spinach and Ricotta Rolls
If you are looking for an easy snack for your dinner, then this recipe is your you.
I always come with some low-carb meal so, today in this in this Keto dinner series. I'm with an easy snack recipe which will be very interesting.
You can try even if you are vegetarian. Personally, I like all type or rolls snacks, filled with different ingredients.
This is cheesy as well so, go with it and make your family happy either kids or adults.
Ingredients you will need
200g Baby Spinach washed
1/3 cup Parmesan, grated
1 clove Garlic, minced
300g Ricotta
1 cup Shredded Cheddar Cheese
2 Eggs
2 Green Onions
Pepper to taste
Salt to taste
Preheat your oven to 350F and take two baking sheets with parchment paper.
take out the two puff pastry sheets from the freezer and let it be melted.
Now, take a pain and add some oil to heat it, as it starts to boil add garlic and cook until it gets little brown and add the spinach and cook for 2 to 3 minutes more. Take it out of oven add the pepper and salt and let it be cool.
Place the ricotta, cheddar, parmesan cheese, 1 egg, and onion in a bowl and mix them properly as it gets combined.
Give a rectangle shape by cutting it into half of and make a log shape by filling one side of the pastry. roll up nicely and tightly and close and divide into 4 pieces of Pastry.
Put the rolls on a refrigerate for 15 minutes, and remove it from the fridge and cut each into 4 pieces. Apply the beaten egg on and apply sesame seeds on top.
Now, place the roll on baking trays, for 25 minutes until it gets crispy and cooked properly.
Check the full recipe here.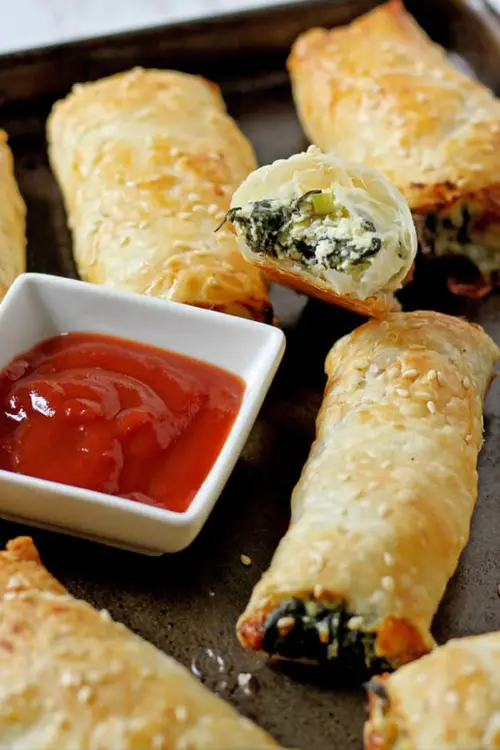 Conclusion
And this was the Keto Dinner recipe which was all my favorite. In this time-consuming world, where people are getting used to eating out and crazy for junk food, I'm here to help you to cook something healthier, tastier and the time-saving recipe. And of course, you will save money as well.
It is really nice to cook something at home when you are cooking you know about all the ingredients you are using in your meal and you are sure that will not cause any harm. on the other hand, you can be so sure about the ingredient if you are eating outside.
In this Keto Dinner recipe, I have written about many dinner meals, thy some and be healthy!
More Ideas For Your Keto Recipes
Jeremy Park, the founder of jeremylife.com, is a love and relationships expert. With a journalism degree and years of exploration, he offers valuable insights to help you live your best love life. His mission is to make the journey enjoyable and effortless.