Healthy meal preps are an amazing way to lose weight. Obesity is one of the biggest problems faced by mankind. It is the root cause of many other dangerous diseases relating to the heart and kidneys. Your food intake is crucial when thinking about losing weight.
You can have a great workout schedule but if your food consumption isn't complimenting your workout, then you are wasting your time in the gym. The choice of food you consume is also very important when thinking about losing weight.
They are tasty and convenient. I have come up with a list of some amazing and healthy meal prep recipes for people trying to lose that extra fat from their body.
Creamy Garlic Parmesan Broccoli & Bacon
In creamy garlic parmesan broccoli and bacon dish, the broccoli and bacon are baked in creamy and cheesy parmesan garlic sauce.
The dish also has chunks of Mozzarella on the top however it is a very low card dish which makes it perfect for people trying to lose weight.
It is ideal to use a low-fat cream for this recipe.
Things You Will Need
In order to make this amazing dish you will need the following ingredients;
8 ounces of bacon
Chopped garlic
One diced onion
One and a half cup of light cream
Two tablespoons of a mixture of water cornstarch slurry and cornstarch
Around 500 grams of broccoli
Salt and pepper
Mozzarella cheese and parmesan cheese.
It is ideal to use the ingredients as per the mentioned recipe however you can also change the amount based on your taste and preferences.
Check the full recipe here.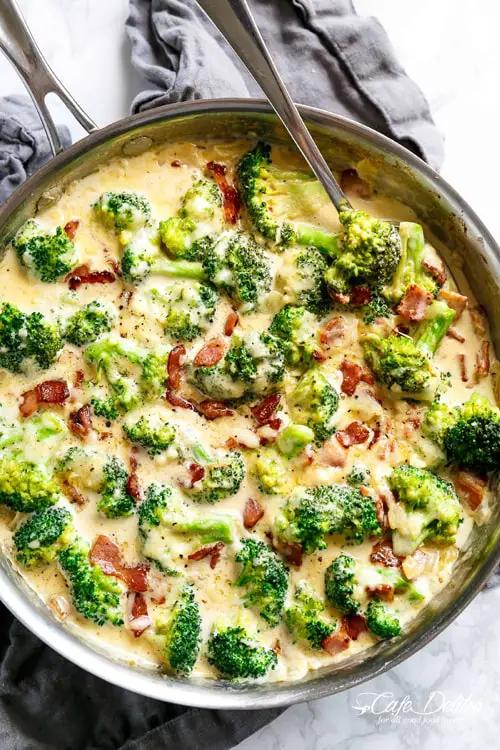 Loaded Sweet Potato Nachos
Loaded Sweet Potato Nachos is another healthy meal prep dish.
It is a very delicious and mouth-watering dish with an exotic and savory flavor.
Things You Will Need
You will need the following things in order to make this amazing dish.
3 to 4 large sweet potatoes (As per serving number)
Olive Oil (1tbsp)
Half tbsp paprika
Half tbsp garlic powder
A small pinch of chili powder
Drained and rinsed black beans (around 170g)
Shredded Cheese (around 120g)
¼ cup diced red onion
1 or 2 jalapenos (as per preference)
Cilantro leaves
Guacamole
Preheat your oven and spray it lightly with cooking spray.
Slice the potatoes in a round shape and place them in the bowl.
After that add ingredients like paprika, garlic powder salt, and olive oil.
Use your hands to add these so that you can be sure that you used the right amount.
Check the full recipe here.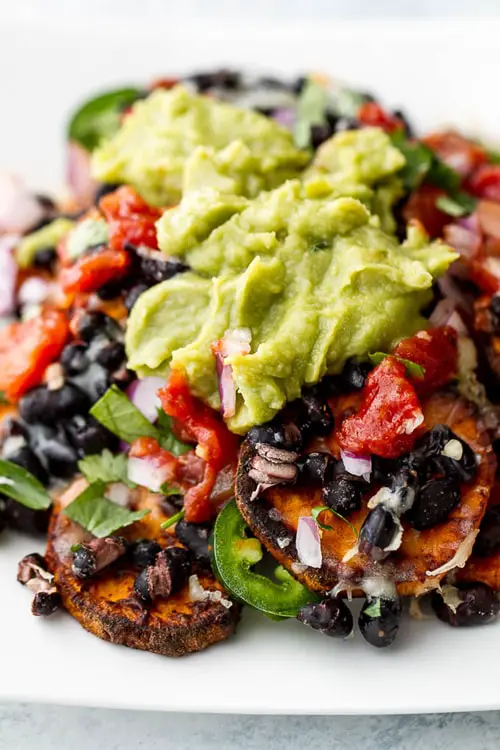 Sweet Potato Nachos With Chicken Carnitas
From Loaded sweet potato nachos to sweet potato nachos with chicken carnitas.
This isn't just a tasty dish that also looks presentable.
It is also a very healthy dish that can help you complement your workout routine.
What Do You Need To Cook This Amazing Dish
Sweet Potatoes sliced into ¼ smaller pieces (Ideally 2- Changed as per the number of servings)
Salt (Half Teaspoon)
Guacamole(One Cup)
Chicken Carnitas (Two Cups)
Sliced Red Onion (1/4th of a single onion)
Sliced jalapeno
Cilantro
Preheat the oven to 400F. Place a baking sheet in the oven and then place a large cooling rack over the top.
Put the potato slices on the top of the rack and make sure no one slice is overlapping with the other.
Bake the potatoes for 15 minutes, flip them and bake another 10 minutes. Don't forget to sprinkle it with salt.
Once done, move the potatoes to a large plate or a platter and then put the chicken carnitas on top of the potato.
After that, you can scatter all the other ingredients on top of the platter.
Check the full recipe here.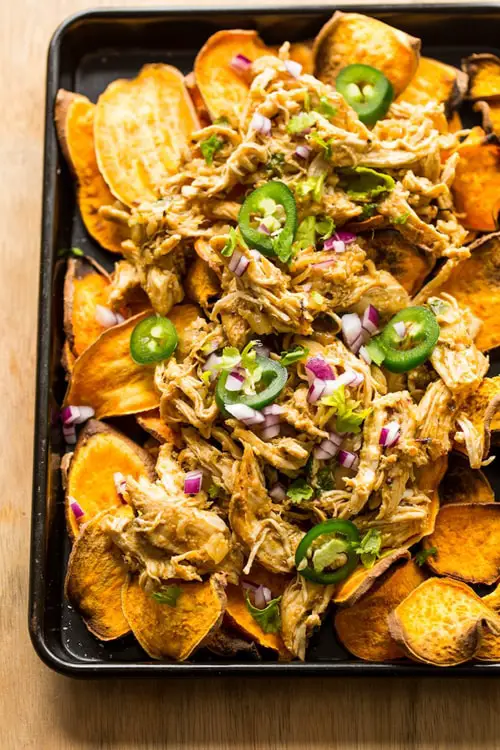 Low-Carb, Keto Cheeseburger Stuffed Peppers Recipe
Most people think of junk food when they hear the word cheeseburger.
That is not the case with my low carb keto cheeseburger recipe.
It is one of those healthy meal prep recipes that can become your child's favorite dish.
So if you want your kid to eat healthily and all your kid wants is a cheeseburger.
Make him this low carb keto cheeseburger with stuffed peppers.
What Will You Need
The ingredients to make this amazing burger include;
Mini Peppers
Salt (Half tsp)
1 lb beef
Paprika (half tsp)
Black Pepper (Half tsp)
Italian seasoning (1 tsp)
Ground Cumin (1 tsp)
Garlic Powder (Half Tsp)
Sliced Onion (1 piece)
Half a cup of Shredded Mozzarella cheese
One Egg White
Preheating the oven is crucial in this recipe.
Once you have started to preheat the oven, spray baking sheet in the oven.
While your oven is heating take a bowl and mix the beef, onion, Italian seasoning, and egg white.
Once the mixture is in its final form.
Cut the mini peppers and add the beef mixture in it.
Once done, bake the mixture for 20 minutes until the beef gets cooked and the pepper has softened.
Put shredded mozzarella cheese on the baked mixtures and then bake for another 4 minutes.
Check the full recipe here.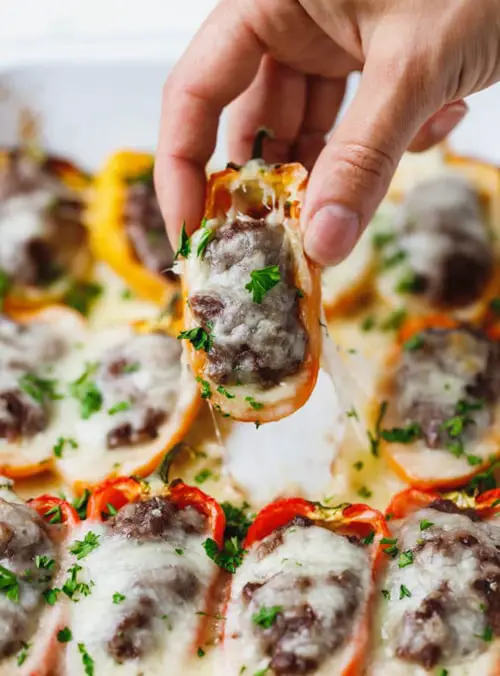 One Pan Greek Chicken Meal Prep
As the name suggests, this is a very healthy chicken meal prep dish. It has a lot of vegetables in it that are crucial in fulfilling your nutritional needs.
Two of the best things about making this dish is that you only need one pan to make it and that this dish is full of nutritional ingredients that make for amazingly healthy meal prep.
What Will You Need
This is a very healthy dish. You can judge that by the ingredients that constitute this dish.
Chicken Breast Or Chicken Thigh
Cauliflower Rice
Red Onion
Zucchini
Tomatoes
Olives
Parsley
Coconut Yogurt
Dill
Cucumber
This is a one-pan dish and you can use a large skillet for it.
Heat coconut or avocado oil to a moderate temperature.
Place the chicken piece in it and season it using salt.
Put in the veggies like red onion and zucchini and let them cook for 4 to 5 minutes. Add cauliflower rice in the skillet and sauté it for 5 minutes as well.
Once the cauliflower rice is slightly brown you can top the pan with olives and lemons.
Check the full recipe here.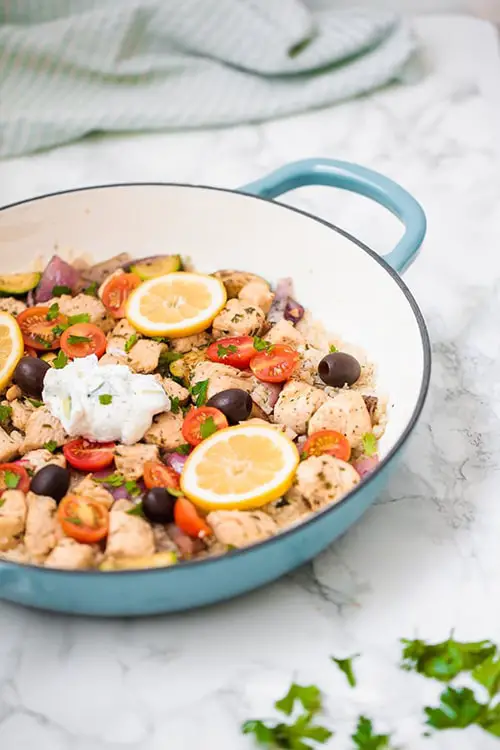 SHAKSHUKA
Anything that has a combination of vegetables and eggs is bound to be of great nutritional value.
Shakshuka is one such dish. It is a very popular dish in the Middle East however it is also loved by a lot in other parts of the world.
One of the best things about Shakshuka is that it is very easy to make and hardly takes half an hour to cook.
What Will You Need
Diced Onion (medium-sized)
Red Bell Pepper (1 Piece)
Paprika ( Around 2 tsp)
4 Chopped Garlic Cloves
Cumin (1 tsp)
Chili Powder (1/4 tsp)
Peeled Tomato
5 to 6 Eggs (As per preference and servings)
Cilantro and parsley
Salt and Pepper
Pour olive oil into a large sauté pan. Heat it to a moderate temperature.
After that add in the onions and chopped bell pepper. Let it cook until the onion turn to light brown. Add garlic, salt, pepper, and other spices and let it cook a little more.
Place the peeled tomatoes in the mixture.
Once you have a well-cooked sauce, you can create wells in the sauce using a spoon and pour egg in them.
You can let the mixture cook for another 10 minutes.
Once done, add the cilantro and parsley for taste.
Check the full recipe here.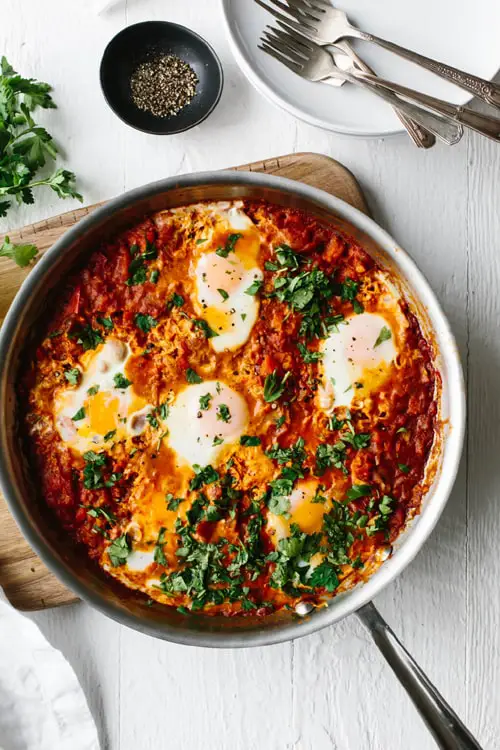 Baked Denver Omelet Breakfast Casserole
This dish is for health enthusiasts.
If you are ever hosting a dinner with all your health-conscious friends then this healthy prep meal should definitely be on the menu.
It is actually a breakfast dish. Breakfast is the most important meal of the day so it is crucial to eat healthy in the morning.
Things You'll Need
Olive Oil (1 tsp)
Butter (1 tsp)
Chopped Garlic (Half tsp)
Button Mushrooms (Around Dozen Mushrooms cut in half)
Red Bell Pepper (Cut into smaller pieces)
Green Bell Pepper (Cut into smaller pieces)
Onion (Sliced to smaller pieces)
Eggs (8 to 10)
Ham (Half a dozen slices of ham-small pieces)
Sriracha
Salt and Pepper for taste
Preheat the oven to around 400F.
While the oven is heating you can sauté the vegetables.
Pour oil and butter in a pan.
Then add garlic and ginger in it.
Let it cook for a while.
After that add in the mushrooms.
Let it cook for four to five minutes.
Then add both types of bell peppers.
Add in the onions and let the entire mixture cook for a few minutes.
Once you feel that the mixture is appropriately cooked you can turn off the flame and add the ham slices in the mix.
Use a bowl to create another mixture consisting of eggs, salt, sriracha, pepper, and other spices.
Put the mixture from the first bowl in the oven tray and add the egg mixture into it.
Bake for a good 35 minutes.
Check the full recipe here.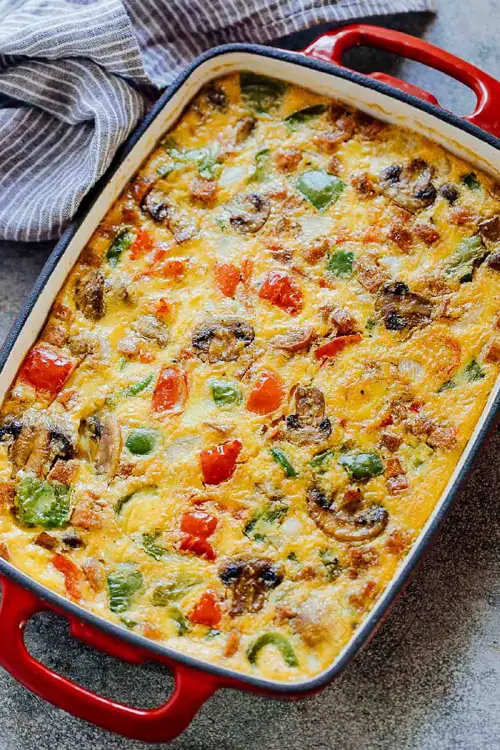 One-Pan Meatloaf Dinner
A very elegant looking healthy meal prep.
It is a great dish for people who are looking to lose weight.
Meatloaves are everyone's favorites and when some healthy vegetables complement the meatloaf then that adds a lot of nutritional value to the meal.
It is a very simple dish that can take about 40 minutes to cook.
You only need one big platter to present this dish however the meatloaf and vegetables shouldn't mix.
What Do You Need For This Easy Recipe
As this dish contains two different food materials, you will need to make them separately.
First, let's take a look at the ingredients for the meatloaf.
Chopped Zucchini
White Onion
Ground Beef (1 lb)
Smashed Garlic
Salt (half tsp)
Black Pepper (1/4 tsp)
Ketchup
Now For the vegetable part of the dish;
Trimmed Broccolini (1 Bunch)
Two Diced Sweet Potatoes
Sea Salt (One tsp)
Coconut Oil (4 tbsp)
Black Pepper (1/4 tsp)
Coconut Milk (1/4 Cup)
Turn the oven on and preheat it to 400C.
Chop the onion, garlic, and Zucchini using a food processor.
Once done mix it with the beef.
Turn the mixture into meatloaves.
Put these meatloaves on one side of the baking sheet placed inside the oven.
After that, it's time for the veggies.
Place the broccolini and potato on the other side of the baking sheet.
Add coconut oil on the top for seasoning.
You can then bake it for 30 to 35 minutes.
Please note that the broccolini might take less time to bake so you can take it out when you feel that it is already cooked.
You can let the rest of the meal take its time to get completely cooked.
Once the oven timer stops, you can take this healthy meal prep out of the oven and let the sweet potatoes completely cool down.
Then add the potatoes to the food processor after they cool down.
Add coconut milk and coconut oil and blend.
It would turn into a tasty potato sauce.
Check the full recipe here.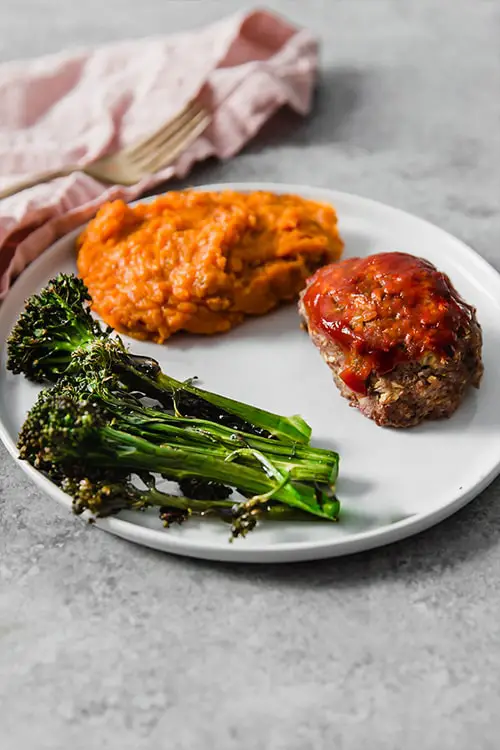 Conclusion
One of the best things about these healthy meal preps is that they are not just abundant with nutrients but they are actually very delicious as well.
If you are looking for a good keto or paleo diet then these meals are the way to go.
Some people are very choosy about what they eat.
They don't have to worry at all as there is a lot of different variety of healthy meal prep recipes available in the market and on the internet.
These healthy meal preps perfectly complement your workout routine and can help you lose weight in no time.
More Ideas For Your Keto Recipes