Get ready for some of the most delicious keto recipes you'll ever eat.
In this post, I'll tell you five of my favorite keto meals and show you how to make them like a pro. Tasty, healthy, and easy-to-make, these recipes are the perfect way to jumpstart your keto diet.
So let's take a look!
Ultimate Cheesy Keto Burger Helper
You'll absolutely love this two-part recipe! Chock-full of scrumptious, healthy ingredients, this meal takes only 45 minutes to make and tastes just as good as the classic recipe you grew up on! The best part? You can enjoy this meal knowing that it's low-carb and low in calories!
You'll Need (for beef and cabbage):
1 teaspoon paprika
¼ teaspoon garlic powder
1 tablespoon tomato paste
1 pound lean ground beef
¼ cup water
2 cups shredded cabbage
Salt and pepper at your discretion
You'll Need (for your sauce):
1 ½ cup shredded cheddar
1 ounce cream cheese
2 tablespoons salted butter
½ cup heavy whipped cream
Salt and pepper at your discretion
To make, brown your ground beef in a skillet and drain the excess grease when thoroughly cooked. Once done, add in your salt, pepper, garlic powder, paprika, and onion powder. Add your tomato paste and some water to the mixture and stir thoroughly.
Once this is done, you'll want to stir your shredded cabbage in with your other ingredients and cook it for fifteen to twenty minutes. This will give you the time you need to prepare your cheese sauce.
In order to do this, you'll want to melt butter in a separate skillet, add in your whipped cream and cream cheese, whisking as you go. Once the mixture obtains a creamy consistency, throw in your shredded cheese and season lightly with salt and pepper.
Allow your sauce to cook for up to one more minute before removing it from the heat. If your cabbage is tender, you'll want to pour your cheese sauce over the ingredients in your first skillet. Mix thoroughly and serve.
And that's it! You and your family will love this delicious keto diet recipe!
Check the full recipe here.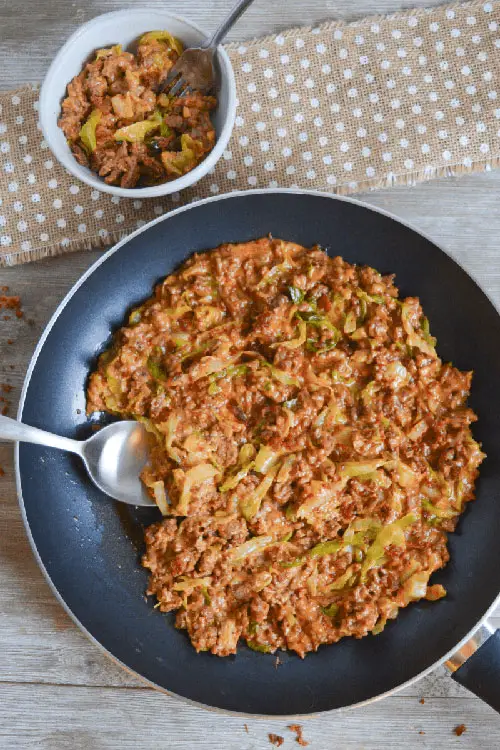 Keto-Style Sushi Bacon
Are you looking for an Asian twang to your keto diet? This keto-style sushi bacon recipe is one of the most delicious keto diet recipes around! Spice it up at the dinner table with this delectable keto meal.
You'll Need:
2 cucumbers, sliced
6 slices bacon
1 avocado
2 carrots, sliced
4 ounces cream cheese
In order to make this recipe, you'll start by lining your bacon slices onto a baking sheet covered in aluminum foil. For best results, bake between twelve and thirteen minutes.
As you are doing so, cut your cucumbers, avocados, and carrots into slices. When done, spread cream cheese onto your bacon slices, and then lay out your vegetables on one side of the pan. Once complete, simply fold your bacon into halves, and you're done!
This quick, easy-to-make recipe serves as the perfect snack!
Check the full recipe here.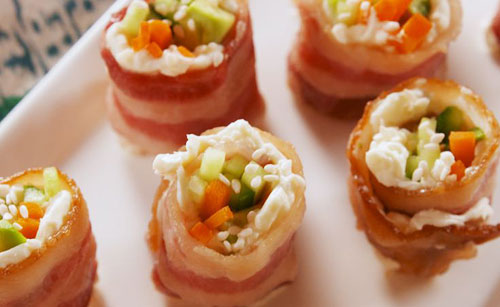 Roasted Butter Keto Chicken
If you've got a meat craving, this roasted butter keto chicken recipe is just what you need! One of the most delicious keto recipes you'll ever find, it packs a flavorful punch despite having few carbs.
You'll Need:
1 ½ cups chicken stock
½ teaspoon black pepper
1 teaspoon sea salt
2 teaspoons dried minced onion
1 teaspoon garlic powder
2 teaspoons sage
6 tablespoons butter
4 pound chicken, whole
2 teaspoons dried thyme
To make this recipe, you'll want to set your oven to 400 degrees Fahrenheit. While it preheats, mix your sage, salt, thyme, onion flakes, butter, pepper, and garlic powder into one bowl. Once complete, put your chicken into a roasting pan, making sure that the breast is facing upwards. When you get it situation, pour your chicken stock around the bottom of the pan.
After this is done, pull the skin away from the chicken breast to form an opening. Take your butter mixture and put half of it into this opening and rub the rest of it onto the outside of your chicken.
Once complete, bake in the oven for thirty minutes. After the timer goes off, remove the chicken and baste it with its juices; repeat this process every ten minutes for the next forty-five minutes, allowing your chicken to bake in the flavor.
Once done, you'll have a delicious chicken meal that you'll love eating with any keto-approved side dish. Get your whole family in on the keto craze with this irresistible recipe!
Check the full recipe here.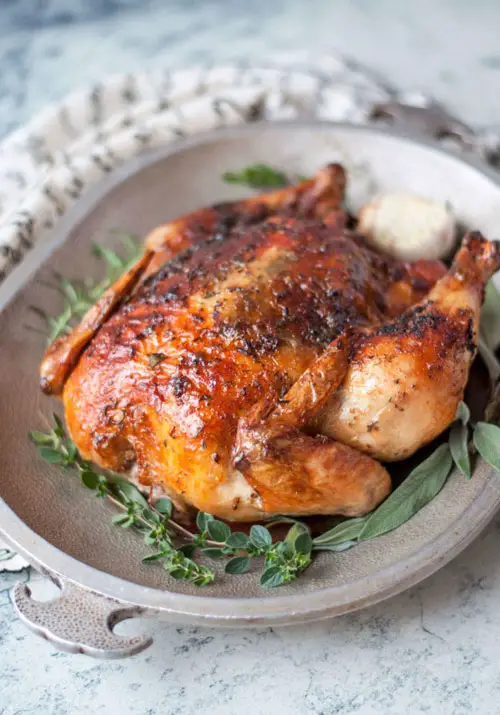 Keto Lasagna
In the mood for Italian? This keto lasagna recipe is for you! One of the most delicious keto recipes I've ever come across, it replaces high-carb noodles with low-carb zucchini.
With a scrumptious meat and cheese sauce, this recipe will have you loving every bite.
You'll Need:
2-3 zucchini
15 ounces tomato sauce
1 ½ cup shredded mozzarella cheese
1 pound lean ground beef
1 small onion
2 tablespoons olive oil
½ cup parmesan cheese
2 teaspoons salt
¼ teaspoon cayenne
2 teaspoons oregano
The first step to making this delicious keto recipe is making your sauce. In order to do this, you'll want to heat a pan over medium heat, filling the bottom with olive oil. Sautee onions and cook for around five minutes.
Once this is done, mix in some ground beef, making sure to chop it. Cook thoroughly. Following this, you'll want to pour in tomato sauce, simmering it for around five minutes (or until the sauce thickens). Once your sauce has reached the desired consistency, stir in your salt, oregano, and cayenne and remove from heat.
To make your lasagna, place your thinly-sliced zucchini around the bottom of a baking dish. You'll want them to overlap slightly. Cover the slices with around half of your meat sauce mixture, and then add in about a half cup of shredded cheese to the top of this.
Once you've done this, simply repeat the process (adding in around ½ parmesan) and cover the top with any leftover slices of zucchini. Add the remainder of your cheese (about ½ cup parmesan and ½ mozzarella) and place the meal into the oven. Bake for around 40-45 minutes and remove.
After your lasagna has cooled, dig in—and don't be surprised when it's the best lasagna you've ever eaten! Remember: my goal here is only to provide you with the most delicious keto diet recipes!
Check the full recipe here.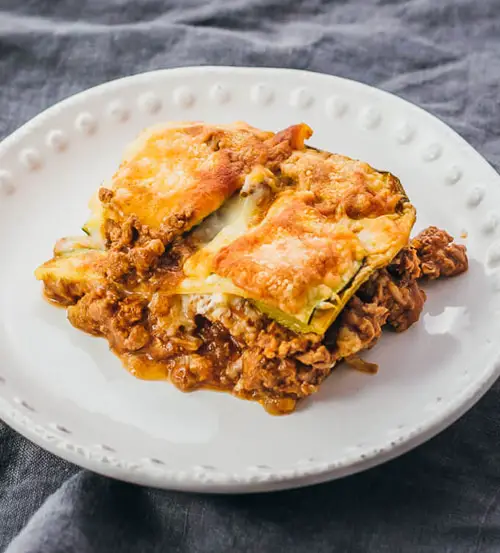 Keto Sausage Dip
Want to make that perfect dip for your next special occasion? This keto sausage dip is perfect for any get together or social event! What's more, it's easy to make and quick to prepare. Learn how to make this delicious keto recipe in just minutes!
You'll Need:
1 cup dried tomatoes
12 ounces Italian sausage
2 jalapenos (or pepper of your choosing)
16 ounces cheese (8 shredded, 8 cream)
To make, simply cook your sausage for around 10 minutes, making sure to add in your peppers and tomatoes. Once your meat is brown and the vegetables have simmered, remove the mixture from the heat and stir in your cheese.
Make sure that you do not put the mixture back on heat. Instead, cover it until your cheese fully melts. Once done, uncover and stir.
Ta-da! An amazing dip recipe your whole family will love!
Check the full recipe here.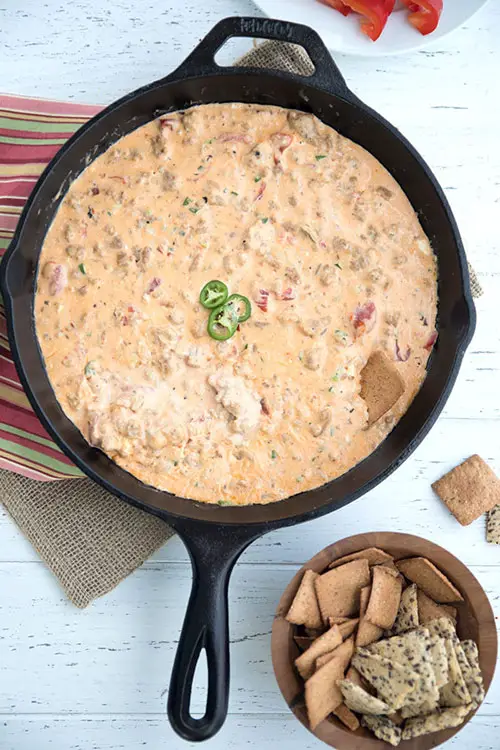 Conclusion
If you've been looking for delicious keto recipes, it's time to try these out! You'll love these easy-to-make and hearty meals—and your family will, too.
It's time to take your keto diet to the next level. With these delicious keto recipes, you finally can!
More Ideas For Your Keto Recipes
Jeremy Park, the founder of jeremylife.com, is a love and relationships expert. With a journalism degree and years of exploration, he offers valuable insights to help you live your best love life. His mission is to make the journey enjoyable and effortless.