Diet plans for weight loss are considered extremely crucial when you're thinking about losing weight. You can work out all you want and have a pretty tight workout schedule but if your food consumption isn't in sync with your daily work out, it's all going to waste.
You should try incorporating low carb snacks in your diet. They have countless benefits and they taste good too. Low carb snacks are considered highly nutritious and are highly beneficial for your body.
When it comes to losing weight low carb snacks are recommended by experts all around the world. Carbohydrates are essential for your body and foods that have high amounts of carbohydrates increase the overall fat content in your body. Therefore if you are on a diet and are looking for some diet plans for weight loss then try these low carb snacks. Your diet plays a significant amount in the entire process of you losing weight.
In this article, we've selected recipes for some low carb snacks. You should check these out as these will certainly complement your diet plans for weight loss. Let's have a look at them.
Low Carb Cookies
These cookies are low carb snacks, grain-free, and dairy-free just by the way so your diet plans for weight loss won't go wrong!
Ingredients
Coconut oil 1/3 cup
Vanilla bean ghee half cup
Eggs (2)
Vanillas extract 1 Tablespoon
Golden monk fruit sweetener about 144g
Baking soda half a tablespoon
Cream of tartar about a quarter tablespoon
A pinch of salt
Almond flour (336g)
First of all, you have to preheat the oven to 350 degrees. Then line the baking sheet with a silicone baking mat end to end. Take a mixing bowl and with the help of an electric mixer, mix the coconut oil and ghee until they are well-combined and smooth in texture. Add vanilla extract and some eggs and mix again.
Now add monk fruit sweetener, baking soda, cream of tartar, and salt. Mix until all the components are fully incorporated. Add a cup of almond flour and mix again, cup after cup. Take the dough out of the mixing bowl and form it in balls. Slightly press the balls and place them on the baking sheet. Bake the cookies in the oven until its edges are golden brown, it'll hardly take 15-18 minutes.
Take them out of the oven and let them cool down completely before serving. Enjoy!
Check the full recipe here.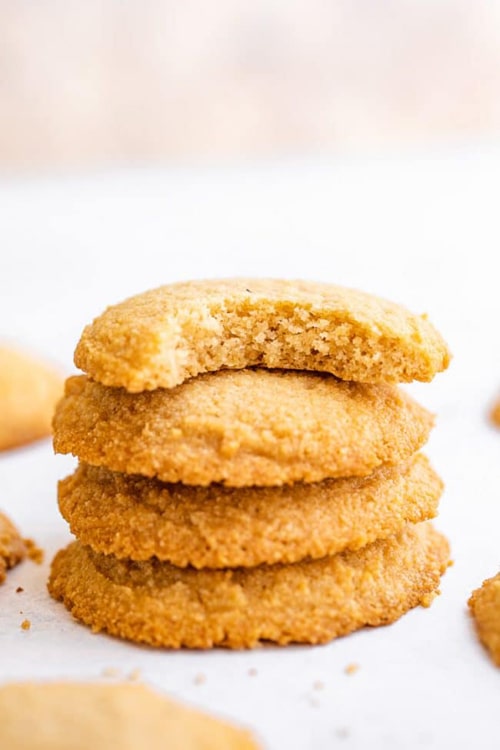 Low Carb Keto Blueberry Cobbler
Diet plans for weight loss doesn't mean giving up that sweet-tooth of yours and for the rescue, we have one of these Keto-friendly low carb snacks for a dessert craving made out of juicy berries, crunchy nuts, and almond flour.
Ingredients
For the blueberries:
A quarter cup of granulated stevia or erythritol that is blended well
Xanthan gum 1 teaspoon
Sea salt quarter teaspoon
Fresh blueberries (12 ounces)
Freshly squeezed lemon juice about one tablespoon
For the topping:
1 and a half cup superfine almond flour
2 tablespoons granulated stevia/erythritol blend
Baking soda about a quarter teaspoon
Sea salt quarter teaspoon
Ground cardamom quarter teaspoon
Ground cinnamon quarter teaspoon
Chilled butter chunked into slices about a quarter cup
1 Medium to large-sized Egg
Vanilla extract One teaspoon
First of all, preheat the oven to 375 degrees. In a glass pan measuring 8 by 8 inches, mix the sweetener, xanthan gum, and salt.
Afterward, add berries and stir to combine it properly. After mixing it properly, stir in some lemon juice and keep it aside. As for the topping, use a food processor and in that add almond flour, sweetener, baking soda, sea salt, cardamom, and cinnamon. Pulse the processor for a few seconds so that the ingredients combine properly.
Now add butter in the mixture that is residing in the food processor. Pulse it several times so that it combines and appears mealy. Add the vanilla extract and eggs to the mixture in the processor. Pulse the processor a few times in order to form the batter.
Now comes the assembling, carefully spread the batter on top of the blueberries in the glass pan. Now bake it in the oven for about half an hour or until the blueberries seem bubbly and the biscuit topping looks golden brown. You can serve it warm, chilled or on room temperate.
Check the full recipe here.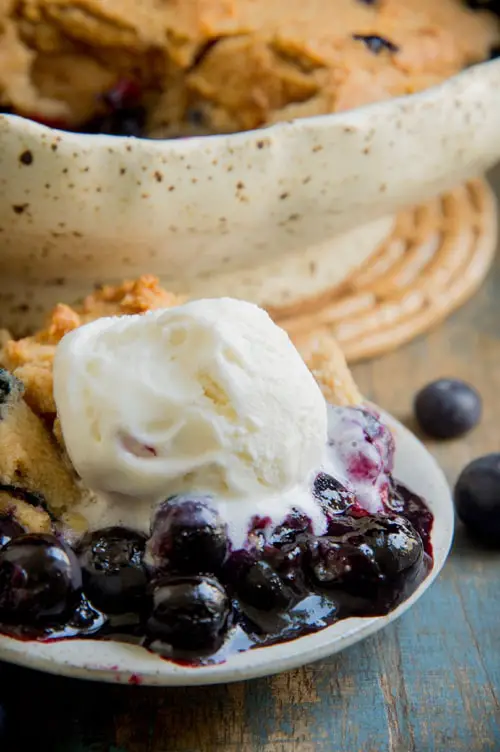 Homemade Mint Chocolate Chip Protein Bars
Ready within 5 minutes this is one of the super easy low carb snacks that can be included in your diet plan for weight loss, specifically for those of you who love the combo of chocolate and mint.
Ingredients
Gluten-free rolled oats (2 Cups)
Gluten-free crispy rice cereal (1Cup)
Cocoa powder about a quarter cup
1-2 scoops protein powder that best suits your taste
Almond butter can use any nut or seed butter of choice (Half a cup)
Organic maple syrup can use agave nectar half a cup
Peppermint extract 1 teaspoon
Milk that your prefer
First of all, cover an 8 by 8 pan with paper and put it aside. Now you have to take a large mixing bowl and add some rice cereal, protein powder, and the quick oats. quick oats. Mix all these ingredients well until they seem well mixed.
Now you need to take a small saucepan, mix some almond butter with maple syrup till they look smoothly mixed; heat until the batter of the two is well combined. Now take all your dry and wet ingredients and put them together to mix them until a thick batter remains.
If the batter doesn't seem smooth enough or crumbly then add milk or water till it evens out. Transfer the whole batter into the pan all the way to the top. Sprinkle some chocolate chips. Refrigerate them till they don't crumble when touched.
Slice the bars and enjoy these delicious chocolate chip mint bars which are yet another one of the amazing low carb snacks for a diet plan to lose weight loss.
Check the full recipe here.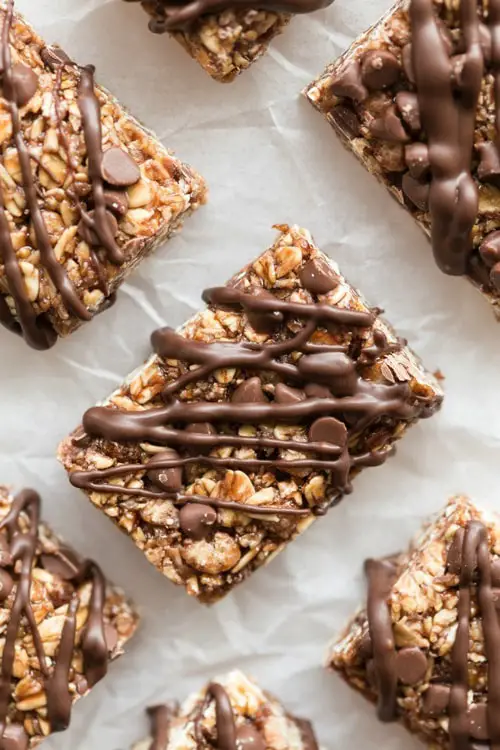 Strawberries and Cream Cookies
Easy to cook, this delicious yummy low carb dessert is yet another great diet plan for weight loss which has the perfect sweetness of whipped cream and strawberries.
Ingredients
For the cookies:
A Duncan Hines specifically the white cake mix one box would be sufficient
A box of strawberry jello (1)
Butter (quarter cup)
4 ounces OF cream cheese
1 medium to large-sized egg
For the frosting:
2 cups powdered sugar
Butter melted quarter cup
Frozen strawberries chopped 1/8 cup
In a mixing bowl, add jello, cream cheese, egg, the cake mix, and butter and mix it. Mix it all until it is well and fully combined.
This batter is going to be very thick and will give the best results when the cream cheese and butter are soft and mixed properly. Roll the dough into twenty-four balls. Make the cookies however you like them. But do remember the bigger the size of the cookie the longer it'll take to bake.
Put the cookies on the sheet and gently press them down from the top in order to flatten them down. If they are not flattened properly they might remain poofy!
Next, bake the cookies at 325 degrees making sure it doesn't exceed 12 minutes. Keep an eye out on the cookies, they should not turn brown. After taking those out of the oven let the cookies cool for about five minutes and then move the cookies to a wire rack.
For the strawberry icing, take a small bowl and mix together the powdered sugar and melted butter together. Chop the strawberries into tiny little pieces or use the food processor to chop them down. Mix the strawberries into the powdered sugar and butter mixture for the frosting.
You may be required to add some milk in order to make the frosting spreadable. It mostly depends on how juicy and fresh your strawberries are.
When the cookies are cooled down properly, spread the entire frosting all over the cookies and enjoy.
Check the full recipe here.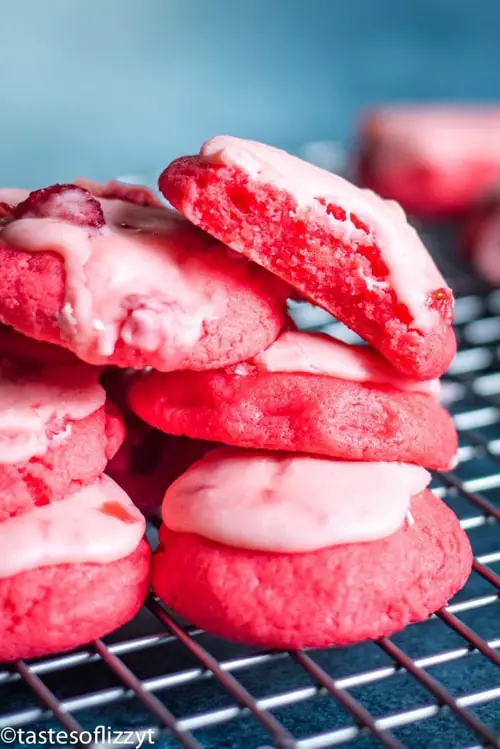 Low Carb No-Bake Chocolate Coconut Bars
A nutty crunch of dark chocolate bars crusted with coconut flakes, a low carb snack and a must-have on your diet plans for weight loss!
Ingredients
1 cup 100% pure peanut butter
1¼ cups sugar-free chocolate chips
1 tablespoon of a natural sweetener like Swerve — you can use honey for low-carb if you like.
Half a cup of unrefined coconut oil — Use the solid form as the chocolate has to be melted with it.
1 and a half cup of unsweetened shredded coconut
1 cup unsalted roasted peanuts (1 cup)
1 cup of walnuts diced
Unsalted roasted cashews (1 Cup)
Vanilla extract 1 teaspoon
In a microwave-safe bowl, add some peanut butter, chocolate, swerve, and coconut oil.
Heat it at 200 degrees for about sixty seconds. After heating, remove the bowl from the microwave and begin to stir. Put the bowl back into the microwave and repeat the whole process of heating and stirring after every fifteen seconds until the mixture completely melts. Add the remaining ingredients into the bowl and stir until they are all well combined.
Pour the mixture into an 8 by 8-inch removable bottom pan. Top the whole mixture with shredded coconut.
Refrigerate the whole mixture until it hardens, it usually takes about 4 hours. Slice it into pieces or bars and store in the refrigerator and Enjoy!
Check the full recipe here.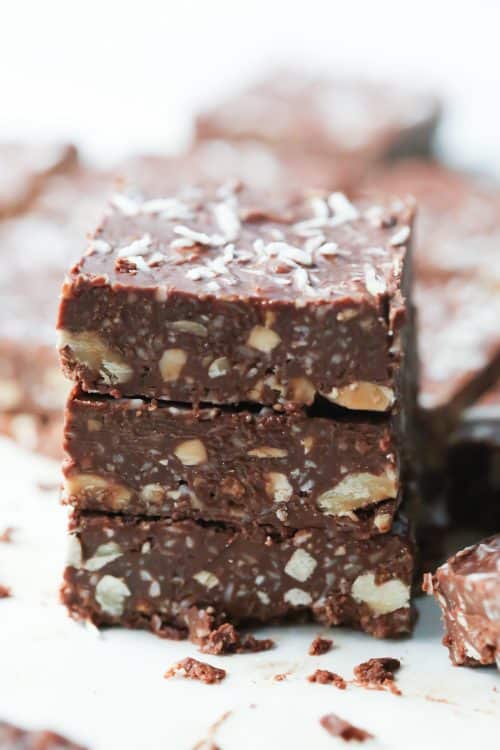 Keto Cheese Bacon Nachos
Want to munch on something crunchy yet easy to make to fulfill that craving for a snack? Include this recipe in your diet plans for weight loss and munch away without any worries.
Ingredients
Grated Emmental Cheese half a cup
Grated Cheddar Cheese half a cup
Bacon (30g)
Preheat the oven to around 390 degrees. Now shred both kinds of cheese. Cut the bacon into small pieces. Prepare a baking sheet with some parchment paper. Spread the Emmental cheese all over the baking sheet and sprinkle it with tiny pieces of bacon.
Now cover it all with cheddar cheese. Shape the whole thing into a square for easier cutting later on.
Now place it into the oven for about 9 minutes. Take the pan out of the oven and let it cool for a while. Now peel the whole sheet and cut it with scissors into stripes. Cut each stripe into a triangle by cutting it diagonally.
Take out a new parchment paper and broil it for about two minutes to get it crunchy. Serve with either ketchup or mustard and Enjoy!
Check the full recipe here.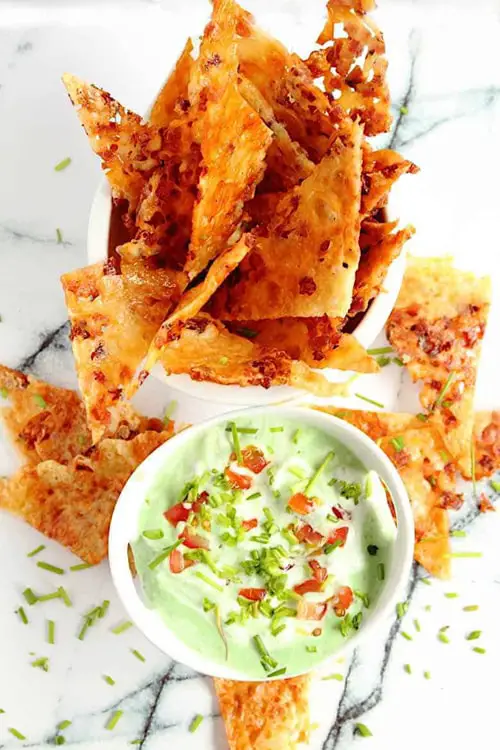 Crunchy Low Carb Cheese Crackers
Another diet plan for weight loss which is Keto-friendly, crunchy with a mix of cheddar cheese and almonds, baked to crispy perfection in under 10 minutes is the perfect way to suffice that fat intake every day.
Ingredients
Almond flour 3/4th of a cup
Cheddar cheese quarter cup
Baking powder half tablespoon
Garlic powder quarter teaspoon
Coarse ground grey sea salt divided (half teaspoon) not finely ground salt
Egg white (1)
Butter 2 tablespoon
Start with preheating the oven at 300°. Cut a piece of paper and use a brush to grease it with some avocado oil and if you don't have that then use olive oil.
Now Melt some butter in it and put it aside. In a bowl take almond flour, garlic powder, baking soda, a quarter teaspoon of sea salt, and mix. Now grate the cheddar cheese into the flour, also mix the egg white and butter till it looks well blended.
Spray a sheet of wax paper with the oil and put it on top of the dough and cover it. Roll the dough out until it is 4mm thick and rectangular. The dimensions of the rectangular must be 20cms by 30cms.
Remove and bin the wax paper. Use a knife to cut the dough into square shapes. Furthermore, sprinkle a pinch of ground sea salt over the crackers. Now, bake these in the preheated oven for not more than 10 minutes.
Now you have to remove the baking sheet from the oven and slice the crackers from the edges. Separate the crackers spacing them throughout the baking sheet and flip each one over. Bake them for another 10 minutes till you see the color change to a light golden brown.
Keep removing the crackers you feel are done and let the others bake. Cool then and serve.
Check the full recipe here.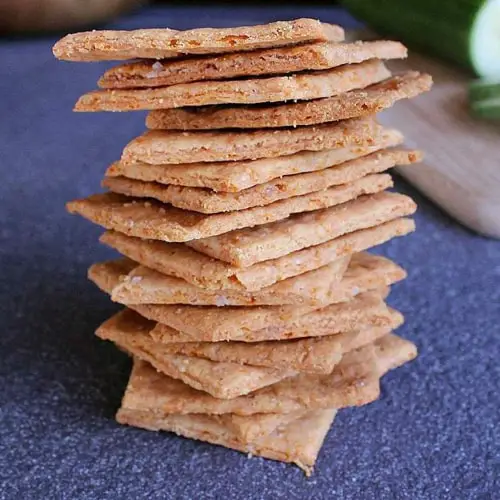 Low Carb Pepperoni Pizza Bites
A cheesy appetizer with the amazing benefits of black olives smoked flavoring of pepperoni rich in proteins and low in carbs is an ideal diet plan for weight loss!
Ingredients
Pepperoni (24 slices)
Small basil leaves about a hand full
Pizza sauce small jar
Mini mozzarella balls about 24
Black olives sliced if you like them
Primarily, you have to pre-heat at 400 degrees. Make half inch cuts around each pepperoni leaving the centre round and nice.
Take a mini muffin pan and put each pepperoni in it. Now just bake these for accurately 5 minutes till the edges seem crisp but the color of pepperoni seems red. Let it cool and meanwhile remove any excess oil from it.
Wipe the pan with a tissue of towel to get rid of the grease, now put the cups back into the pan. Now add a basil leaf or two to each cup. Then put half a cup of pizza sauce followed by the mini cheese mozzarella ball and finally an olive slice to add richness.
Place these layered cups back into the oven for around 3 minute's and when you see the cheese melt, take them out, let them cool and serve.
Check the full recipe here.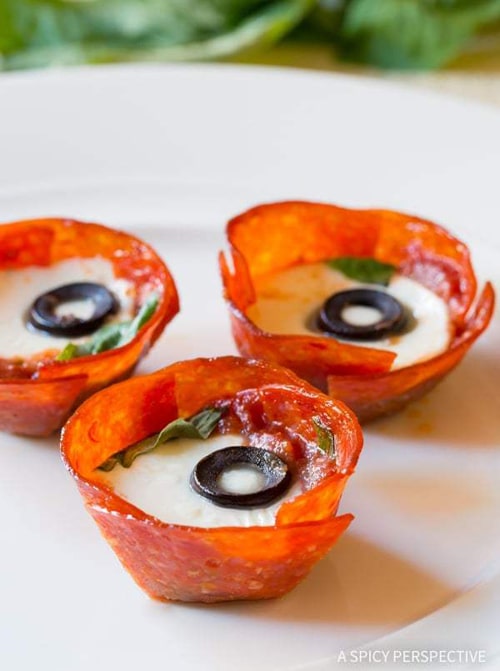 Conclusion
These recipes are very easy to make and can be very effective in losing weight. Moreover, for people who want to eat healthily and shed some weight, these are excellent low carb snacks diet plans for weight loss and you must incorporate these recipes in your daily menu.
All these recipes provide the perfect blend of flavor and nutrition into your overall diet. Including them into your daily diet plan can benefit you very much in the long run.
More Ideas For Your Keto Recipes
Jeremy Park, the founder of jeremylife.com, is a love and relationships expert. With a journalism degree and years of exploration, he offers valuable insights to help you live your best love life. His mission is to make the journey enjoyable and effortless.