Health is wealth. What you eat has a great effect on your weight. If you want to say fit and healthy you should try to incorporate healthy and low carb food in your diet.
A misconception about low carb food is that they don't taste that delicious. This is a totally false assumption. In addition to being nutritious low carb food can taste very good as well. This is why it is very important for everyone to eat healthy and low carb dinner every day.
Carbs are basically short for carbohydrates. Both natural and processed foods contain carbohydrates. Foods with high carbohydrates increase the levels of fat in the body. This is why people who are on a diet prefer low carb meals. Many chefs have introduced their own brand of low carb dinner recipes.
You can find hundreds of different keto and paleo low carb food recipes on the internet. Some of those dishes are just low carb and healthy versions of other popular dishes. If you are someone who is looking to lose weight then your diet is going to play a huge role in the entire process.
Eating right is crucial if you want to lose weight. Losing weight is a prerequisite for staying fit. If you want to stay fit and healthy you should check out these amazing low carb dinner recipes for a perfect diet plan.
Let's take a look at some of the best low carb dishes that can help you lose weight and stay healthy.
Lemon Baked Low Carb Salmon Recipe
If you are a seafood lover who is looking for low carb yet delicious seafood then this is the dish for you. When it comes to fish, salmon is one of the most harvested and consumed fish in the world.
Lemon Baked Salmon Recipe is one of the easiest recipes out there. One of the best things about this recipe is that it hardly takes around 25 minutes to bake.
The only ingredients you need are salmon, salt, pepper, lemon, and an aluminum foil to place the salmon in.
Cut the salmon into fillets before placing them in the oven.
Place the sliced lemon on the sides of the tray.
In addition to salt and pepper, you can also squeeze the lemon on top of the salmon fillets for seasoning.
Things You Will Need For This Recipe
There are many different types of salmon in the wild.
You can use any salmon that you prefer however the king salmon or the Chinook salmon is the best choice for the dish.
It is a very delicious fish. You can cut the salmon into fillets and place it on an aluminum foil.
Lemon (Sliced)
Salt (For Seasoning)
Pepper (For Seasoning)
Aluminum Foil
Preheat the oven. Wrap the salmon fillets in aluminum foil and bake it for 15 minutes.
Place lemon slices all around.
It is as simple as that.
Add the salt and pepper for seasoning and let it bake for 15 to 20 minutes.
Once done, take it out of the oven and serve it in the form of fillets.
Check the full recipe here.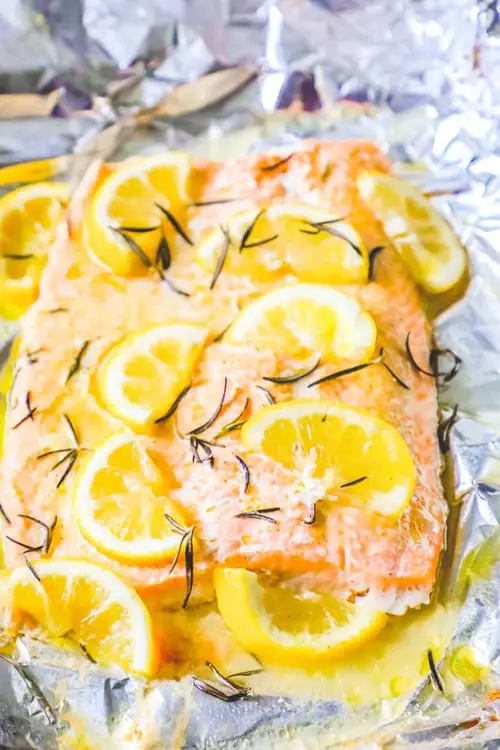 Caprese Stuffed Balsamic Chicken
A delicious low carb chicken dish for the health enthusiasts out there.
This dish has a juicy chicken breast filled with tasty and healthy ingredients.
You should also season the chicken piece to enhance its taste.
Things You Will Need For This Recipe
Chicken Breasts (As Per Serving)
Salt and Pepper
Fried Oregano
Tomatoes (Thin Slices)
Dried Basil
Dry Tomato Strips Oil
Cloves Garlic
Cheese
Basil Leaves
Vinegar
Preheat the oven.
Cut the breast piece from the thick side.
Season the piece with salt, pepper and tomato oil.
Fill in the pieces with tomato, cheese, basil leaves, and dried tomato strips.
You can use toothpicks to seal the opening.
Take a non-stick pan and fry the chicken for around two to three minutes until both sides turn golden.
Mix the vinegar, garlic and brown sugar and make a thick sauce.
Move the pan to the preheated oven and let it cook for another 20 minutes.
Check the full recipe here.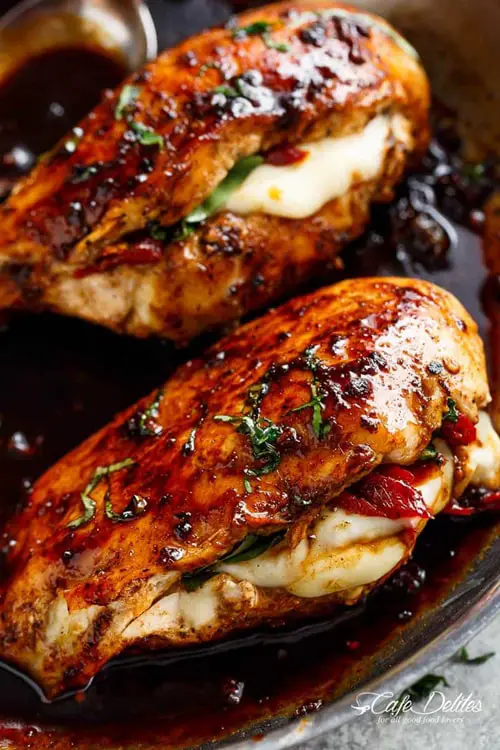 Cauliflower Rice
There are many different recipes of cauliflower rice out in the market however this one is the best for people looking to lose weight.
It is a low carb dish that is tasty and even looks presentable for formal servings.
Things You Need For This Recipe
Cauliflower Head
Chopped Onion
Freshly grated ginger
Minced cloves garlic
Ground turmeric powder
Coconut Milk
Shredded coconut flakes
Chopped Parsley
Salt and Pepper
Walnuts
Almonds
Thin Sliced Red Chili
Avocado Oil
The most unique thing about this recipe is that you have to grate the rice yourself.
It is better to use fresh and natural cauliflower head.
Add salt, pepper, and oil into the grater and let it cook for 5 minutes.
Add in the ginger and garlic and cook again for a couple of minutes.
Add turmeric powder and coconut milk after cooking for intervals of 45 seconds respectively.
Add the cauliflower rice into the mix and let it cook for another 5 minutes.
Check the full recipe here.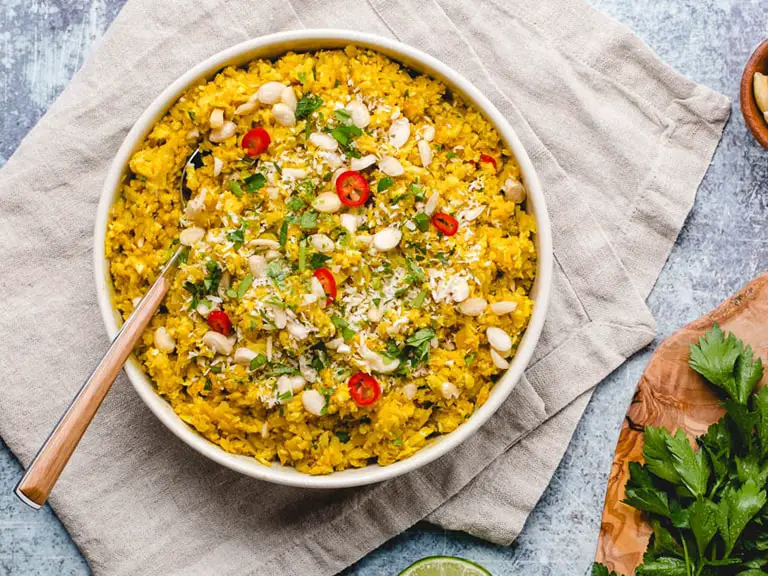 Low Carb Walnut Chili
Vegan Walnut Chili dish is a low carb and highly nutritious dish.
It makes for a perfect dinner for people looking to stay healthy and lose weight.
Both vegan and non-vegans can enjoy this dish.
What Do You Need To Make This Dish
Celery
Olive oil
Cloves garlic
Ground cinnamon
Ground cumin
Chili powder
Smoked paprika
Large peppers
Green bell peppers
Cremini Mushrooms
Zucchini
Tomatoes
Tomato paste
Coconut Milk
Soy meat
Cocoa Powder
Raw Walnuts
Salt and Pepper
Pour oil in a large pot and heat it.
Add celery, garlic, chili powder, cinnamon, paprika, and cumin.
Let it cook for a couple of minutes and stir the mixture.
After 2 minutes of cooking, add mushrooms, zucchini and bell peppers and cook again for 5 minutes.
After that add coconut milk, tomato paste, water, tomatoes, soy meat, cocoa powder, and most importantly walnuts.
Slightly reduce the heat and cook for another 20 to 25 minutes.
When the mixture is thick you can season it with salt and pepper.
Top the dish with cilantro to make it look presentable.
Check the full recipe here.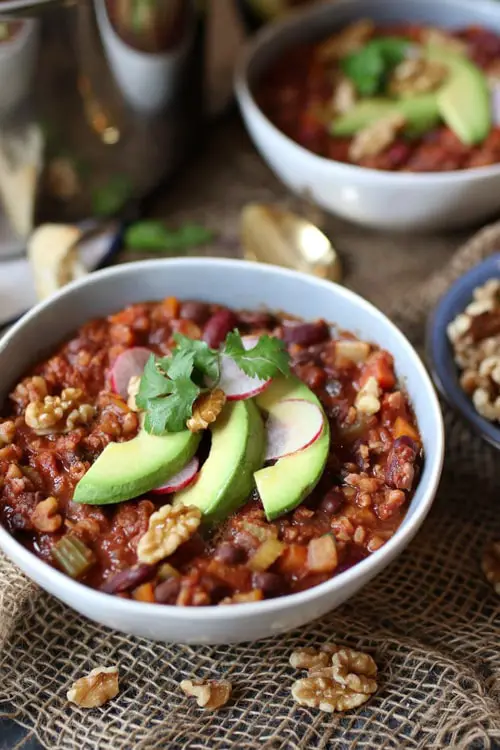 Turkey Burger With Guacamole
If you are looking to host a casual gathering with all your health-conscious friends then you this can be the perfect dish for the event.
It is tasty and presentable.
These low carb Turkey burgers are very easy to make and are full of flavor.
What Will You Need For This Recipe
Guacamole
Olive Oil
Diced Mushrooms
Bell Pepper
Dark Turkey Meat
Sweet Onion
Eggs
Salt and Pepper
Tomatoes (Sliced)
Lettuce
Red Onion (Sliced)
Jalapeno Slices
Pour oil into a medium heated iron skillet.
Add the mushroom in the oil. Add in the onions and bell peppers and cook for 5 minutes.
Take a mixing bowl and add the turkey, salt, eggs, and pepper and then combine it with sautéed vegetables.
Rub oil on your hands and then shape the mixture into patties.
Put the turkey burgers into the skillet, cook for five minutes and flip the burgers over. Cook for another 5 minutes.
After that, all you have to do is build the burger.
Check the full recipe here.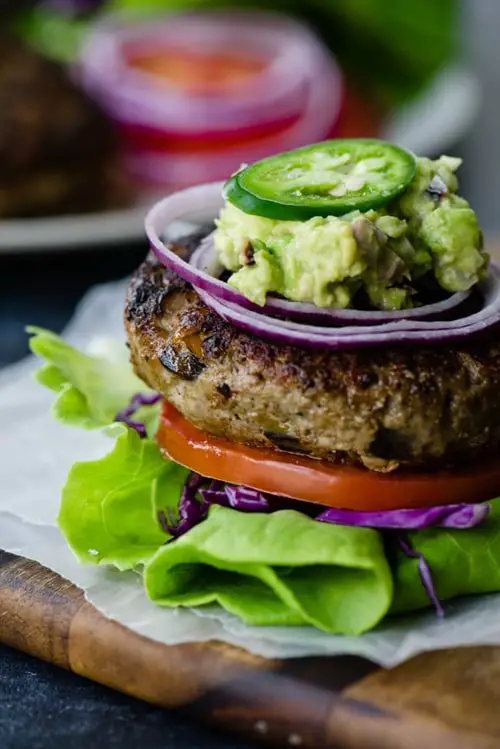 Zucchini Enchiladas
A cheesy dish that happens to be low carb and delicious.
Who doesn't love to eat Enchiladas?
This is a more healthy spin on the dish.
Unlike classic enchiladas, these contain Zucchini instead of tortillas.
You can fill the zucchini with chicken or turkey according to the preference of the eater.
What Will You Need For This Recipe
Zucchini
Olive Oil
Red Bell Pepper
Chili powder
Onion
Green Bell Pepper
Ground Cumin
Salt
Corn
Cloves Garlic
Shredded Chicken (shredded)
Cheese
Enchilada Sauce
Yogurt
Preheat the oven.
Heat oil and add red pepper, chili powder, onion, green pepper chili, cumin, salt, and chili powder.
Cook the mixture for five to six minutes.
Once done, transfer the mixture to a mixing bowl.
After that add in the corn, chicken, cheese, yogurt, and enchilada sauce.
You then need to slice the zucchinis.
Fill in the zucchini strips with the mixture.
Then role the strips. Bake the enchiladas for 20 to 25 minutes.
Check the full recipe here.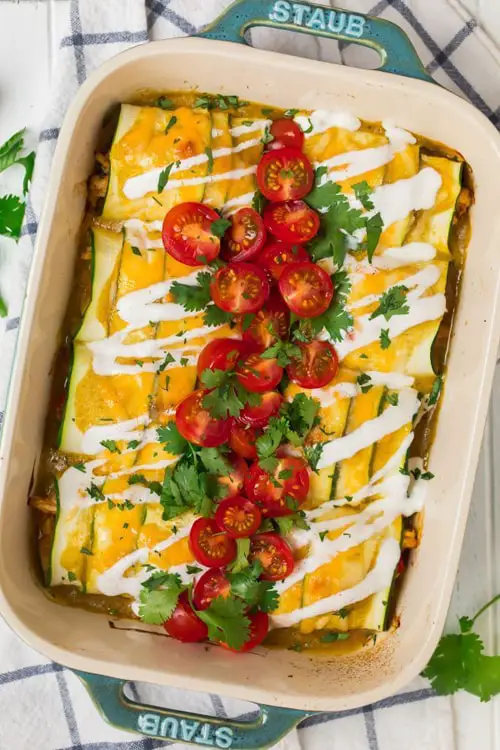 Lasagna Zucchini Noodles
A mixture of lasagna and noodles mixed with Zucchini.
This dish is also known as Zoodles.
It is a very delicious low carb dish that made in less than half an hour.
You can serve this dish at both formal and casual gatherings.
It is a very easy dish to make.
What Will You Need For This Recipe
Ground Turkey – Extra Lean
Minced Garlic
Sliced Cup – Half Mushroom
Peeled Zucchini
Olive Oil
Diced And Fire Roasted Tomatoes
Tomato Sauce ( You Can Use Canned Tomato Sauce As Well)
Dried Oregano
Black Pepper
Tomato Sauce
Red Pepper (Crushed)
Basil (Freshly Chopped)
Mozzarella Cheese (Shredded)
Parsley Leaves (Fresh and Chopped)
Cheese (For Garnish)
First and foremost, get the zucchini noodles ready.
Cut them into spirals using a peeler.
Pour olive oil in the pan and heat the olive oil.
Use medium-high heat to heat the olive oil.
Add the meat in the pan and cook until the meat turns to brown.
Heat for only 3 to 4 minutes.
Heating more than that can burn the meat.
You should try to break the meat into smaller pieces while it is being cooked.
Once done, you can add the garlic into the pan.
Cook it for some minutes and then add zucchini and mushrooms in it.
After that, you have to add to tomatoes, tomato paste, red pepper, oregano, and basil. Heat the pan again until the mixture boils.
Add the spiralized noodles in the mix. Stir and swirl around with the help of tongs.
Cook for another 5 to 6 minutes.
Stir in cottage cheese and top the dish with Ricotta cheese.
Cook for another 3 to 4 minutes until cheese is melted.
Check the full recipe here.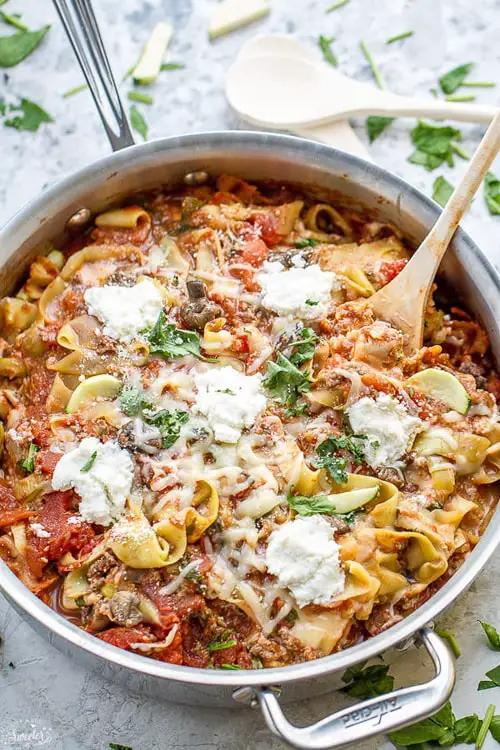 Conclusion
Low Carb dinner recipes are the best way to go. These recipes are easy to make and can be very effective in losing weight.
People who want to lose weight should incorporate these low carb dinner recipes in their diet plan. Keep in mind that you should follow a proper dieting schedule. You shouldn't just follow the diet plan for some weeks. You should create a full schedule and stick to it. These are just some of my favorite recipes.
You can also go for any other low carb dinner recipe that you prefer. You can also convert your favorite meal to have a low carb spin to it.
More Ideas For Your Keto Recipes
Jeremy Park, the founder of jeremylife.com, is a love and relationships expert. With a journalism degree and years of exploration, he offers valuable insights to help you live your best love life. His mission is to make the journey enjoyable and effortless.