We are going to look at low carb burger recipes that serve both purposes; they will satisfy your cravings as well as help in your weight loss journey.
Majority of people around the world hold burgers and cheeseburgers as their favorite fast-food meal and what could be more perfect than a low carb burger that is scrumptious and delectable in taste but light on health fitness!
Low carb diet (low carb diet for short) has become talk of the town since it has benefited many people successfully. It is still a scarce knowledge that almost anything is within your reach keto diet. However, changes and replacements are to be done with ingredients which makes the food healthier and fit for weight loss, in terms of carbohydrate content.
Let's make these delicious and healthy low carb burger recipes.
Low-carb Bunless Burgers
Buns are usually packed with high amount of carbohydrates. Simply make delicious burgers without buns and any toppings that are high in carbs. Use ground beef (of good quality), around 1 pound to make 3 patties.
Add in a good seasoning mix like olive oil, Worcestershire sauceand any good quality steak seasoning. Grilling the patties is the best way to reduce any chance of excess oil. Before putting on the grill lightly sprinkle salt and pepper on the patties.
Adding vegetables ensure more flavors and healthiness. Total calorie count: 479 with 2g of carbohydrates.
Check the full recipe here.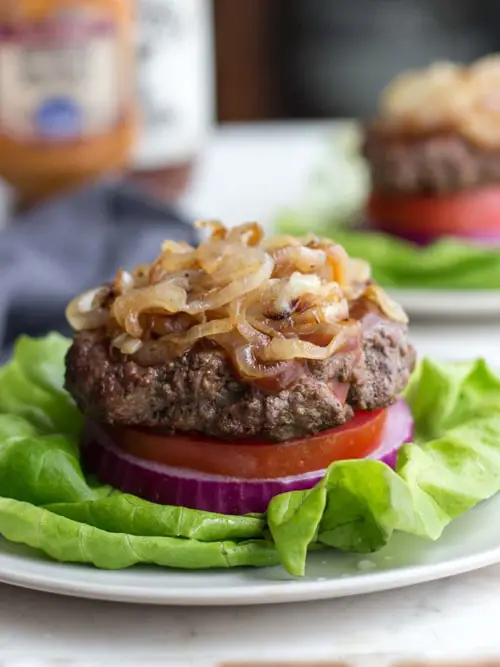 Butter Burgers
It is an ideal fit in your keto eating plan. Get off the track to enjoy buttery beef in your mouth by wrapping the ground beef around 1 or 2 tablespoon of cold butter and make a patty. For seasoning, minced garlic, Worcestershire sauce, pepper and salt are perfect.
Grill or pan fry until done as required. Grilling takes 6-8 minutes on each side or pan fry for 9 minutes on each side. Top it with fresh tomato or onion and add buns.
Check the full recipe here.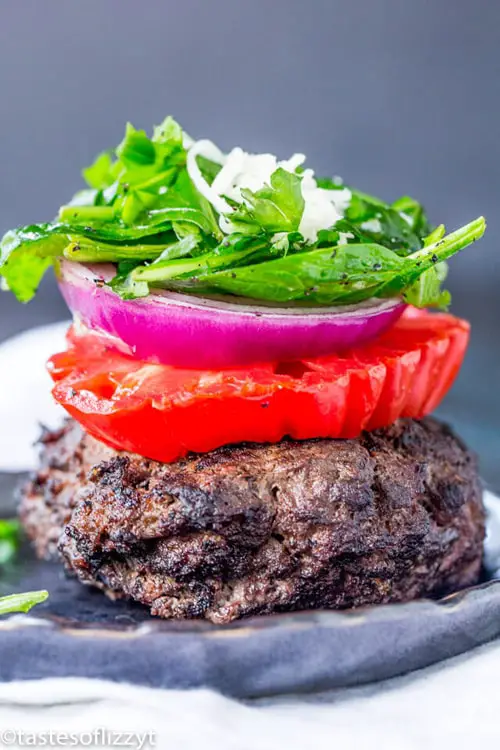 Big Keto Burgers with Special Sauce
This burger must be made fresh to accomplish the tastefulness! Mix your usual seasonings in around 7 ounces if ground beef as these are HUGE. Pan fry in a brush of oil and sauté. 2-3 minutes are enough to cook.
Make the low-carb special sauce includes homemade keto mayonnaise, gherkin, white vinegar, garlic powder, onion powder, mustard powder, dill, sweet paprika, ground white pepper, and erythritol. Spread on the bun or patty. Toss the patties onto sesame seed low carb burger bun and top with another.
You may also add a slice of cheese, onion, pickles, and lettuce in between.
Check the full recipe here.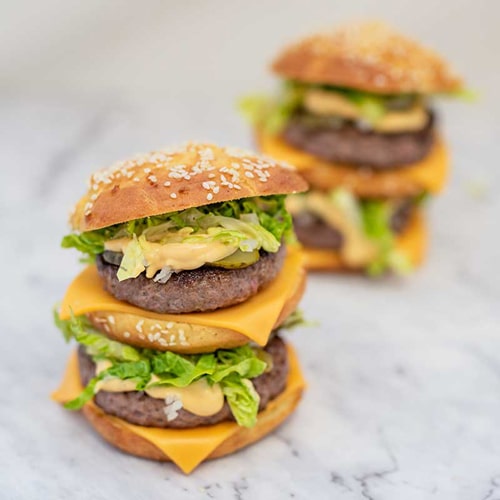 Lettuce Burgers
Twin patties in this meal will up your burger game. This recipe also comes with a special sauce that comprises of tomato paste, white vinegar, mustard, coconut aminos, garlic and onion powder, low-carb mayonnaise and dill pickle.
Then caramelize the onions in just 1 tbsp of ghee. Cook your beef patties on another skillet in 1 tbsp of ghee. Cut the iceberg lettuce and split the leaves to make the top and bottom "buns". Assemble your burger.
Check the full recipe here.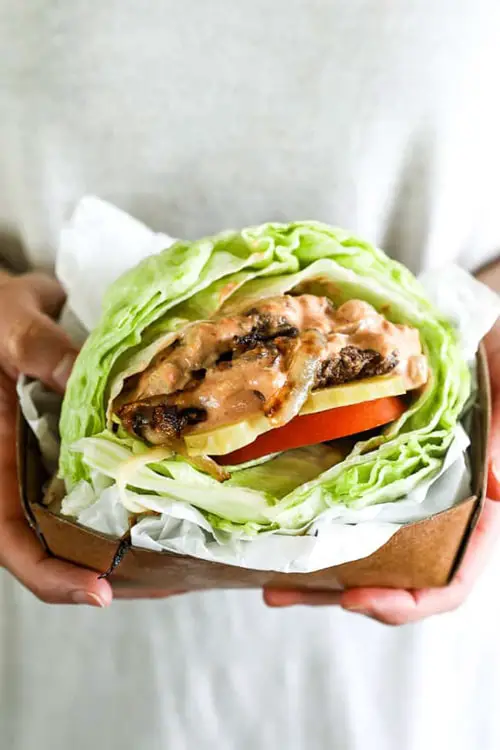 Fully Loaded Burger Bowls
Your traditional buns are the culprit so this recipe makes use of ground beef made baked into bowls and topped with delicious fixings like cheese, mushrooms and bacon. Top with sauces like ranch dressing, diced chives or/and barbecue sauce to enhance flavor and make it juicier.
Check the full recipe here.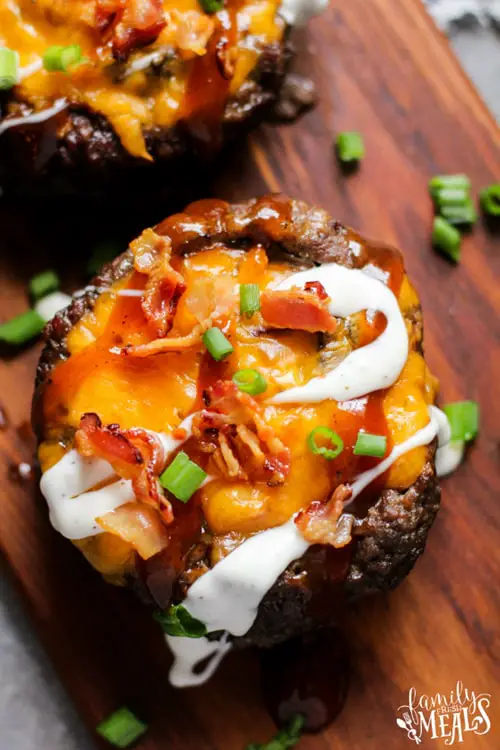 Keto Double Smash Cheeseburgers
Are you on low carb diet? Gluten free buns will make it the best low-carb version. The cloud bread buns have less than 1 net carb per piece. Cook in avocado oil over a hot cast iron pan, a girdle or even a grill.
Cloud bread is made with two ingredients, cream cheese, and eggs. Beat the egg whites and yolks separately. Fold in with cream cheese, add oregano and bake at 300 degrees to make low carb version of "buns".
Check the full recipe here.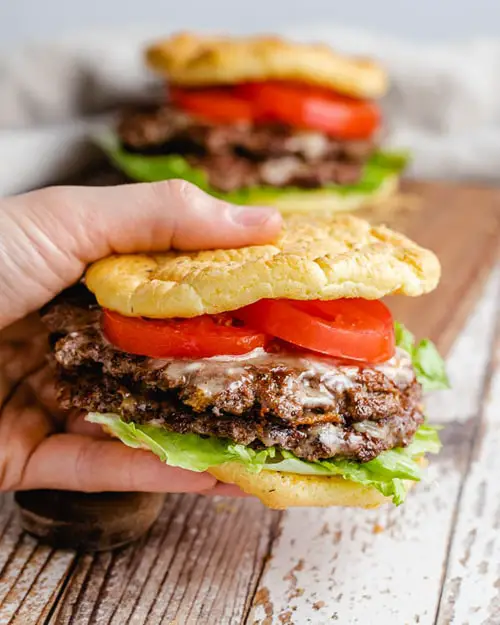 Juicy Keto Mushroom Onion Bacon Burgers
These are delicious little burgers aligned with low carb-diet requirements. The Mac's Awesome Sauce makes it delish! The buns are replaced with butter lettuce that is crispy and equally scrumptious.
After frying your usual beef patties, cook the onion slices, minced garlic, and mushrooms in the same skillet/pan. Clean the butter lettuce and make your burgers by adding patties, sauce and mushroom and onion mixture.
Check the full recipe here.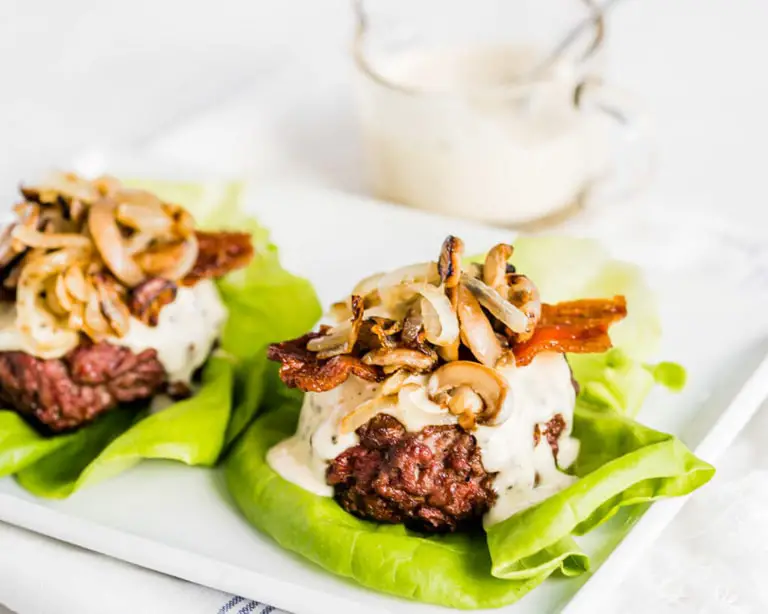 Keto Bacon Cheeseburger Salad
The net carbs value in this burger is 1.2g per serving, perfect for a low carb meal. Its two-in-one, burger and salad. You can even store it in refrigerator for a week. Bake bacon strips until crispy, cook ground beef on the stove with salt and blend all dressing ingredients.
Assemble everything in a large bowl; grated cheese, cooked beef, crumbled bacon, chopped lettuce, pickle pieces, and the dressing. Chill in refrigerator for 1 hour.
Check the full recipe here.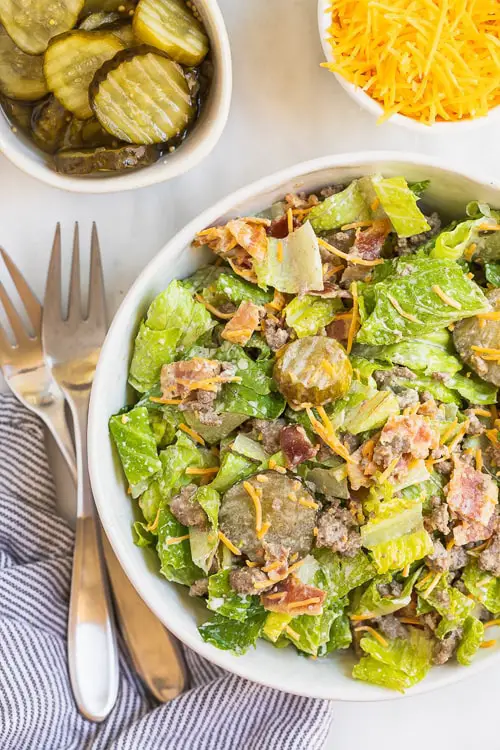 Carnivore Bunless Low Carb Burger
A carnivore low carb burger is a bunless burger, containing beef, salt, and water only. This is an amazing burger that offers a low carb yet delicious eating experience.
Check the full recipe here.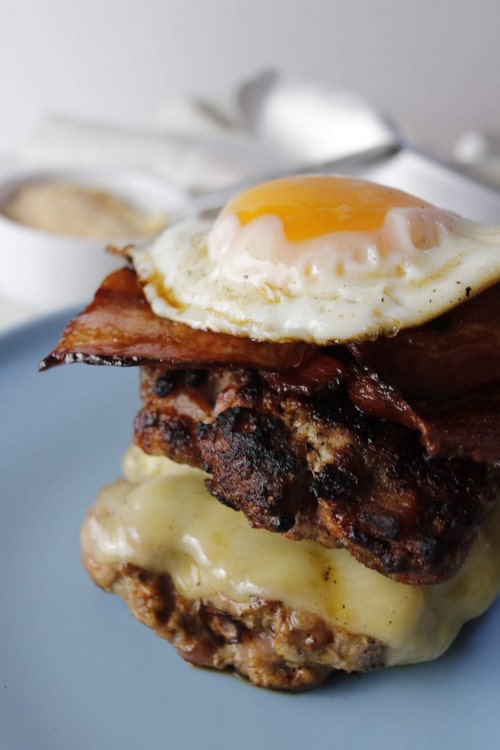 Low Carb Big Mac Bites
These are another type of bunless burgers that are extremely low on carbs yet tender, juicy and moist. The sauce which we use with these pretty, mac bites contains paprika, mayonnaise, and garlic powder to name a few. Mini burger when dipped in this sauce is simply heavenly.
Check the full recipe here.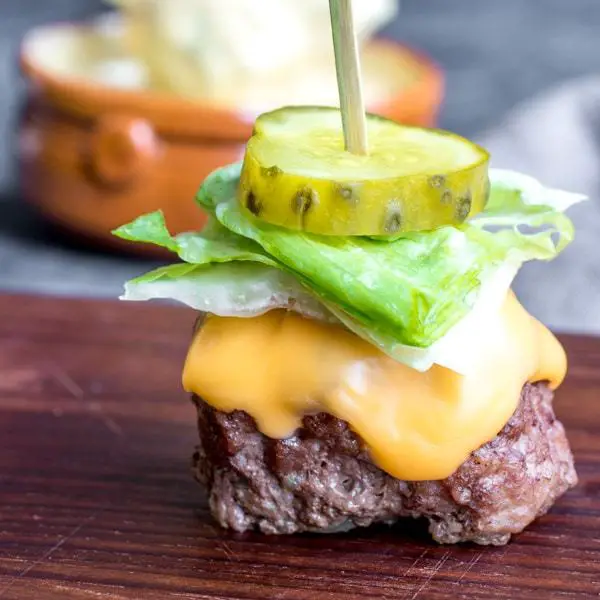 Loaded Bacon Burger Bowls
It gets funny to watch the insides of a burger loaded into the bowl. This particular low carb burger is not only bunless but served in a bowl full of delicious bacon, onions, and lettuces.
Check the full recipe here.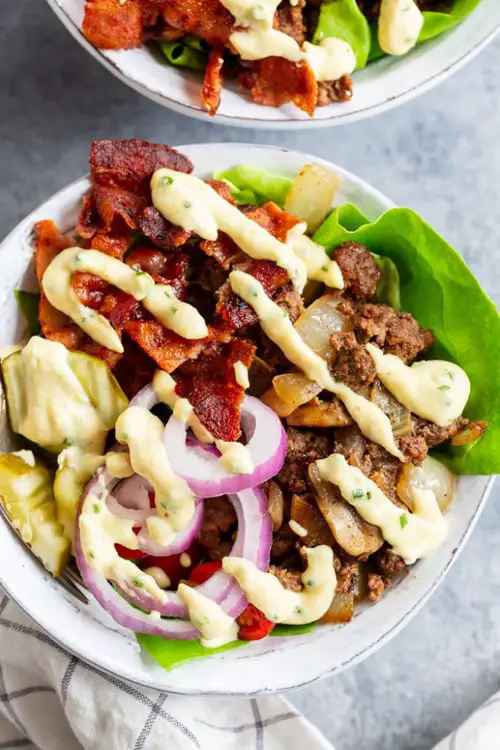 Keto Shrimp and Pork Burger with Fried Egg
Who doesn't like the taste of some eggs with your burgers? This specific recipe is not only easy to cook up but is also paired with fried eggs for added taste. Using Sesame oil puts in the Asian flavorand provides a classical turn to mainstream low carb burger recipes.
Check the full recipe here.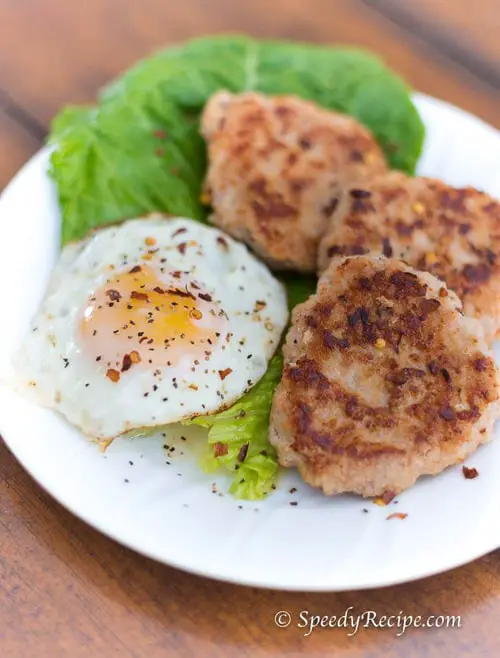 Keto Teri Avocado Chaffle Burger
This makes use of the avocadoes and the chaffles. A 'chaffle,' for people to know, is simply a mixture of eggs and cheese cooked for a while in waffle iron. The resultant is a wonderful alternative of bunless burgers we discussed up-till yet.
Check the full recipe here.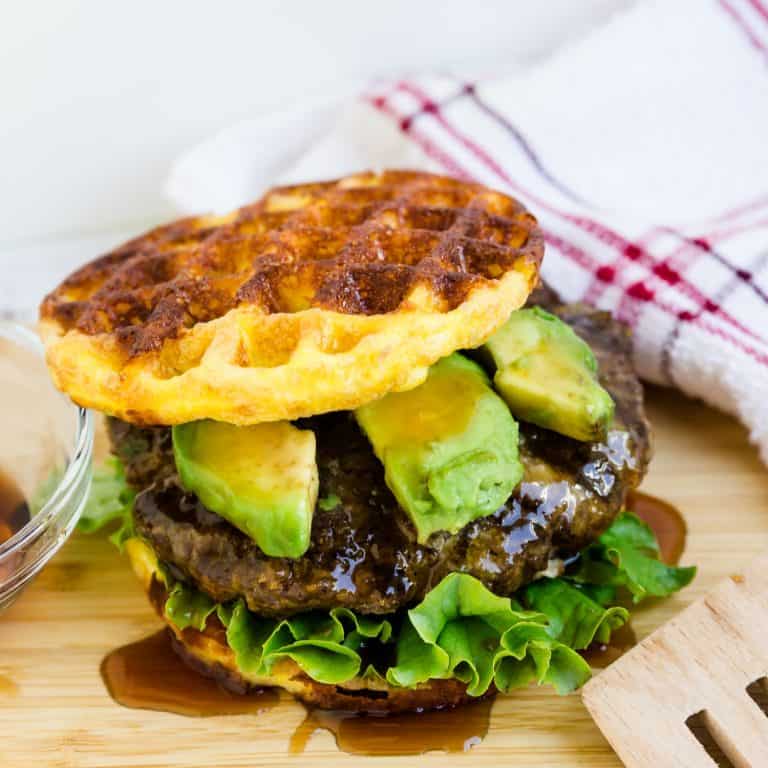 Fathead Low carb Keto Burger Buns
People on low carb diets are often in the dilemma of satiating their fast food cravings while sticking to their goals. Since normal bakery buns are high on carbs, these special low carb buns are the solution to your burger-problems. They are soft and smooth, and with the right composition to maintain your low carb diet.
Check the full recipe here.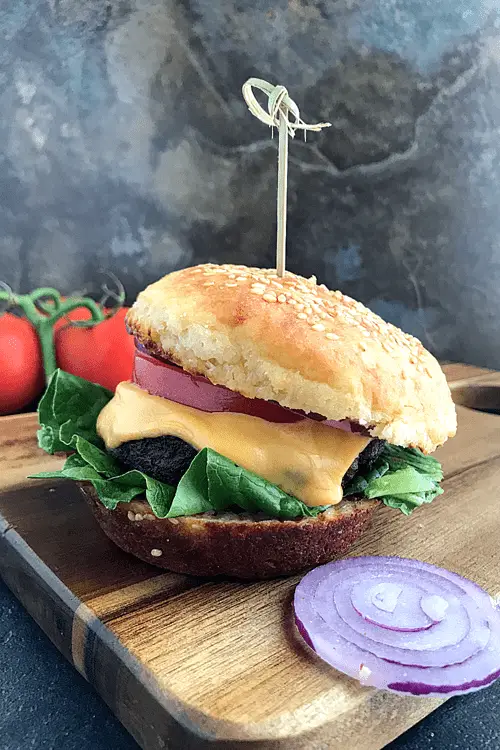 Grilled Keto Cheese Burgers on Portobello Buns
Loaded with all the flavors you usually find in your creamy, stuffed burgers, these are extraordinarily delectable with grilled cheese. Burger fanatics on low carb diet always find this as the "to-the-go meal."
Check the full recipe here.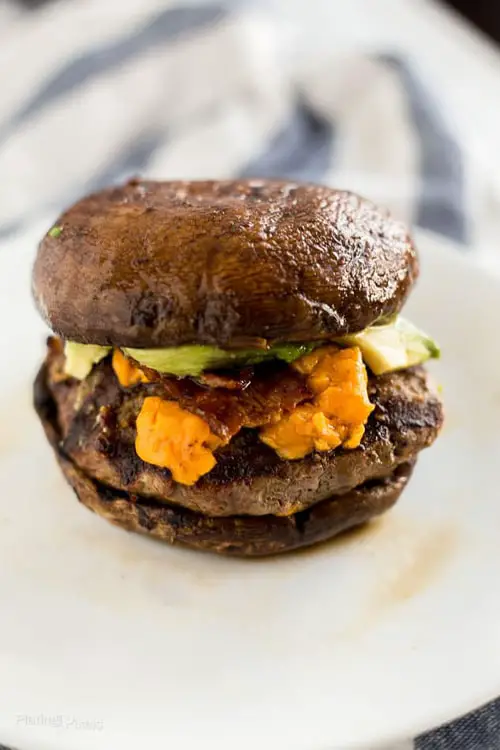 Conclusion
We put on huge amounts of calories and carbs on our body, albeit unintentionally, in a single day. This fact is troublesome not only for people following low carb diet, but for all of us.
Burgers, brownies, and pizzas are high on carbs and will eventually make you as fat as a ball if unresolved. Therefore, it is necessary for us to obtain knowledge on low carb burger recipes that fall under the low carb diet.
More Ideas For Your Weight Loss
Jeremy Park, the founder of jeremylife.com, is a love and relationships expert. With a journalism degree and years of exploration, he offers valuable insights to help you live your best love life. His mission is to make the journey enjoyable and effortless.