A Ketogenic diet plan for weight loss is a great decision you can make for your body. If you are on a keto diet or are planning to go for it, the diet is going to be all about cutting down on carbohydrates. That means you have to cut down on foods such as burgers, potatoes, and pasta. Yes I know you must be thinking that means losing your taste buds but not when you have some scrumptious Keto Spinach Recipes to enjoy!
Basically, what you are going to be doing in a keto diet is cutting down to literally as low as 5% consumption of carbohydrates, moderate proteins, and high fat intake. But don't fatty foods make you gain weight? Yes, but not when we are talking about the keto diet.
You see, when you are eating fewer carbohydrates, your body switches to using fats as fuel to provide your body with energy. Ketones are basically acids that are being produced in the body. When your body is low on carbohydrates, ketosis occurs in which, your body starts breaking down fats to use it as a fuel. So, as the fat starts burning, you start losing weight, besides, this diet is not only effective for those looking for weight loss but also plays a great role in controlling increased sugar levels, lowers the risk of heart diseases and has been effective in slowing down the onset of Alzheimer's symptoms.
Keto Spinach recipes are incredibility tasty and once you start trying them out, I can bet you will get hooked! Spinach is a keto-friendly vegetable. Keto Spinach recipes are one of the healthiest low carb diets you can opt for. Check out this super easy finger-licking good recipes with savoring flavors you can easily make at home!
Keto Artichoke Spinach Dip
A perfect blend of cream cheese and crunchy peppers toasted to golden brown perfection is one Spinach Recipe which you must try! This is one of the most delicious keto spinach recipes featuring salted warm dip which you can enjoy with celery, crisps, and even with an egg for breakfast.
This is the low-carb, grain-free and gluten-free spinach dip you have probably been looking for. Keto artichoke spinach dip is an ideal diet for you if you have lactose sensitive but need to take those fats through dairy products.
Ingredients
Unsalted butter (about 2 tablespoons)
Three Cloves of garlic minced with four tablespoons of Olive oil in case you can't find garlic oil.
450 grams of Spinach (Frozen)
Roughly chopped artichoke hearts (2Cans)
225 grams of lactose-free cream cheese
Cheddar Cheese (One cup)
Parmesan cheese (one and a half cup)
Gruyere cheese (One cup)
Some red pepper flakes (a half teaspoon or as much you like)
Black pepper (half teaspoon)
Some sea salt (quarter teaspoon)
Nutmeg (ground quarter teaspoon)
Mustard powder (quarter teaspoon)
Instructions
Firstly, preheat your oven to 190 C.
Take a large pan, start with melting some butter and garlic oil together and keep them at medium heat to prevent them from burning.
Now, take artichoke hearts, the frozen spinach, and just sauté in the pan. Keep in the pan till the spinach softens.
Next, add white cheddar and cream cheese. Also add the parmesan, gruyere, and cheddar. Mix all these ingredients until they are all well combined.
Sprinkle the black pepper, salt, ground nutmeg, red peppers, and mustard. Stir all these in the pan too.
Make sure all your ingredients in the pan and once it is well combined, out this mix into a baking dish. Add the half cup of parmesan cheese on the entire dish before putting it in the oven.
The last step is to bake the dish well for a period of 25 minutes until you see the parmesan turning gold. Best enjoyed warm!
Check the full recipe here.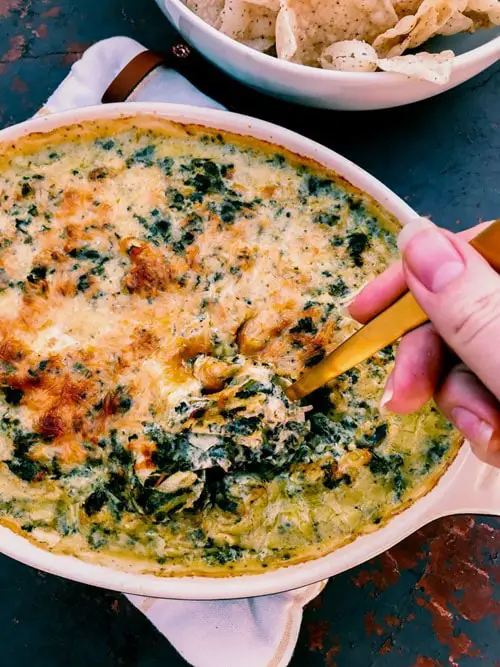 Keto Spinach Dip
Something cold yet smooth and creamy, a dip you will love after an intense workout on a hot day. Sour cream and spinach have that perfect tangy flavor accompanied by mayonnaise and green onions giving it a great thick creamy texture. With as low as 1grams of carbs per Keto Spinach dip serving, it is also densely nutritious plus the Greek yogurt is rich in fats to fulfill the keto diet requirement.
Moreover, this Keto Spinach recipe is a whole meal dip which you can enjoy with your favorite soups, low-carb bread, celery leaves and also with beans and bell peppers.
Ingredients
Greek Yogurt (plain and full fat, One cup)
Sour Cream (Full cream One cup)
Mayonnaise (One cup)
Spinach (chopped and frozen, 280 grams)
A packet of powder vegetable soup (40 grams)
Onions (Sliced very thin)
Instructions
Make sure you have drained the spinach well so almost no liquid remains in it.
Mix all the ingredients together, the Greek Yogurt, mayonnaise, sour cream, dry soup, spinach, and onions.
Mix them well till they are well combined, place in your fridge to chill it, enjoy the cold spinach dip with your favorite keto snacks.
Check the full recipe here.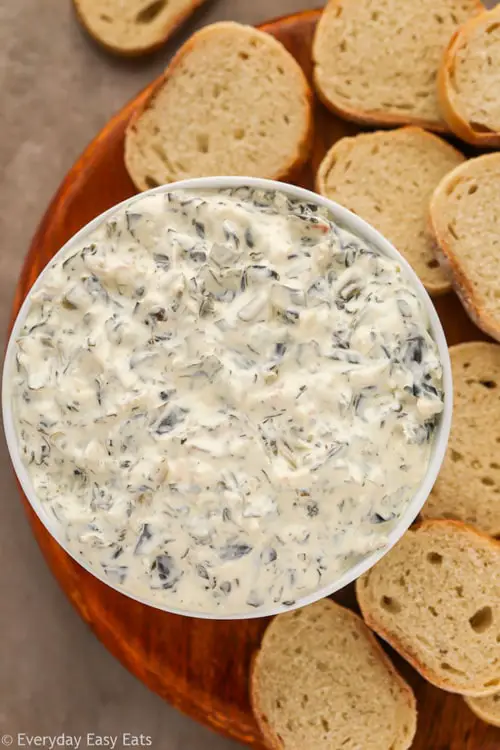 Keto Spinach Artichoke Chicken Casserole
You might not have admired spinach lately as much as you will now in these scrumptious Keto Spinach recipes. Not only is this one crowd-pleasing combo of chicken and spinach put in a casserole but all the ingredients are low carb and keto-friendly.
A golden brown appetizer baked to perfection is one dip your friends and family will thoroughly enjoy with celery, low carb bread or crisps.
Ingredients
Salted Butter (One tbsp)
Diced onions (Red, Two tbsp)
Spinach (Two cups)
400 grams of chopped Artichoke
Jalapeno (One)
Pepper and salt as you like it
Some softened Brick Cheese (28 grams)
Mayonnaise (Quarter cup)
Sour Cream (Quarter Cup)
Garlic powder (Quarter tsp if you like it)
Chicken Breast (cubed and cooked about three cups)
Mozzarella Cheese (One cup)
Parmesan (Quarter Cup)
Instructions
Firstly, preheat your oven to a temperature of 400.
Now, take a large pan, put it over a medium flame, add one tablespoon of butter and sauté the diced onion till it becomes a little transparent. Now add the artichokes and jalapeno and Spinach till the spinach starts settling. Season with the pepper and salt.
Next, take a big bowl, out the mayo, garlic powder and cream cheese. Mix all these ingredients well, adding the garlic powder and sour cream as well. When it is all mixed, put it in the pan.
Also, add the cubed and cooked chicken with the mozzarella into the pan. Stir all of these ingredients together.
Once this is done, put all these contents into a dish for baking. Next, put some parmesan on the broth you made, and bake till it turns brown and the parmesan starts to melt. After about 30 minutes, take it out. Finally, let it cool a little and enjoy the tasty keto spinach recipe with your favorite dipping options.
Check the full recipe here.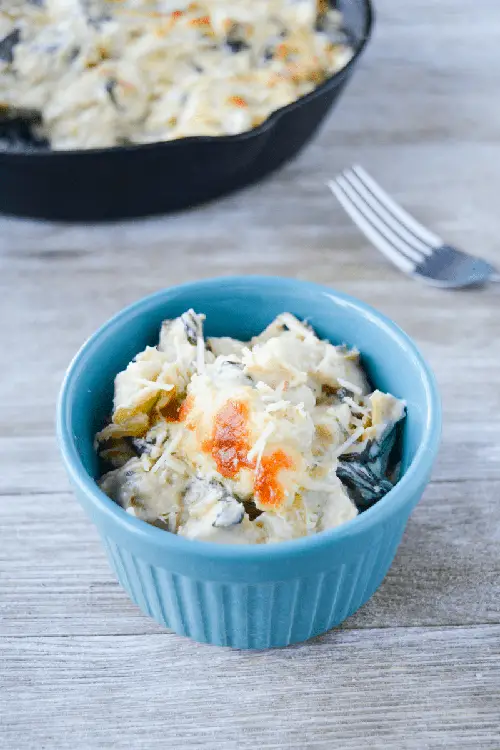 Chessy Bacon Spinach Dip
Craving something similar to a pizza? This oven-baked, Cheesy bacon Spinach dip is here to rescue and curb your cravings! This dip is a perfect golden combo of cheese and cream fusion, and let me tell you, this is bacon at its best.
Savor the goodness of this dip with chips crackers, your favorite low carb veggies non-stop. And I am actually saying non-stop because once you try it you will be hooked to the flavor. It is super easy, delicious, low on the carbs, has all the facts you need to accommodate it in your keto diet plan for weight loss.
Ingredients
Bacon (six diced slices)
Cream cheese (228 grams)
Sour Cream (about One cup)
Parmesan (Quarter cup and grated)
Mayonnaise (Two tbsp)
Worcestershire sauce (One tbsp)
Spinach (Chopped, Two cups)
Mozzarella cheese (Shredded a cup fill) divided
Cheddar cheese (A cup full)
Salt and black pepper to
Parsley leaves (Chopped two tbsp)
Instructions
Put a large plan on a medium-high flame. Take the diced bacon slices and cook them in the pan till they turn crispy and brown. This will take approximately 8 minutes. Now transfer the bacon a plate which is lined by a paper towel.
Next, preheat the oven to a temperature of 400F. Take a non-stick spray to spray the baking dish with it.
Take a big bowl to combine the ingredients; mayonnaise, cheese cream, sour cream, Worcestershire sauce, and parmesan. Now put the bacon in this bowl along with the mozzarella cheese and spinach, sprinkle some salt and pepper as well.
Now, the baking dish you set aside, in it, spread out the diced bacon mixture and top it with the cheese that remains in the cup.
Place this dish into the oven to bake for 25 minutes.
Take it out when golden and garnish with parsley to serve.
Check the full recipe here.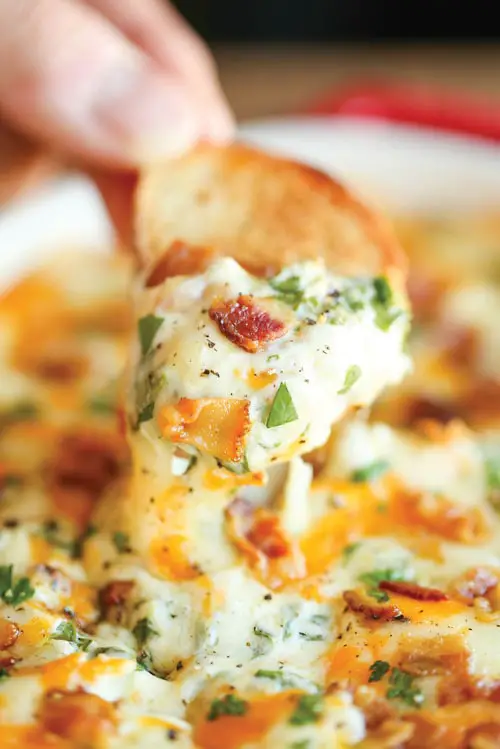 Borani Persian Yogurt Spinach Dip
Borani is associated with health benefits since years, adding spinach to this advances it benefits to a new level. A blend of yogurt and veggies, low calories and highly nutritious is hence a perfect description for this Persian dip.
The tangy flavor this dip has is going to be truly sensational for your taste buds. Super quick and easy this low carb, Keto Spinach recipes are a must-try at home!
Ingredients
Spinach (280 grams)
Onions (Half cup, diced)
Water (Two tbsp)
Garlic (About four cloves)
For the Finishing
For Finishing
Greek yogurt (A cup full)
Black Pepper (Half tsp and ground)
Instructions
• Firstly, take a pressure cooker, put water, garlic onion, and spinach into it. Place
• Cook under pressure for about two minutes at low pressure and then you have to release the pressure but quickly.
• With the help of a spoon that acts as a sieve, take out all the veggies from the pressure cooker, making sure that the maximum amount of liquid is left behind.
• Now, smash these vegetables so that any undercooked pieces are crushed.
• Take the Greek yogurt, add some black pepper and al the smashed veggies. Chill and serve.
Variations:
You can add in half a tsp of cinnamon.
Or a quarter cup of cilantro that is chopped.
Check the full recipe here.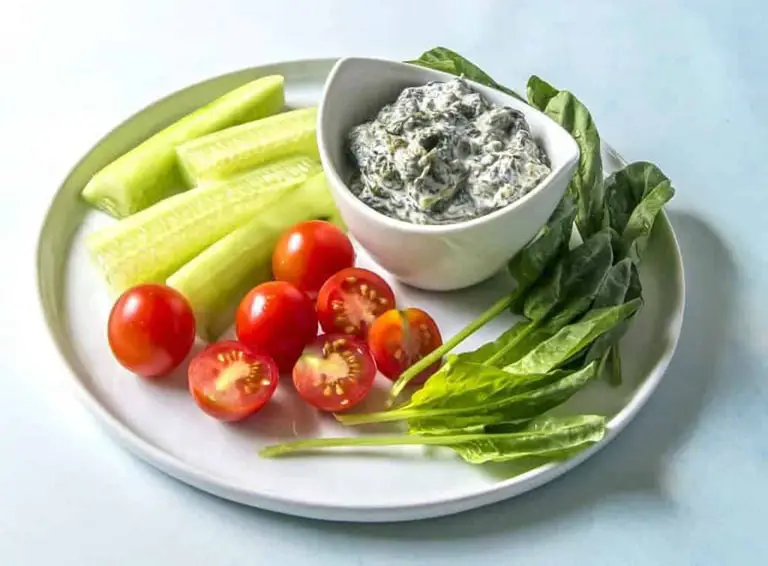 Spinach Artichoke Stuffed Peppers
Okay so spinach dips are great but how to use the dip is one question. If you are looking for a keto-friendly low carb diet plan, this is one of the many Keto Spinach recipes you can make within minutes and is very easy.
Colorful Keto stuffed peppers with melting cream cheese and artichoke spinach mix is one mouthwatering sight you can put on your dinner tables! Not only is this a great appetizer but can also make a filling snack or even a meal.
Ingredients
Bell peppers ( You can take a single color or mixed,4 )
Cream cheese (170 grams)
Mozzarella (Quarter cup)
Parmesan (Quarter Cup)
Mayonnaise (Two tbsp)
A Garlic Clove
Spinach (A cup full)
Artichoke hearts (diced, 113 grams)
Red pepper (Quarter tsp, flaked)
Salt to taste
Pepper (Quarter teaspoon)
Chicken (A cup full and shredded, cooked)
Instructions
Firstly, preheat your oven to a temperature of 350 degrees. Then, taking a baking dish, add about two tbsp of water and set aside.
Take your peppers and slice them into half from the middle. Remove the seeds and place these seedless peppers onto the baking dish you set aside.
Take a big bowl, add red pepper, cream cheese parmesan, garlic, spinach mozzarella, artichoke, and mayonnaise plus salt and stir them well.
Now, put the chicken in this mixture and mix evenly.
Next, fill each pepper with the mixture you made using a spoon and put this into the baking dish you put aside.
Take a foil and cover the dish with it, put in the oven to bake till the peppers are done.
Finally, serve right out of the oven.
Check the full recipe here.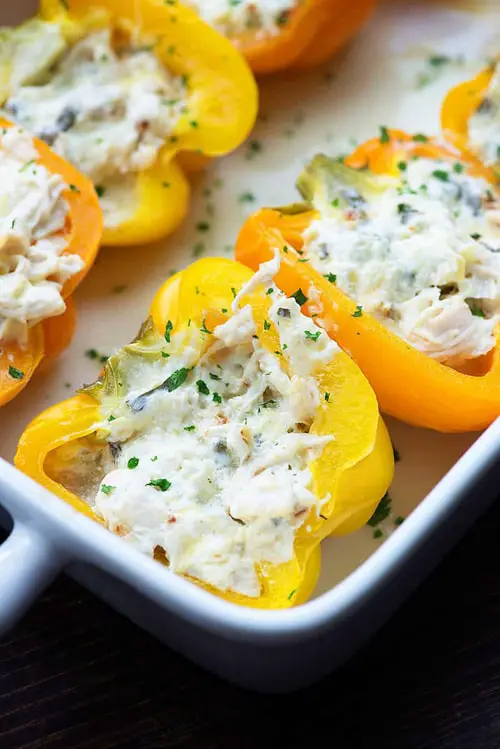 Baked Mexican Spinach Dip Low Carb
When you plan to throw a party or just want an intensely flavored dip with Low carbs, is keto-friendly and won't take all day, this baked Mexican dip is the best choice you can make.
The goodness of cheese and spinach benefits are so filling, you won't be looking for a meal anytime soon after having this dip! You can pair this cheese melt with low carb veggies or crisps, very easy to make and is yet another crowd-pleaser Spinach keto recipes.
Ingredients
283 grams of Spinach (Frozen)
Cream cheese (510 grams)
Rotel (One can of drained and One not drained)
Onion (half cup and chopped)
Cheddar cheese (340 grams)
Jalapenos (Diced about 400 grams)
Green chilies (Diced about 400 grams)
Sour cream (Quarter cup)
Onion powder (Half teaspoon)
Garlic cloves (three minced)
Cumin (One teaspoon)
Chili powder (About a teaspoon)
Salt to taste
Pepper (Quarter teaspoon)
Instructions
Firstly, preheat your oven to 350 degrees.
Take a big bowl and put all the ingredients in it, mix till they are all well together.
Take a casserole dish and put the mixture in it, add more cheese if you like.
Wait till the cheese turns golden brown, about 30 minutes will do the trick. Serve hot.
Check the full recipe here.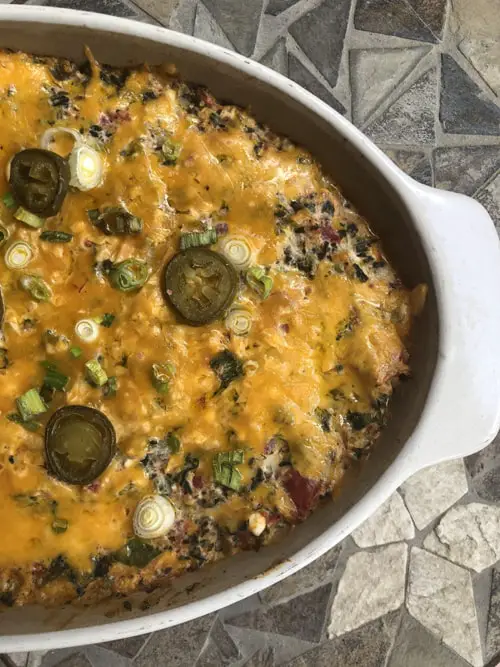 Cheesy Cauliflower Spinach Dip
Loaded with cheese and cream, this cauliflower and spinach dip taste is mind-blowing; you can hardly believe it's the veggies giving all that divine flavoring to the dip!
In general, this dip is very healthy, low on the carbs and keto-friendly so you can include this in your diet plan for weight loss without having to worry about extra calorie intakes. Have a look at these insanely easy to make and quick Keto Spinach recipes which is a must-try at home!
Ingredients
Cauliflower (One head, chopped to 1-inch pieces, no stems)
Spinach (140 grams)
Garlic Cloves (Two)
Shallot (One medium)
Lemon juice (squeeze half a lemon)
Coconut Milk (One cup full, Full fat)
Nutmeg (1tbsp, ground)
Salt to taste
Black Pepper (Half a teaspoon)
Mozzarella Cheese (Half a cup, grated)
Olive oil (One tbsp, extra)
Instructions
Take a saucepan, add water to it and submerge the cut cauliflower in it. Boil for about 10 minutes.
Take another pan; add olive oil and spinach to the pan, stirring it on medium flame till it starts settling. This will take about 5 minutes.
With the help of a food processor, you have to pulse the Shallots and garlic to chop it well.
Now, add the cooked Cauliflower, salt and pepper, Nutmeg and Lemon Juice. Pulse all these till the mixture becomes smooth.
When the mixture turns creamy, add the one cup of mozzarella and pulse for another ten seconds.
Add this mixture to the pan containing the spinach. Sprinkle the grated mozzarella.
The next step is to broil until it turns brown and starts bubbling on the top.
You can serve this dip with corns, crisps or veggies.
Check the full recipe here.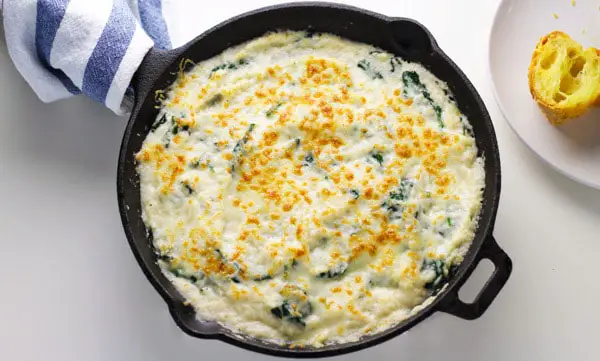 Conclusion
Including these Keto Spinach recipes in your diet plan for weight loss is one healthy and delicious favor you can do to your body.
You won't have to worry about the extra intake of calories, and neither are they high in carbs. Furthermore, these keto spinach recipes are loaded with flavor, hardly take any time to cook, and is an ideal snack to include in a keto diet plan. Note a few and try them today!
More Ideas For Your Keto Recipes
Jeremy Park, the founder of jeremylife.com, is a love and relationships expert. With a journalism degree and years of exploration, he offers valuable insights to help you live your best love life. His mission is to make the journey enjoyable and effortless.