This rapidly growing world has led to an increasing number of people towards being health conscious. People are now more aware than ever about their health. Now you and I, both think twice before putting a fried piece of meal covered with layers of unhealthy oil, in our mouths. People are so well aware now, especially millennials, that this lifestyle is now part and parcel of this fast-moving world.
Now everyone wants to look a certain way, behave in a certain way, so on and so forth. Due to this awareness, masses opt for healthy diets and meals; hence, the growing demand for Keto diets. Due to the ever-increasing demand, certain eateries have been established with Keto diet meals as their specialities. But a question that comes to mind is, what about the taste buds? How to satisfy cravings?
I have just the answer for you! Gone are the days of limiting yourself to only certain food for the sake of weight loss. There are many amazing meals which can be made, keeping the taste, cravings, and diet in mind.
Similarly, here are some examples of Keto Shrimp Dishes for all the shrimp lover and fitness enthusiasts out there:
KETO RED LOBSTER GARLIC SHRIMP SCAMPI
Yes, starting with the tastiest! This dish is perfect for shrimp lovers who want to keep a balance in their diets. It is an ideal blend of parmesan cheese, white wine and garlic butter sauce with shrimps. It is perfect for those following a Keto lifestyle because it is very low in carbs, with only 240 calories in total. It is totally up to you if you want to add white wine or not; in addition, you can replace butter with ghee as well. So it is a pretty easy but scrumptious dish to cook which can blast your mouth with flavors.
Check the full recipe here.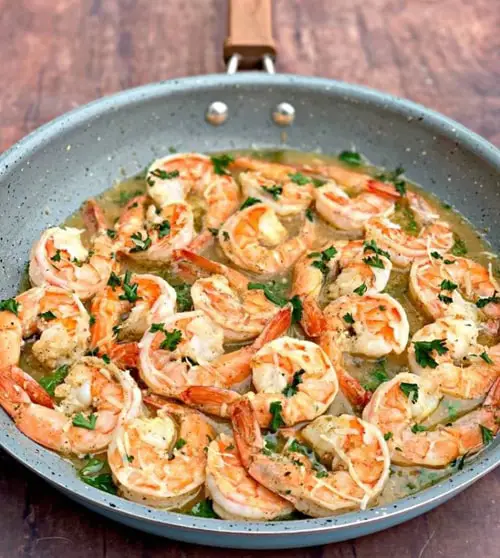 SHRIMP FAJITAS
This Mexican meal is a perfect blend of fajita and shrimps. What I like the most about this meal is that it only takes 30 minutes to cook. It is a one-pan dish which does not require a lot of time or space in your kitchen. For those following a keto diet, can serve the fajita filling in lettuce, zucchini rice or low carb tortillas. You can customize the dish according to your wishes. This keto shrimp dish is easy to make and convenient. So now you know the easiest yet a delicious dish to make on the weekend!
Check the full recipe here.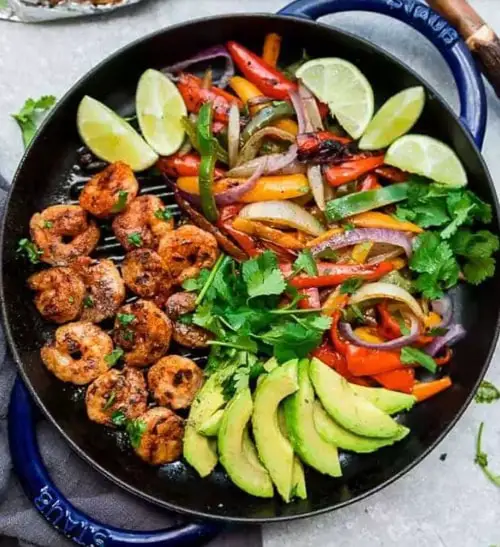 BUTTER SHRIMP WITH BACON
As the name suggests, this mouthwatering dish is a blend of butter, shrimps and bacon. For someone who is on a diet, this sure sounds like heaven to me. This is a three-ingredient dish perfect for a yummy yet healthy family dinner. This meal on its own is pretty wholesome, but you can add zucchini rice or noodles along. It is a fantastic mixture of spice and taste and very filling too. This keto shrimp dish is a perfect way to make your kids enjoy shrimps with bacon. Healthy meal? Tick. Tasty meal? Double tick!
Check the full recipe here.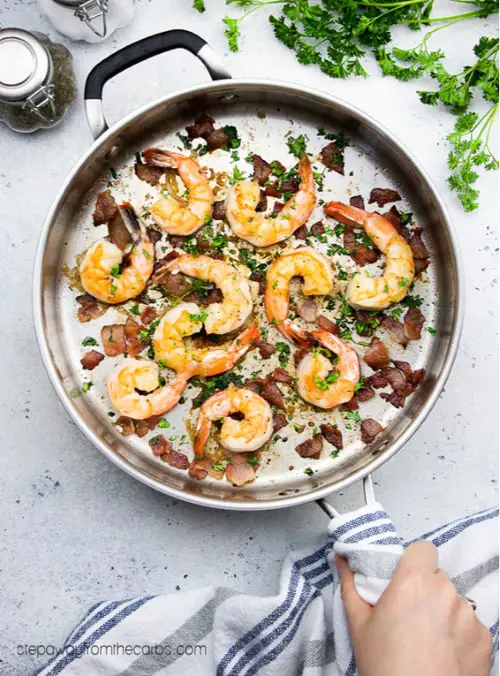 KETO CREAMY ASPARAGUS AND SHRIMP ALFREDO
The name might seem too fancy, and you might think this one is tough, but no! This is the easiest dish on this list and only takes up to10 minutes to cook. It is a five-ingredient dish which includes, shrimp, asparagus, parmesan cheese, butter and cream. This piquant dish is perfect to be served at an occasion or a dinner happening at your place. It is creamy and buttery, and the hint of cheese makes it a delicious dish. You can also add garlic to feel a ting of another flavor. Just thinking about it is making me DROOL!
Check the full recipe here.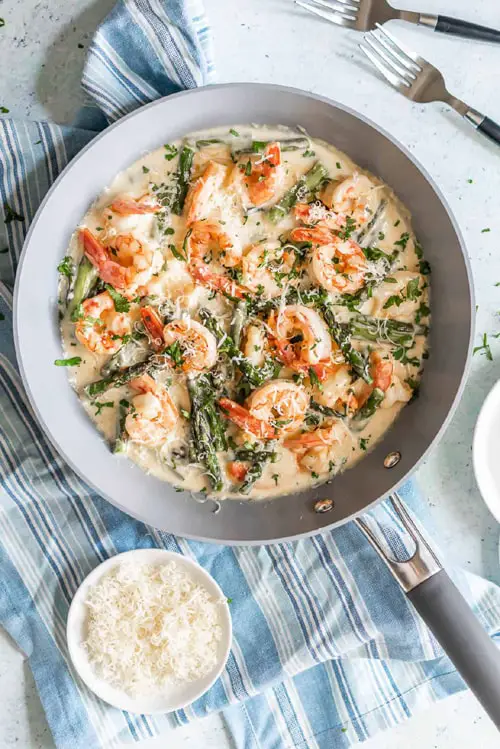 SHRIMP AND BACON CHOWDER
Do you enjoy having stews and soups? Because this appetizing dish is for you soup lovers out there. Like all the dishes, this dish also takes less time to cook. This is the best kind of soup to have on a chilly day to warm yourself up. It is full of flavors and does not require an unreasonable amount of time to prepare it. If you are looking for comfort food to warm you up and keep your diet intact? Well then look no further because this is the dish for you.
Check the full recipe here.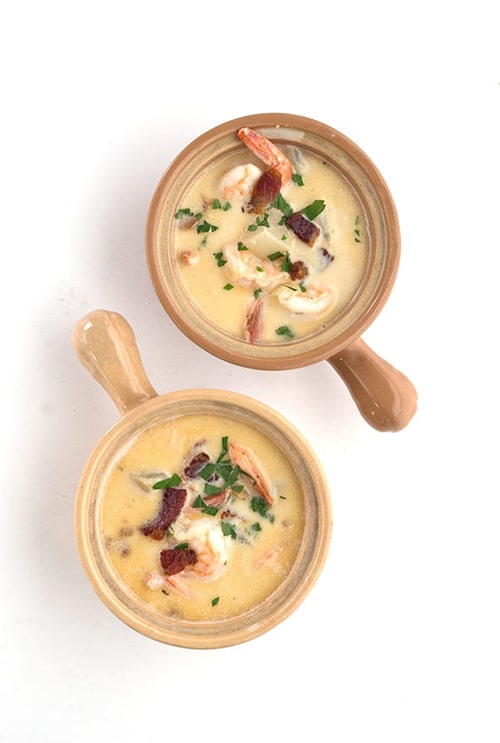 OVEN FRIED GARLIC PARMESAN SHRIMP
Best snack to make and eat on a day when you do not feel like spending too much time near the stove. Do you have teenagers at home who would prefer junk over healthy food? Well, this is the food for you. The delicious smell of the cheese and garlic, being baked in an oven will fill your home and drag your children towards the dining table! It is entirely glutton free, low on carbs and takes up to 30 minutes to cook. It is a perfect snack, which can be presented as a side dish.
Check the full recipe here.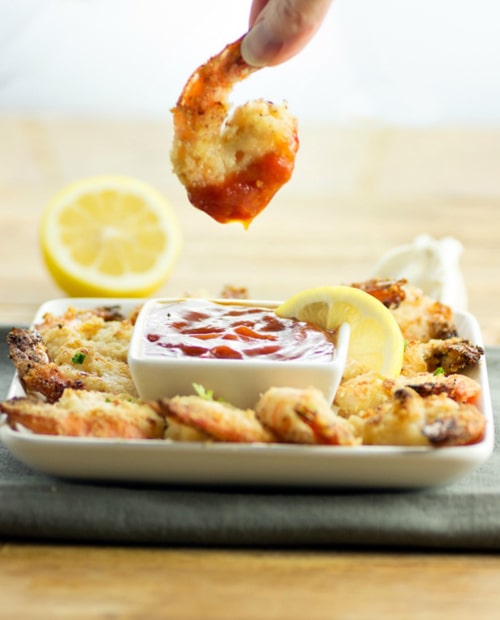 SHRIMP FOIL PACKETS WITH ZUCCHINI
This one is for all those who love to cook easy and time-efficient recipes. Don't we all love those summer nights, beside the barbeque, chilling with family? However, with this easy to make and delicious keto shrimp dish, you will be spending more time talking and relaxing with the family than standing by the barbeque. This luscious dish is perfect for those who want a break from the stove and the stove heat.
Shrimp foil packets with zucchini are not only healthy as the name suggests but also absolutely delicious. Foil packets are easy to make and can go along with nearly every vegetable. The whole meal takes around 20 minutes to cook. And you want to know the best part? It requires minimal to no post-cooking cleaning!
Check the full recipe here.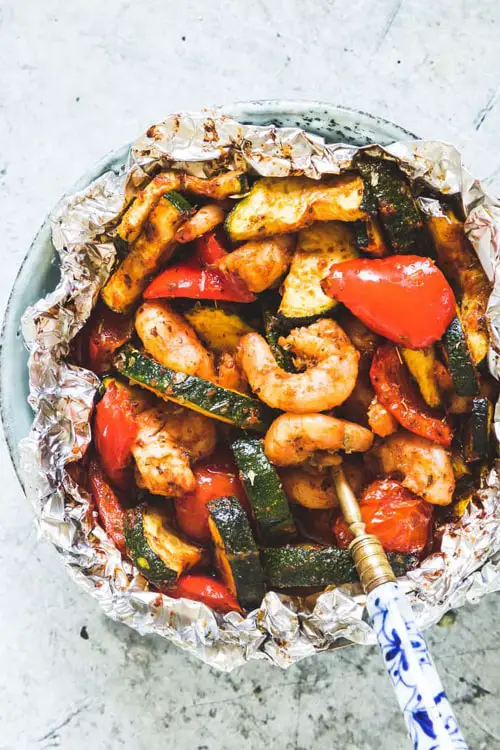 LOW CARB SHRIMP RAMEN STIR FRY
This is also one of the most liked and delicious shrimp dishes for the keto diet followers out there. Coming home from work, hungry but exhausted? This is just the meal for you. It requires no pre-cooking prep and takes up to 20 minutes to cook. Are you also someone who is having a hard time following the weight loss diet? Yes, been there. So the best part about this is that you will not even notice that it is a keto shrimp dish. It will taste perfectly normal. It is rich in ingredients which will blast your mouth with flavors.
Check the full recipe here.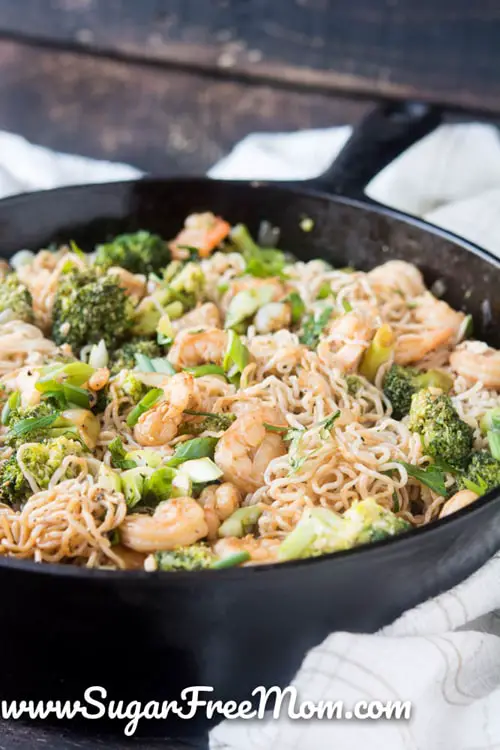 CREAMY KETO SHRIMP SCAMPI
Do you love to cook but absolutely hate washing the dishes later? Well, this creamy keto shrimp scampi is made in one pot only. It is easy to make, less time consuming and does not cause a big mess in your kitchen. This creamy shrimp scampi will not only drag the adults of the family towards the dinner table but also the kids of the house.
All the recipes mentioned up till now can be made in a very short time; however; this one here takes about an hour or so to cook. But the results are promising! It is creamy and wholesome but not too heavy on the tummy either. It is a perfect combination of cream and shrimps, which is also low in calories.
Check the full recipe here.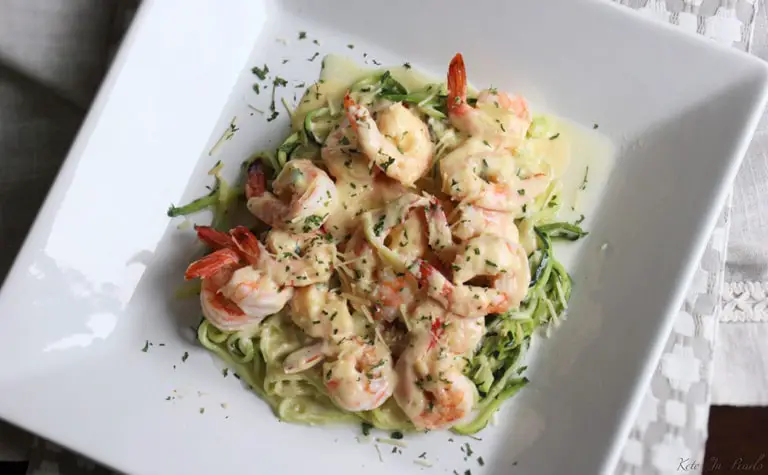 KETO BANG BANG SHRIMP
Keto Bang Bang Shrimp is a delicious blend of parmesan cheese and almond flour. You can make this either by using an Air fryer or baking it in the oven. The original bang bang shrimp is fried in cornstarch, but because this recipe is for keto diet followers, you can make it in parmesan cheese and almond flour, or you can only cook it in pork rings, totally up to you. This keto shrimp dish takes around 30 minutes to prepare.
Check the full recipe here.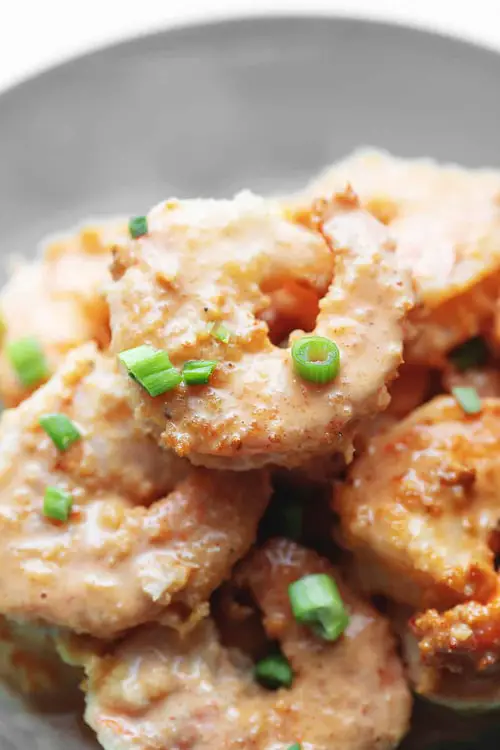 KETO COCONUT SHRIMP RECIPE
Coconut and Keto go hand in hand. As the name of the dish has coconut in it, you can already guess that the star of the show will be coconut and that is good news! Because coconut is the best food item, you can have in a keto diet. Keto coconut shrimp recipe is easy to make and can be served as an appetizer or a side dish. You can cook this dish using only five ingredients. Shrimp, eggs, coconut flour, and shredded coconut, are the main ingredients of the dish.
If you are a person who loves appetizers, then this is the dish for you, only that it is healthier and perfect for a keto diet follower. This keto shrimp dish takes around 30 minutes to cook and is very low in calories.
Check the full recipe here.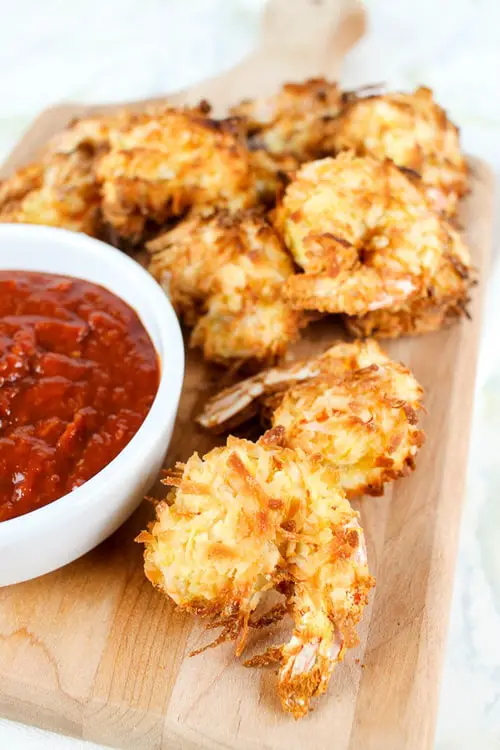 LOW CARB SHRIMP TACOS
Are you a fan of both tacos and shrimps? But the diet stops you from having your comfort food? Then I got a surprise for you. This keto low carb shrimp tacos dish will not only fulfill your cravings and satisfy your taste buds but will also strictly follow the keto diet rules. This meal takes around 20 minutes to cook. It is easy to prepare, like all of the recipes mentioned so far. It can be presented as a side dish or a wholesome snack, whatever you wish for it to be. It is easy on the tummies by having low carbs and low calories.
Check the full recipe here.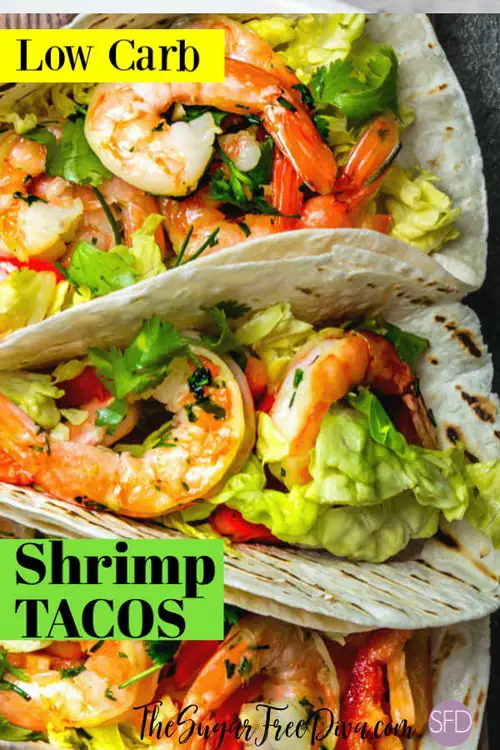 SPICY KETO SHRIMP STACKS
Now dishes like these make it easy to follow a strict diet like Keto. With having access to only a few food items, truth be told, Keto gets a little demotivating. However, a keto shrimp stack is a snack to die for. As the name suggests, it can be a low carb dinner, but usually, people like to serve it as a snack or a side dish to complement wholesome meals. It is a Japanese cuisine which is dairy-free, glutton free and best for those who follow a keto diet.
Check the full recipe here.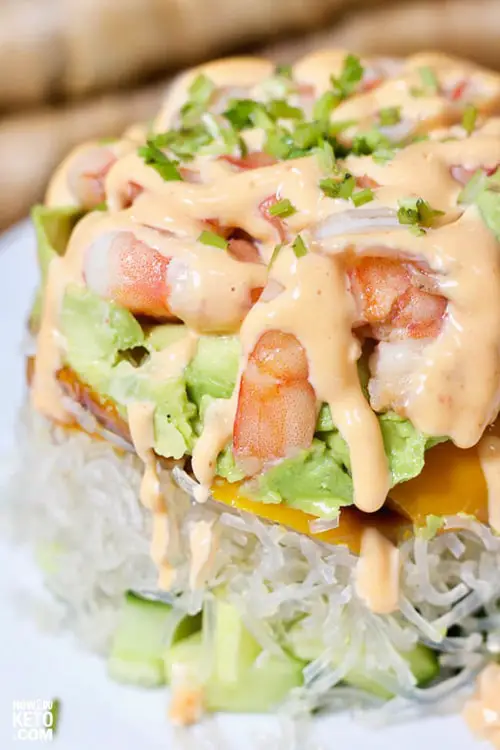 VIETNAMESE GARLIC SHRIMP
I may sound a little biased here, but hands down this is my favorite dish of them all! Easy to make? Check. Does not require a lot of time? Check. Absolutely delicious? Double-check. Healthy and low on carbs? CHECK. It is a perfect blend of spice and shrimps, and garlic to pop the whole flavor. It is the best dish to satisfy your mild spice cravings and keep the diet intact. The Vietnamese sauce will become your comfort food in no time!
Check the full recipe here.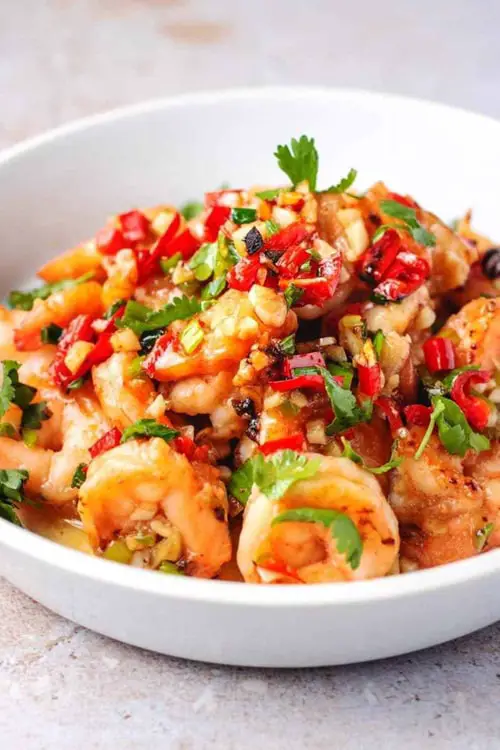 CAJUN SHRIMP AND SAUSAGE VEGETABLE SKILLET
Are you a Cajun fan? Then this one is for you. Cajun shrimp and sausage vegetable skillet is a perfect combination of Cajun, shrimp, sausages, and veggies. As the name suggests, with all these ingredients and protein, it sure is a healthy meal. It is not only healthy, but it is also very easy to make and prepare. It hardly takes half an hour to cook and TADA! The meal is ready to serve. This low carb deal is wholesome enough to be served separately.
Check the full recipe here.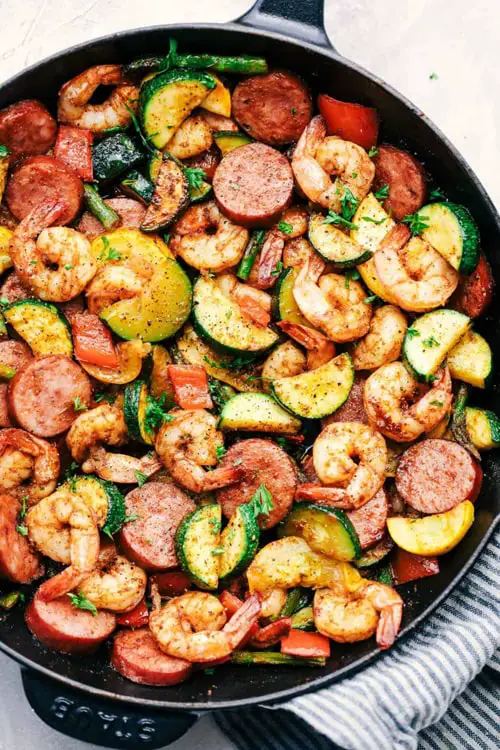 KETO SHRIMP AND GREEN ENCHILADAS WITH JALAPENO SAUCE
Keto shrimp and greens enchiladas with jalapeno cream sauce are a fantastic dish to make and enjoy for those following a keto diet. It is a Tex-Mex Mexican cuisine which is a wholesome meal on its own. It takes up to an hour to cook and ready to be served. The cream used in making keto shrimp and green enchiladas is entirely dairy-free, so as delicious as it may taste it is also low in carbs and calories too, comparatively.
Check the full recipe here.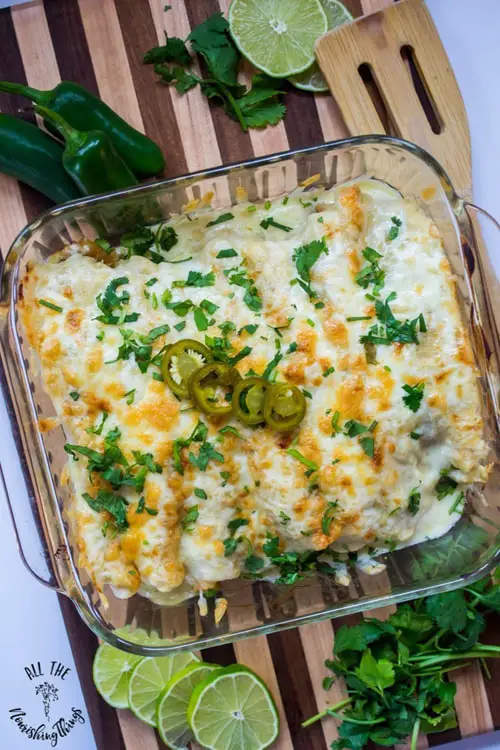 Conclusion
With Keto taking over the world by a storm, I hope these recipes help you out in making delicious food for your friends and family but most importantly for yourself. These recipes mentioned above are for all of those who are sick and tired of eating the same diet food every day and following a monotonous routine. Now satisfy your cravings and surprise your taste buds by cooking something spicy and shrimpy this weekend.
Coming towards the end of the article, I am sure by now you all have a couple of keto shrimp dish recipes in your hands right now to prepare for, so what are you waiting for? Put your aprons on and fulfill your cravings today!
More Ideas For Your Weight Loss
Jeremy Park, the founder of jeremylife.com, is a love and relationships expert. With a journalism degree and years of exploration, he offers valuable insights to help you live your best love life. His mission is to make the journey enjoyable and effortless.