Who needs a fancy restaurant when you've got your own date dinner recipe?
That's right, you don't need to go out to have a special time. With the right recipe, you can whip up some magic in your own kitchen—and treat him to a romantic night without ever leaving home.
Take a look below at four of the best recipes for your next at-home date.
Grilled Pistachio Lemon Pesto Shrimp
Start your date off right by serving him a meal he'll never forget. With this amazing shrimp date dinner recipe featured in 30 Easy Shrimp Recipes for Weeknight Dinners, you're sure to get your date headed in the right direction.
What You'll Need:
1/3 cup shelled pistachios
¾ cup fresh arugula
½ cup minced fresh parsley
1 peeled garlic clove
2 tablespoons lemon juice
¼ teaspoon grated lemon zest
1/8 teaspoon pepper
¼ teaspoon salt
½ cup olive oil
¼ cup shredded Parmesan cheese
1-1/2 pounds peeled and deveined jumbo shrimp
How to Cook:
Place the arugula, pistachios, parsley, lemon juice, garlic clove, and lemon zest into a blender and mix the foods until there are no lumps. After this, add oil, salt, pepper, and parmesan cheese to your mixture and blend again.
Once you have completed this step, mix you shrimp in a bowl of 1/3 cup pesto. When your shrimp-pesto mixture is completely tossed, throw your mixture into the fridge (covered) for thirty minutes.
After thirty minutes, place the shrimp onto your desired number of skewers. Grill the shrimp on a greased rack for five to six minutes on medium heat. Make sure to turn the shrimp once.
When your shrimp are done, simply serve with leftover pesto and enjoy your date!
Check the full recipe here.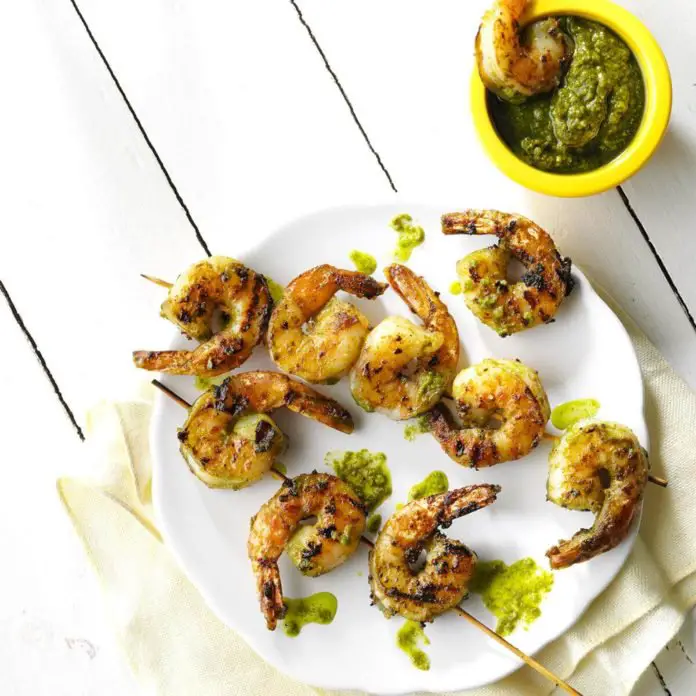 Beer-Battered Fish
Looking for a date dinner recipe that you can prepare in twenty minutes?
Try this amazing beer-battered fish! With a taste and crispiness he'll love, this recipe offers the perfect at home-date experience!
What You'll Need:
1 large egg, beaten
Vegetable oil
1, ½ cup all-purpose flour
Kosher salt
2 lbs cod (cut into pieces)
Freshly-ground black pepper
½ teaspoon Old Bay seasoning
Lemon wedges
1 (12-oz) bottle of lager
How to Cook
Whisk 1 teaspoon of salt, ½ teaspoon of Old Bay, and your flour together in a large bowl and let it sit for ten minutes. While it sits, dry off your cod with some paper towels. Once dry, season the fish with salt and pepper.
Add three inches of oil in a pot and heat it to 375 degrees Fahrenheit. Batter your cod and drop it into the mixture when hot. You want to fry the fish for around five minutes, remembering to flip the fish halfway through. Remove the fish when it's cooked golden-brown.
To add some extra flavor, serve your beer-battered fish with some tangy lemons. Blow your husband's mind with this fun and fresh-tasting recipe.
Check the full recipe here.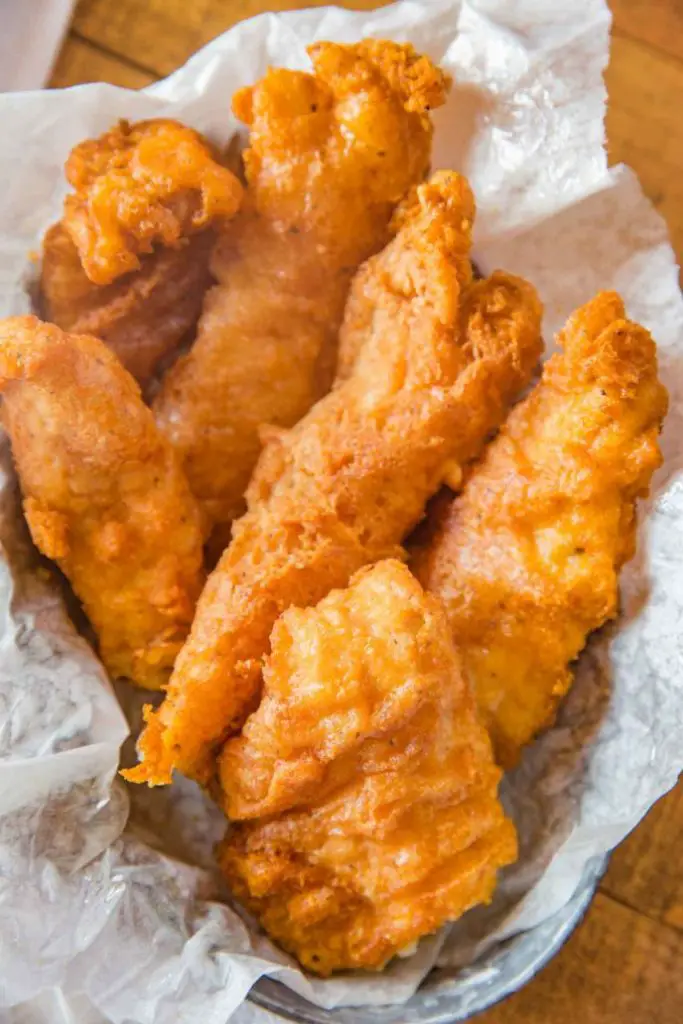 Cajun Butter Steak
Make his night with this steak date dinner recipe. If you're looking for a recipe he'll never turn down, you can't go wrong with this fabulous Cajun-themed meal!
What You'll Need:
¼ cup bourbon
1/3 cup extra-virgin olive oil
½ cup low-sodium soy sauce
¼ cup lightly packed brown sugar
2 teaspoons Cajun seasoning
2 tablespoons whole-grain mustard
2 cloves minced garlic
2 tablespoons butter
1 tablespoon thyme leaves
2 pounds tri-tip steak
How to Cook:
Whisk your bourbon, olive oil, soy sauce, brown sugar, thyme, garlic, Cajun pepper flakes, and mustard Cajun seasoning in a large bowl. Once done, empty out around 1/3 of your mixture in a separate container to use later for your glaze.
After this, place your steak into your marinade and let it sit for up to four hours (covered in the fridge). When ready, heat your grill to high heat. Take your steak from the marinade and season each side with salt and pepper. Once it's fully seasoned, grill the steak on high for around ten minutes, or until it's charred on the bottom.
After this, flip the steak and cook for eight to ten more minutes on medium-high heat. You'll want to make your glaze at the same time. Take your leftover 1/3 marinade and boil it in a pot over medium-high heat. Once boiling, you'll want to lower your heat to medium and let it thicken. When the mixture has reached desired consistency, add butter and whisk around until complete.
As your final step, glaze your steak with your butter and serve to your man's delight.
Check the full recipe here.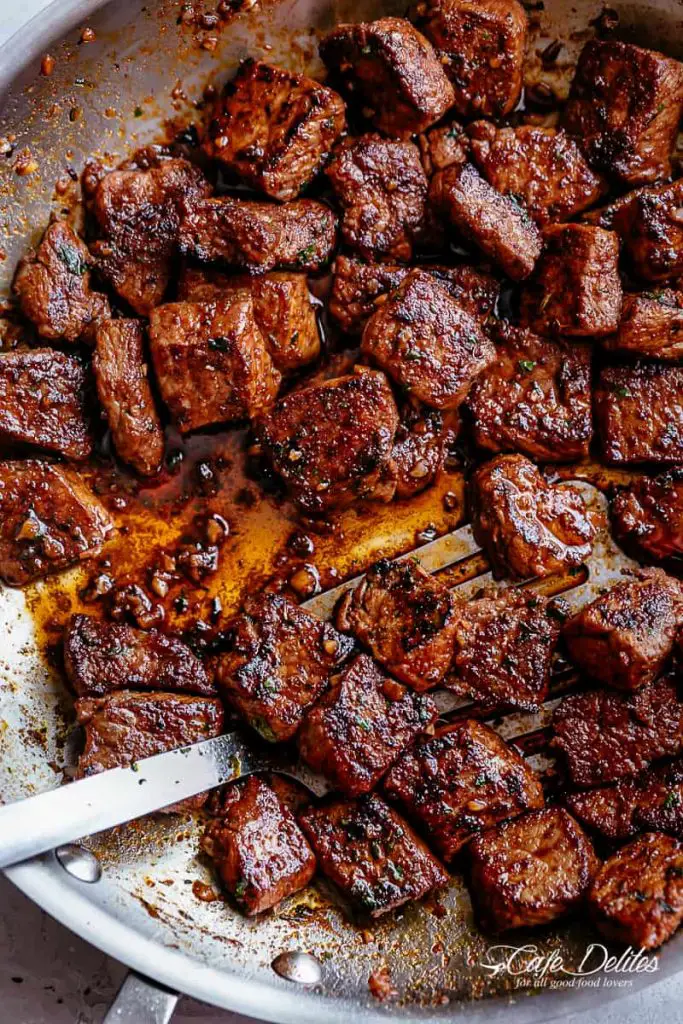 Chicken Chow Mein
Not every date dinner recipe needs to be challenging. In fact, some of the best meals are the simple ones. That's why I recommend this amazing chicken chow mein recipe that will turn your date into a success.
What You'll Need:
1 grated carrot
1 tablespoon sesame oil
12 ounces refrigerated chow mein noodles
Kosher salt
1 pound boneless skinless chicken thighs
1 tablespoon grated ginger
1 clove minced garlic
¼ cup soy sauce
¼ cup chicken broth
½ head shredded small cabbage
2 tablespoons oyster sauce
How to Cook
Depending on the type of chow mein noodles you buy, cook according to your package directions and then manually dry. Once the noodles are fully cooked, heat oil over medium high in a skillet. As the oil heats, season your chicken with salt and pepper and place it into the oil, cooking until the chicken is golden-brown. In general, expect this step to take around eight minutes.
Add your other ingredients to the skillet and cook until done. As this cooks, whisk soy sauce, oyster sauce, and broth in a bowl and add the mixture to your chicken and vegetable mixture. At this time, you will want to add your noodles and cook until completion.
Once done, serve this tasty chicken chow mein to your husband's delight.
Check the full recipe here.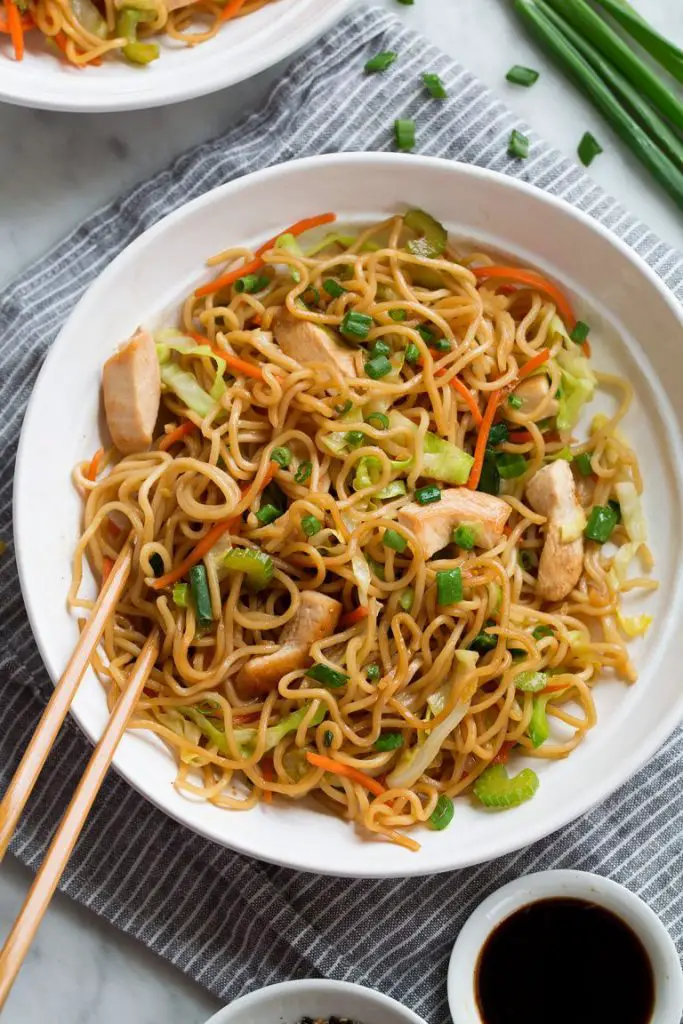 Conclusion
With these fantastic, easy-to-make recipes, you're all set for the perfect romantic dinner! If you've had trouble finding the perfect date dinner recipe, use this post to make your next in-home date magic!
Learn More About How To Create A Romantic Keto Breakfast In Bed
Click here to read more about Weight Loss Tips
Reference
Jeremy Park, the founder of jeremylife.com, is a love and relationships expert. With a journalism degree and years of exploration, he offers valuable insights to help you live your best love life. His mission is to make the journey enjoyable and effortless.