Do you have to skip desserts to lose weight? NO way! Keto diet foods are surely less flavorful and you might even have to eat more greens than usual but that doesn't mean you need to skip the sweets. If you have these keto mousse recipes, your keto diet plans will no longer be boring.
I mean, who doesn't crave a dessert serving after dinner, lunch or for an evening snack! If you love keto mousse recipes then you have just lodged on the right site! Here are our best picks for keto Mousse Recipes which are fresh and nutritious and delicious cuisines to include in diet plans for weight loss!
Sugar-Free keto Mousse Cake
Sugar-free, low carb, and a light consistency creamy dessert, literally, a heavenly delight to taste! If you are a fan of cheesecakes, this one will be your new favorite!
It's got a lot of serving options, you can enjoy it with fruit sauces, chocolate chips, your favorite wafers or just eat it individually! This whipped cream dessert is easy to make, no rocket science needed to make it taste brilliant. Just 6 simple ingredients and it is ready!
You don't need an oven, no need to spare even a quarter of your day to make it. It is simple has less than 2 grams of carbs it's a keto-friendly dessert you and your family can enjoy after dinner or for a snack.
Check the full recipe here.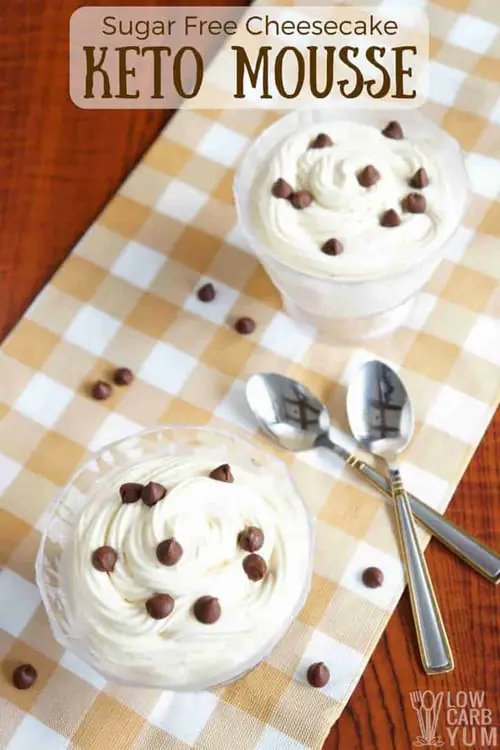 Keto Chocolate Mousse
If you don't like eating fruits without a sideline, then this chocolate mousse recipe is just for you! Its low carb, it is sugar-free and super delicious. In fact, you don't need to shop and search the entire market for this one recipe. It has such viable ingredients; I bet you will find most of the ingredients already from your kitchen cabinets.
Dark chocolate is very nutritious for you! Thus recipe has Stevia which is a natural sweetener, so you can enjoy that sweetness of this dessert to the fullest.
Its ready within 10 minutes and only 9 grams of carbohydrates make it one of the ideal keto mousse recipes you would love every day.
Check the full recipe here.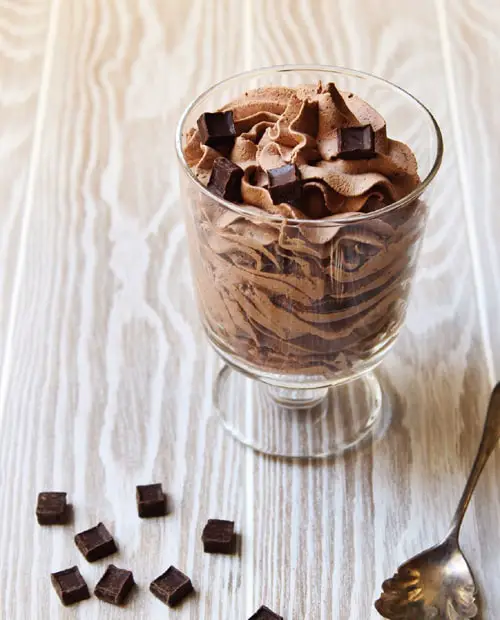 Easy Pumpkin Cheesecake Mousse
A desert which can be made in 5 minutes? Are we setting a world record here? I mean it's incredible! I know most keto recipes need a long preparation time but this pumpkin cheesecake mousse with such a short and easy prep time will make your life much easier.
It's the perfect blend of a cheesecake and pumpkin pie essence whipped to a creamy delight. If your guests come to your place as a surprise, this is a quick dessert ready within a couple of minutes.
This pumpkin cheesecake mousse is dense in nutrition, low carb-containing only 5 grams of carbohydrates and has that rich creamy texture you've been craving lately!
Check the full recipe here.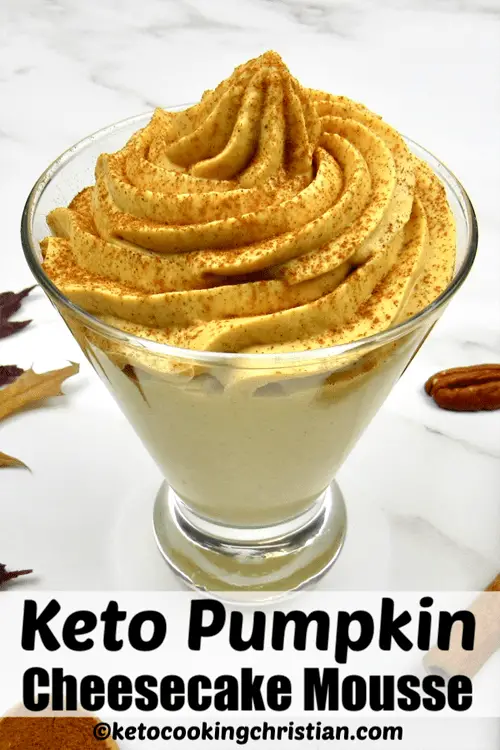 Peanut Butter Fat Bomb
This recipe is a paragon of enticing flavors and creamy richness, one of the finest Keto mousse recipes you will ever have! Once a scoop of this fat bomb melts in your mouth you might forget you are even keto dieting!
Its comfort food, you will feel fuller, and it is full of a combination of flavors. This is your perfect keto dessert treat after a hard day of working out at the gym. The good part is that you can refrigerate it, and it got all the goodness of peanuts and heavy cream.
Peanut butter fat bomb only has 2 grams of carbohydrates so it is an excellent snack or an after-dinner dessert for if you really are weight conscious.
Check the full recipe here.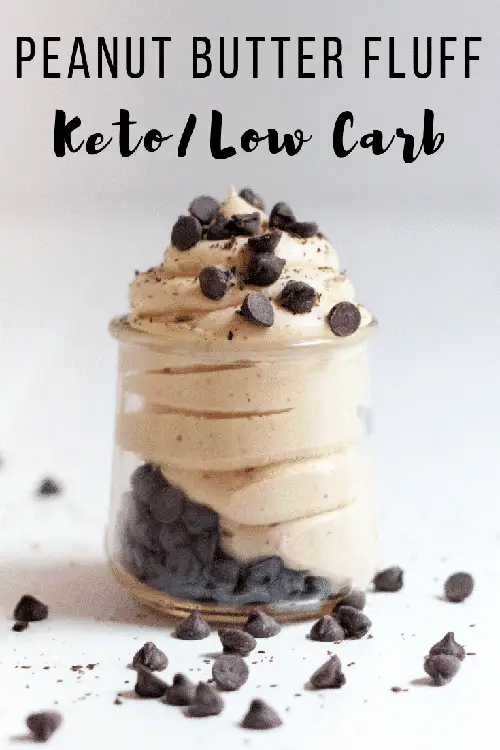 Easy Sugar-Free Keto Strawberry Mousse
You might have major to major sweet cravings when keto dieting and this is why keto mousse recipes are here for your rescue!
Everyone doesn't like chocolate mousse. Keto mousse recipes have great variations and one of them happens to be this fantabulous keto strawberry mousse recipe! Let's be honest here, high fat is always so delicious! Strawberries add a unique flavor to foods and strawberry mousse stands no parallel when we talk about fruit mousses.
You feel satiated, fuller, and energetic and of course, this is an ideal snack for all your family too as it's sugar-free. It's low in carbs constituting of only 4 grams of carbohydrates.
You don't need to be a professional chef to make this recipe, it's super easy and quick to make, and it's sugar-free so you won't have to worry about putting on those extra calories either!
Check the full recipe here.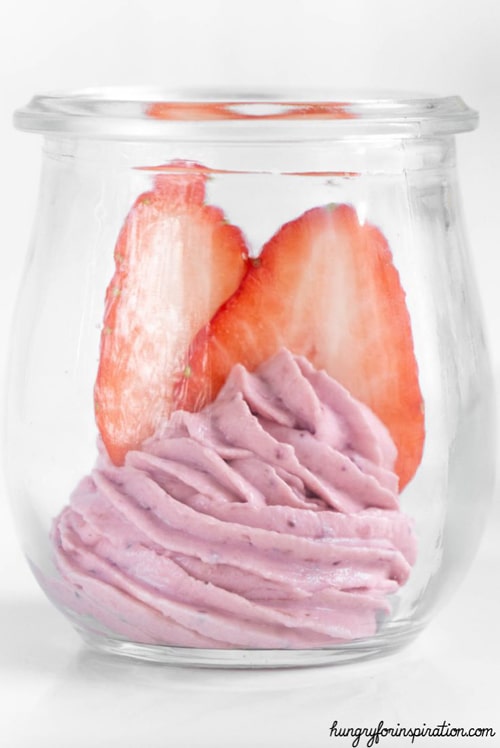 High Protein Jello Mousse
When you need that instant 20 grams of protein in a dessert, there is no better option than a Jello Mousse. A well balanced nutritious dessert, you get to choose from a variety of jello flavors and it is delicious!
This dessert is sugar-free, you won't get tired of having the same protein jello mousse each day because you can choose any jello flavor you like. This is one of those keto mousse recipes which is a true crowd-pleaser.
It's yet another one of easy keto diet recipes you can make in the comfort of your kitchen; it's a treat for the kids, elders and your weight-conscious friends as well!
Check the full recipe here.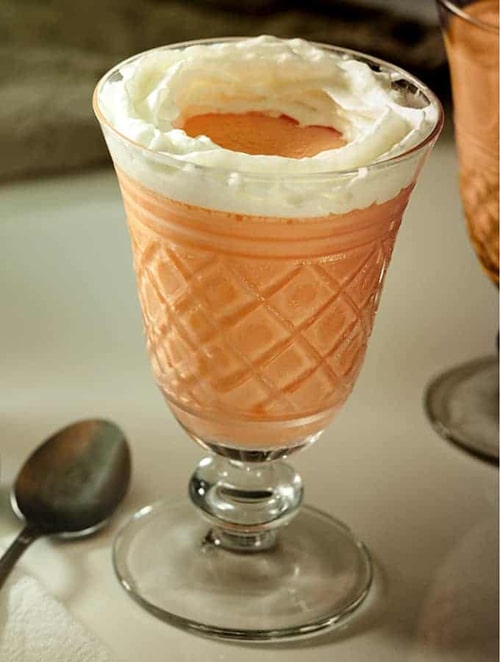 Easy White Chocolate Mousse
Just scoop a spoon of this magnanimous tasting white chocolate mousse, close your eyes and let the flavors melt in your mouth. You will be dazed and amazed by the flavors. I bet you haven't had a chocolate mousse which is low carb, extremely delicious and super easy to make as well.
You can make this keto white chocolate dessert at any occasion and trust me your guests are going to be asking for the recipe!
Pair it with fresh berries, indulge your kids in this sweet-savory just before bedtime, it's creamy to a satisfactory level and you just can't get over the flavor once you have tasted this amazing dessert! Try it for yourself!
Check the full recipe here.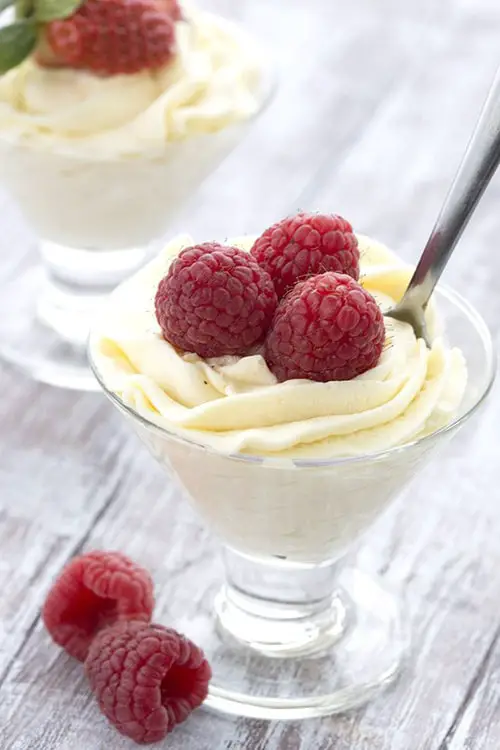 Keto Lemon Coconut Cheese Cake Jars
If lemon adds zeal to your life, we have it here in a dessert form for you! High fat, low in carbs and one of the sweetest and tastiest treats you can have to curb that sweet tooth craving. Just grab onto handful ingredients from your kitchen and your delicious keto-friendly lemon cheese jars are ready in almost in an instant!
This is one of those versatile keto mousse recipes which just can't go wrong. It is enriched with the goodness of coconut and cream cheese to satisfy those hunger pangs. Whether you want to treat yourself after dinner, lunch or want a mouth-watering dessert to energize you, this is your bait!
No more worrying about putting on extra pounds as it has fewer calories than most keto desserts so you get to just relax and enjoy each flavor of this dessert in small cute jars.
Check the full recipe here.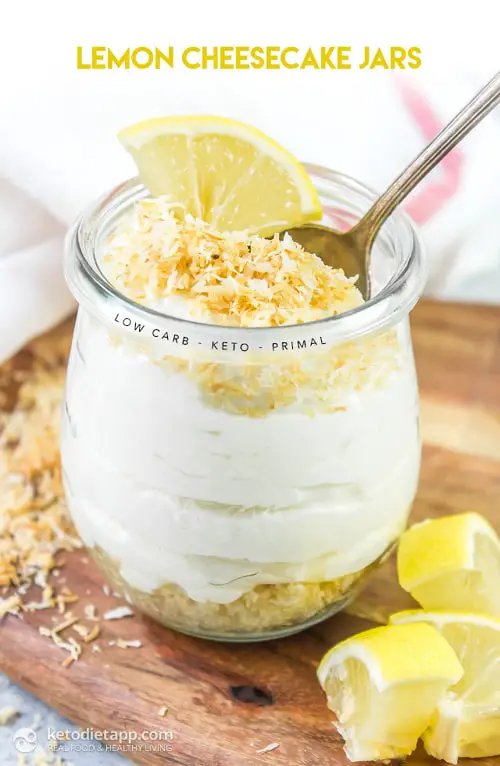 Keto Coconut Mousse
Looking for a dessert which has a light texture but is creamy? If yes, then keto coconut mousse is your call! You don't need to bake it so no more worrying about the chances of getting burnt, over or undercooked. It is an immediate keto treat for your taste buds and curbs those extreme sweet cravings.
You can refrigerate it or serve it instantly, it is totally up to you! To be honest it takes even less than 10 minutes and your low carb keto mousse recipe is ready. This American cuisine is your ultimate keto comfort food you will love every day. It tastes so rich and delicious; once you start, you get hooked to the dense flavors and you just can't stop having it trust me! Try it at home and your family will love this small treat!
Check the full recipe here.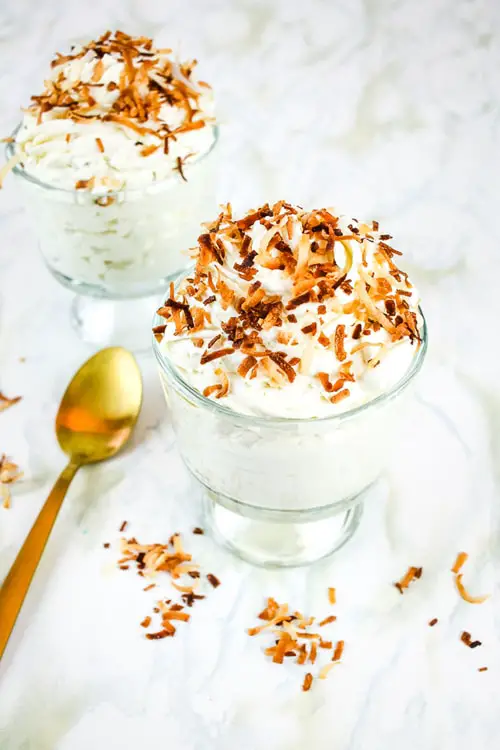 Key Lime Keto Mousse
Yes, some keto mousse recipes can be very refreshing and if you have been searching for one, its right here! The rich balance of tartness and sweet is what makes this amazing keto-friendly dessert my favorite! If that makes you think it is going to be difficult balancing the flavors, you are wrong. This is one of those keto mousse recipes which beginners and professions both can make in the shortest time.
It's a rather simple recipe which won consume all your day but still satisfies your sweet cravings. Its low carb, a perfect treat for summers, your kids, and family friends are going to love every bit of this key lime keto mousse. This dessert can be refrigerated and you can have it as many times as you like, it won't put calories on you so your keto diet stays intact.
Check the full recipe here.
Mascarpone Mousse with Roasted Strawberries
I have been hooked to these roasted strawberries in this desert since months now and the craving doesn't seem to go away! If you want me to describe it I just have one word for it, elegance! Not only does it look super impressive on the serving trays but also the flavor is oh-so-yummy it tempts you to try.
It looks elegant and it is an enriching dessert for you and your family. The plus point is that it doesn't require a whole day to make, it is in fact, very easy to make, the ingredients are simple and you can get them from your nearest grocery store too! What's more, is that it contains only 6.2 grams of carbs, so its keto-friendly.
This dessert's recipe works out well almost every time. The combination of mascarpone mousse with roasted strawberries adds this heavenly flavor to it, so satisfying and rich you just can't stop feeling the flavors mix and melt in your mouth. If you haven't tried this one yet, you are missing onto a great keto mousse recipe.
Check the full recipe here.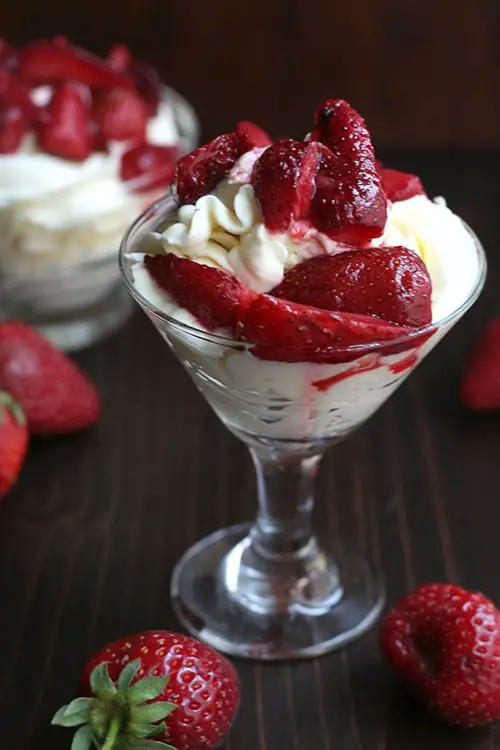 Sugar-Free Keto Blueberry Mousse
When sweet cravings take a toll on you, it's time to hit on this sugar-free keto blueberry mousse. Since you are keto dieting, you can't take carbs, you can't go junk and no unhealthy foods either. If you can't think of any keto-friendly dessert, this is your best option.
With a total of 5 ingredients, the 5th one being optional though, you can make the tastiest dessert in your own kitchen. I have a list of mousse recipes pinned to my kitchen door and this one is the second best fruit mousse I have recently been in love with.
The ingredients add freshness to the cream and in the desert as a whole, it's got natural sweeteners and it's super easy to prepare as well. With 8.5 grams of total carbs and all the richness of cream cheese, it is easy to stay hooked to a keto diet with this delicious moist dessert.
Check the full recipe here.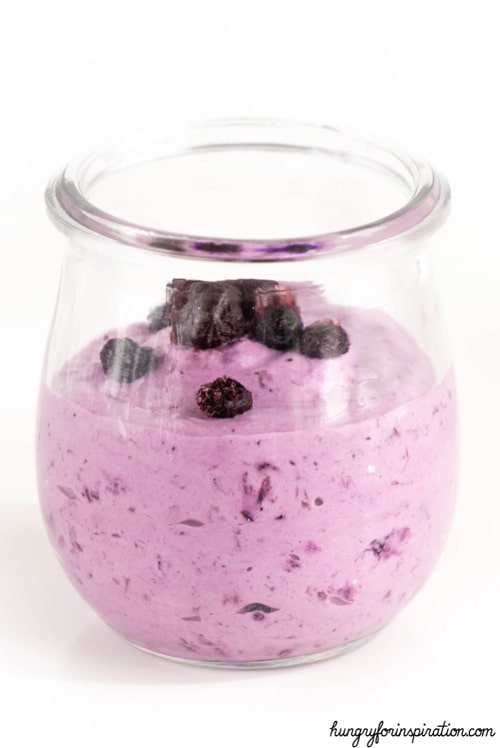 Easy Raspberry Mousse Recipe
I know summers can get exhausting and tiring with hectic routines. So if you want to enjoy a dessert which is refreshing, no-bake and quick, the raspberry mousse is the simplest dessert you can pick to make at home.
Raspberry and cream cheese has never tasted so good together as in this recipe, believe me, it's the yummiest snack you can make for yourself and your family. Its literal whip and chill to enjoy the dessert with friends and family. This dessert is gluten-free, low carb and of course keto-friendly so you can add it to your keto diet plan for weight loss without worrying about those extra calories.
Check the full recipe here.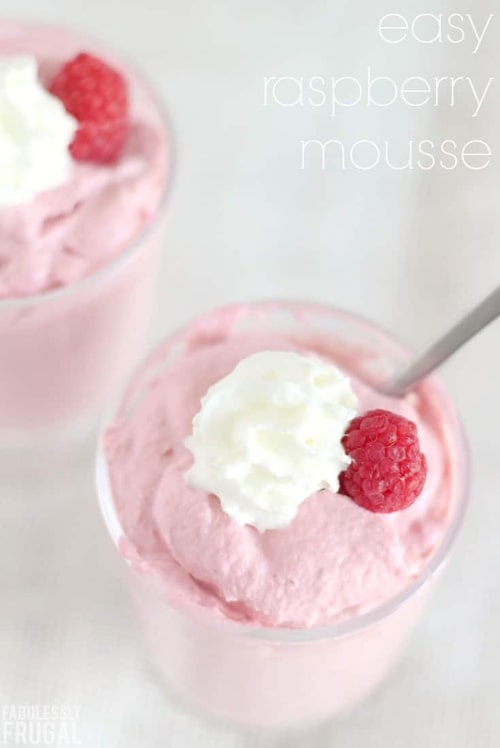 Vanilla Cheesecake Mousse
A silky smooth cheesecake texture with a crunchy base and topped with a juicy strawberry is all a dream for a person on a keto diet. But do you know this dessert is keto! This dessert is extremely healthy you can top it with your favorite berries which are full of essential vitamins.
The cream cheese is whipped to a fluffy texture so it melts in your mouth instantly, making your tongue feel a rush of heavenly flavors. It is one of a kind, super easy to make, you don't need a ton of ingredients and trust me your friends and family will love this one!
You will love the smooth texture and the fresh berries on the top, try it to believe it.
Check the full recipe here.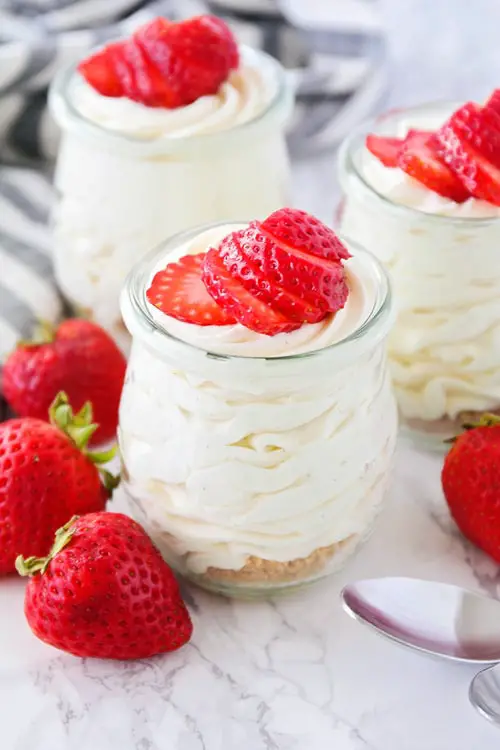 Easy Low-Carb Cinnamon Roll Mousse
If you have been looking for a high-quality keto dessert, look no further because this Low-Carb Cinnamon Roll Mousse is right here to satisfy your sweet tooth. A lot of people love a pinch of cinnamon in desserts and if you are one of them you must try this dessert at home.
The perfectly whipped heavy cream blended with cinnamon and coconut gives it a unique taste unlike any other you would have tasted. Its sweet enough to curb your sweet tooth craving and the consistency is light and refreshing. Serve it as a snack or after dinner and you are sure to get a lot of compliments.
Check the full recipe here.
Conclusion
These Keto mousse recipes are ideal for to include in diet plans for weight loss. Not only are these recipes super delicious but also hold a high nutritional value. You can easily make them at home and I'm sure you will love each of these low carb, keto-friendly dessert recipes.
More Ideas For Your Weight Loss
Jeremy Park, the founder of jeremylife.com, is a love and relationships expert. With a journalism degree and years of exploration, he offers valuable insights to help you live your best love life. His mission is to make the journey enjoyable and effortless.