The types of food you consume speak volumes about how fit and healthy your body is. With the increase in fitness trends, a lot of people have charted diet plans for weight loss. Keto diet consisting of various dishes including keto eggplant recipes is an amazing diet plan that you should consider. In the simplest context, ketogenic diet constitutes extremely low carbohydrates content, just enough proteins, and high fats.
We normally eat a lot of carbohydrates every day, and our body metabolism burns it. When you cut down on the carbs, your body starts utilizing the fat, converting them to ketones molecules to use for energy. This kind of diet has countless benefits and is something you should be looking forward to if your goal is to lose weight and get in shape.
When you are on a keto diet, you will be eating everything, from dairy products like high-fat cheese cream and butter to seafood and meat excluding high carbohydrate foods. If you are on a Keto Eggplant diet, along with a tight exercise schedule, you have to focus on consuming more good fats, beef, olive oil, and less than 5% carbohydrates in every meal.
In this article, we've selected Keto Eggplant Recipes you can try at home.
These 8 Keto Eggplant recipes will complement your diet plans for weight loss. Have a look at them and note a few to try them at home!
Low Carb Eggplant Pizza
Super simple, dense in nutrition, loaded with flavor and melted cheese; it is one heck of a Keto Eggplant recipe. Like one fast-food brand says this dish is finger-licking good!
A great chance for all those junkies who want to switch to a healthy lifestyle! Pizza is something that unites us all. It is very hard to find people who don't like pizza. You can even find people who like it with the occasional pineapple on top.
If you can find pineapple pizza lovers, then you can definitely find an army of people who would love this eggplant pizza dish. Some health experts are of the opinion that pizzas aren't healthy. Well, we are here to change their mind.
We believe that people can still enjoy pizza while maintaining a healthy diet.
Ingredients
1 large eggplant
Olive Oil 1 tbsp
An Eggplant (Large)
A cup of Pizza Sauce
Garlic cloves(2 minced)
Diced or sliced pieces of half an onion
Spinach (1 cup)
Salt according to your taste
Pepper (ground) to taste
Mozzarella Cheese ( 3/4 of a cup)
Oregano (quarter cup)
Red Pepper (Crushed)
Instructions
The first step is to pre-heat that oven of yours to a temperature of 400F.
Next carefully cut the eggplant into slices, each about an inch and a half thick, and then use a brush to oil both the sides of the sliced eggplant. On a baking sheet, place these oiled sliced of eggplant, sprinkle some salt and pepper on them and let it sit in the oven for around 10 minutes till you see the eggplant starting to cook.
Take a small cooking pan, pour in half a tbsp of olive oil and sauté the minced garlic in it. Cook till golden, adding salt and pepper to taste, then add the spinach and pizza sauce and cook until the spinach starts settling.
Now take those eggplants out of the oven, top each slice with the spinach and pizza sauce mixture you made. Sprinkle it with Oregano, Mozzarella cheese and place it in the oven for an additional time of 5 minutes till the cheese melts. You can season the eggplant pizza with crushed pepper and more Oregano.
You can treat yourself to this low card Keto Eggplant recipe every day without having to worry about putting on extra pounds!
Check the full recipe here.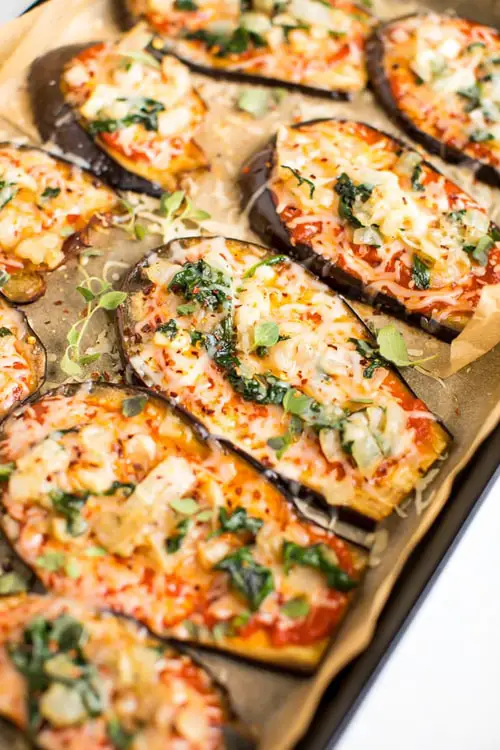 Low-carb Eggplant Lasagna Recipe
Another Italian dish on the list. Like Pizza, Lasagna is also a fan favorite dish. A combination of lasagna and eggplant can help you make an amazingly healthy dish.
Lasagna made with Eggplant slices, simmering with melted cheese and some fresh parsley, low on the carbs high on the nutrition! Not only is this lasagna full of flavor but also full of good fats! It tastes so good that you wouldn't think twice about cooking it more than once a week.
It is a very delicious dish that can spark up your taste buds in no time.
Ingredients
Eggplants (2) thickly sliced to about 1/8 inches
Salt
An egg
Part-skim ricotta cheese 425 grams
Parmesan Cheese half a cup
Tomato sauce 4 cups
Mozzarella Cheese (skim) 453 grams
Parsley finely chopped (2 Tbsp)
Instructions
First, preheat your oven to a temperature of 190C.
On a clean surface put the sliced Eggplants, sprinkling some salt on them and put them aside for 10 minutes till they absorb the salt.
Take a grill pan and grease it with some oil, place each of the salted eggplant slices, letting each side to grill for a total of 3 minutes.
Take a medium-sized bowl and put the egg, parmesan cheese, and the ricotta cheese. Mix these well.
Next, take a casserole measuring 9×12" and pour some tomatoes sauce on it, smearing it onto the bottom of the casserole. Take 6 slices of the eggplant and cover the casserole bottom with tomato sauce.
Now take the mixture of ricotta cheese with the egg you made and top it onto the eggplant slices, and then put mozzarella cheese over it. Keep repeating this until you have some layers. Bake this for 40 minutes.
After they look cooked, take them out, and let them sit for 10 minutes. Sprinkle some parsley shreds on your low carb keto eggplant recipe and enjoy.
Check the full recipe here.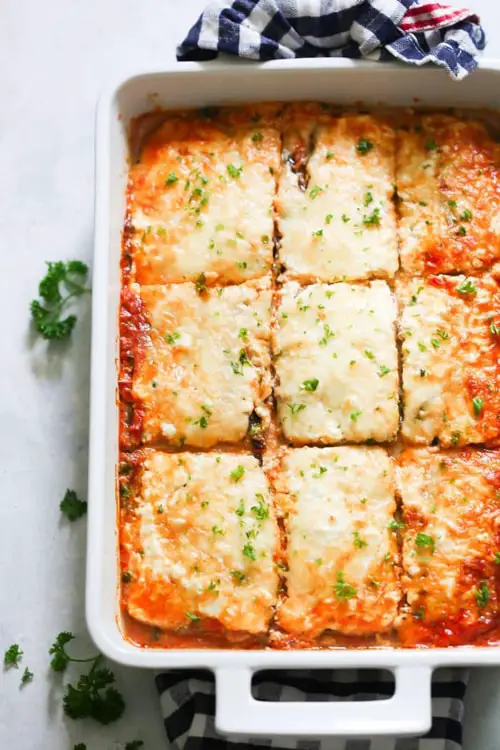 Low Carb Eggplant Parmesan
Another low carb, cheesy Italian dish! The eggplants are coated with a rich blend of flaxseeds, almond flour, salt, and pepper.
Fried to the perfect golden crust, you can serve it best with a tasty salad. A great dish to bake for your friends who are health enthusiasts but happen to love cheese a lot as well.
This is a mouth-watering keto eggplant recipe that is bound to make you feel happy when you eat.
Ingredients
FOR THE BREAD
Eggplant sliced (1)
Almond flour quarter cup
Flaxseed meal quarter cup
Grated Parmesan a quarter of a cup
Pepper and salt to taste
Egg
FOR SAUCE
Canned or homemade tomato sauce 425 grams
Italian seasoning about one teaspoon
Italian blend cheese about one cup
Parmesan quarter cup
Basil Leaves for the garnishing
Instructions
First of all, preheat your oven to 400F.
For the coating of the eggplant slices, coat them with a mixture of flaxseed, salt and pepper, almond flour and flaxseed.
Take each egg slice, first dipping it into a beaten egg mix and then into the coating mixture.
Take a non-stick pan and fry the coated slices of eggplant, each for 5 minutes till you see them turning golden.
Mix the Italian seasoning with the homemade or canned tomato sauce. Take a baking dish and spread this mix of tomato sauce mixture on it.
Now take a sliced and cooked eggplant, put it on the baking dish, and top it with the tomato sauce mixture and then the half a cup of cheese.
Add another layer of cooked eggplant slices and repeat the last step. Sprinkle some parmesan cheese on once you are done layering.
For 15 minutes roast this until the cheese starts turning golden brown.
At the end sprinkle some basil leaves and enjoy your Eggplant Parmesan!
Check the full recipe here.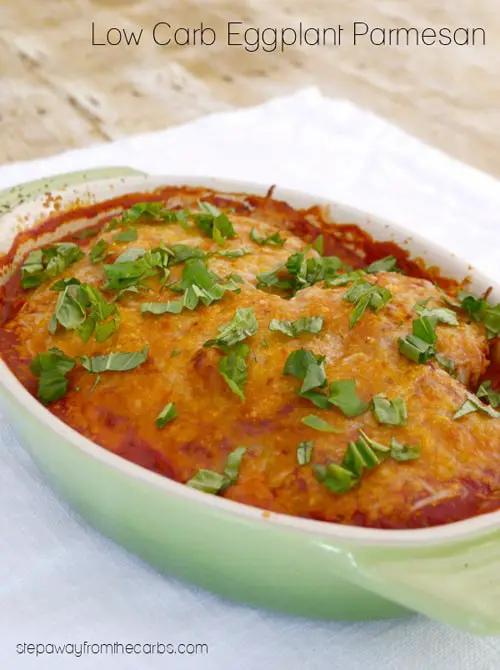 Keto Lamb Stuffed Eggplant Recipe
Originating from the Middle East, this keto eggplant recipe only contains about 6 grams of carbs. It is without a doubt an exotic dish.
Impress your friends and family with this mouth-watering recipe. You can also eat it with keto salad to enhance the whole healthy eating experience. It is one of the most ideal dishes to enjoy after a workout.
It is a relatively light dish that is low in carbs but high in nutrients. Make some from home and take it to the gym with you so you and your gym partner or trainer can enjoy it together. It is also a great dish to have on the menu at family dinners.
Ingredients
Eggplants (2)
Olive Oil 1 tbsp
A small onion (diced)
Garlic cloves (2) crushed
453 grams of Ground Lamb
Ground cumin 1 tbsp
Smoked Paprika 1 tbsp
Salt to taste
Pepper finely ground 1 tsp
Cinnamon finely ground quarter tsp
Half a cup of Tomato Passata
A quarter cup of Spinach
Half a cup of Feta Cheese
Instructions
First, preheat the oven to a temperate of 180C.
The eggplants should be sliced lengthwise, cut out a cm wide border around each eggplant. The center of the eggplant has to be scooped out, dice the eggplant.
Take a cookie sheet, place the shaped eggplants on it and let them stay there.
Take a non- stick frying pan, and place it over a high flame. Put some oil on it, garlic and onion and stir until the onions turn transparent, after this, add the lamb.
Cook the lamb till it starts breaking and turns brown, adds the spices, salt and pepper and lastly the diced eggplants you set aside.
Start adding passata after you have cooked the lamb for 5 minutes. Let it simmer and then remove from the high flame.
Now stir the spinach till it starts settling down.
Place the lamb mixture with the help of a spoon between the eggplant shells you made and place this into the oven for 15 minutes.
To add more flavor, top it with feta cheese shreds, and let it in the oven for another 12 minutes.
Serve this piping hot Keto Eggplant recipe instantly and just enjoy this low carb cheesy delight!
Check the full recipe here.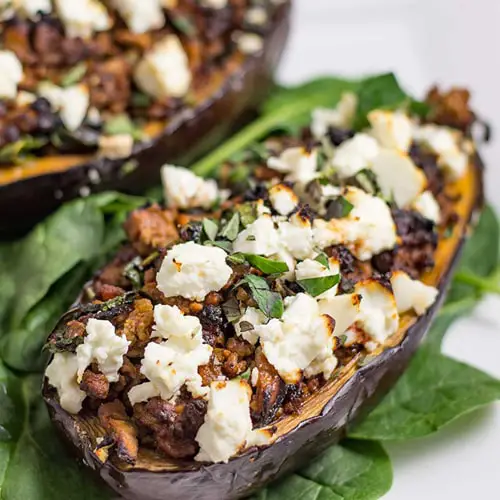 Oven Roasted Eggplant
Quite honestly, the easiest recipe on this list. Roasted to perfection, spongy textured, mildly flavored, this is one snack you will love!
If you don't like eating eggplants this recipe is bound to make you fall in love with keto eggplant dishes! Healthy, low on carbs and a tantalizing treat for your taste buds, this recipe can make for a perfect addition to the menu at family events.
Not only is this dish easy to make but it is also very healthy, which is a great thing. In this day and age, when people are more inclined towards eating junk food, finding such healthy recipes is no less than a jackpot.
Ingredients
1 Eggplant
Salt (2 tablespoons)
For the Glaze
A quarter cup of coconut aminos
Grated Garlic Cloves (2)
A quarter teaspoon of red pepper shredded
A quarter teaspoon of cumin
One teaspoon of oil (sesame)
One tablespoon of olive oil
Black pepper to taste
Instructions
First, you have to preheat your oven to a temperature of 400 degrees.
Take the eggplant and slice it, each slice should be about half an inch thick. Next, take a cookie sheet and sprinkle some salt on it and place the sliced eggplant on it. Leave them aside for 15 minutes.
Now use a tissue to pat the slices dry and remove the excess salt by shaking each slice.
After his, take each glaze ingredient one by one and put them all in a jar with a lid. Once all are inside the jar, seal it and shake until they all are well mixed.
Now take your eggplant slices and set them out on a baking sheet, with the help of a brush, brush the mixture of glaze ingredients on each side of the eggplant slices. Bake these coated slices for 10 minutes at a temperature of 400 degrees. Broil them for 5 minutes after bake till they start turning golden. Enjoy hot out of the oven, it's a super tasty and super easy Keto Eggplant recipe!
Check the full recipe here.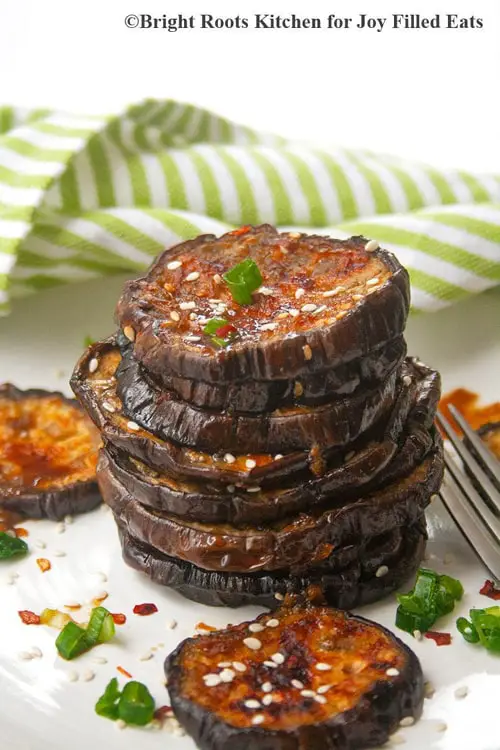 Healthy Thai Eggplant Dip
Most of the dishes you have seen on this list are a combination of eggplant and Italian dishes.
Now let's talk about a little Thai touch to our keto eggplant recipes. This is a fresh and healthy Thai dip, full of good fats. This dish is low in carbs and is an amazing Keto eggplant recipe that you should definitely try at your home.
The dish has a unique coconut creaminess and is seasoned with salt. The lime is another great addition to the recipe as it adds to both the taste and the aroma of the dish.
Try it with vegetables or crackers and you will love the perfect blend of flavors!
Ingredients
A large eggplant (1)
Limes ( 2 )
Coconut Milk canned ( 75 ml)
Cilantro leaves (quarter cup)
A paste of Thai green curry ( 2 tsp)
Salt to taste
Instructions
Start by positioning your broiler rack about six inches from the source of heat. The key is to preheat your broiler to HIGH.
Take the eggplant and start cutting through it lengthwise, cut it into half, take a fork to prick its skin.
The next step is to broil the cut eggplant for 25 minutes till it turns soft, let it cool.
Squeeze the juice out of the limes (1 tablespoon) and then grate the zest (1 tablespoon).
Scoop the fleshy part of the eggplant and take it out using a spoon. Take this fleshy part and put it into the food processor and blend.
Add the coconut milk, lime juice, curry paste, and the lime zest into the food processor as well. Add some salt. Process all ingredients until it is smooth.
Serve with crackers, nachos or veggies. You will love the taste of this keto eggplant recipe, never has an eggplant dip looked so mouthwatering!
Check the full recipe here.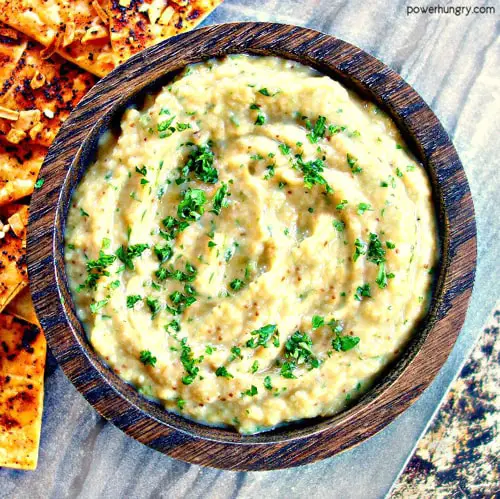 Grilled Eggplant and Roasted Red Pepper Dip
From roasted eggplant recipes to grilled eggplant recipes. This is another amazing keto eggplant recipe that is surely going to make you fall in love with it.
The recipe requires a well kept and fresh eggplant for optimum taste. A mix of lamb, caramelized garlic bulb and lemon zest is meant to give you that sweet and sour taste. Garnishing with basil leaves gives you the perfect refreshing aroma for the summer to boost that appetite!
Grilled eggplant and Roasted Red Pepper Dip is one keto dish you shouldn't ignore.
Ingredients
An eggplant
Garlic bulb( 1)
Red peppers diced and roasted ( half a cup)
Olive oil (3 tbsp)
Lemon Juice (2 tbsp)
Basil leaves for garnising1
Salt and pepper to taste
Instructions
First of all. Preheat your grill to a temperature of 400 degrees.
Take the garlic bulb, slice it, put some olive oil and salt on it. Next, wrap this into a foil and grill for 40 minutes till the garlic becomes soft and mushy.
Now take the eggplant, place it on the grill and roast it on the grill for a period of 45 minutes.
Now cut the eggplant into half and put it in a colander to let it cool and drain. Also, let the garlic cool down. Cut eggplant in half and place in a colander to drain and cool. Set garlic aside to cool.
Let the Eggplant cool, peel it and dice it. Next, take 4 roasted garlic cloves and mash it. Take the peeled eggplant; add the mashed garlic, peppers, about 3 tbsp of olive oil, lemon juice, and basil and salt. Adjust the seasoning according to your taste.
For the final touching, sprinkle some basil leaves and olive oil.
Check the full recipe here.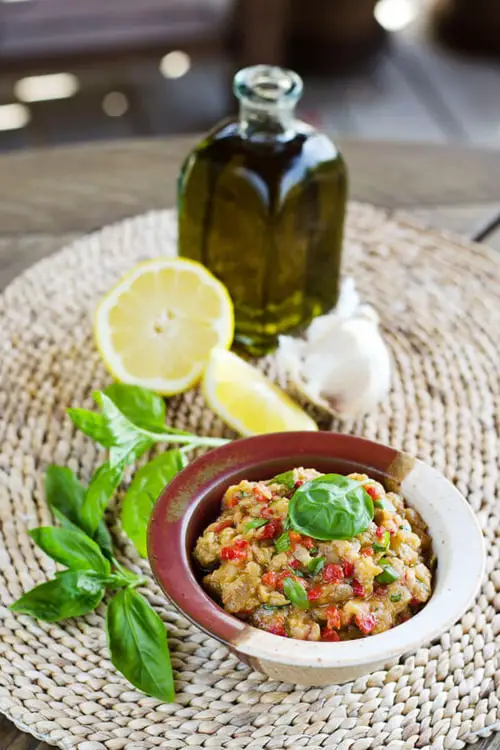 Caprese Grilled eggplant roll-ups
Talk about healthy snacks, Caprese grilled eggplant roll-ups can be a great addition to your recipe book.
This low-carb, keto Eggplant recipe is meant to savor that grilled food temptation! Rolled in cheese, basil and cherry tomatoes. You can make some delicious roll-ups by using this recipe. Whether it is for a personal event or a formal gathering, you should definitely bake these roll-ups.
Keeping in mind the taste of these roll-ups bake as many as you can, as a lot of people will want to eat multiple roll-ups after they have tasted one.
Ingredients
An eggplant( small or medium)
Mozzarella cheese( 115grams)
A large tomato (1)
Basil leaves ( a handful)
Olive oil
Instructions
Take a sharp knife and cut the eggplant into thin slices, measuring about 0.25cm.
Next, slice the tomatoes and mozzarella into thin slices. The basil leaves need some shredding as well.
Take a grill pan and put it on low flame, brush the sliced eggplant with olive oil. Put the oiled eggplant sliced on the grill pan, and cook until you can see the grill marks on either side of the eggplant slice. Add some mozzarella to the part of the eggplant slice where it is slightly thicker. Add a layer of sliced tomatoes and then mozzarella and basil leaves. Sprinkle some pepper and olive oil too. Let this cook. Let the liquid from the tomato drain out.
Now roll these cooked eggplant slices and hold with a toothpick, if you don't have a cocktail stick. It tastes scrumptious when warm, enjoy with your favorite drink!
Check the full recipe here.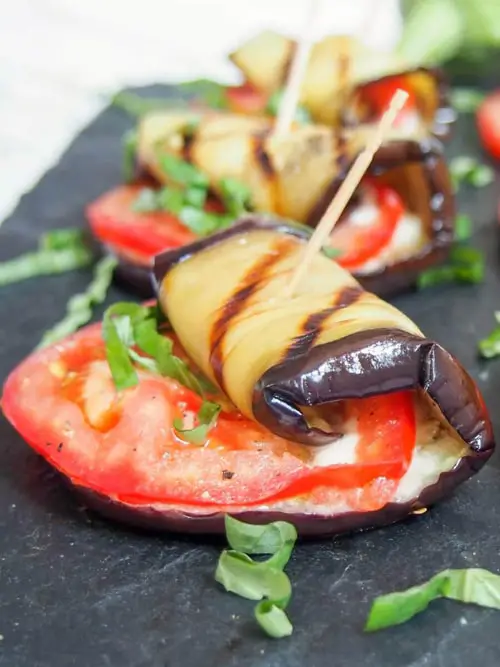 Conclusion
These keto eggplant recipes are so good that once you include them in your diet plans for weight loss, you won't be able to go on a day without them!
Not only can you treat yourself with these delicious keto eggplant recipes every day, but you also you won't have to worry about your calorie intake. These recipes are extremely low on the carbs and calories help you healthily lose weight.
You can make any of these healthy keto eggplant recipes at home for yourself or your family. Healthy eating!
More Ideas For Your Keto Recipes
Jeremy Park, the founder of jeremylife.com, is a love and relationships expert. With a journalism degree and years of exploration, he offers valuable insights to help you live your best love life. His mission is to make the journey enjoyable and effortless.